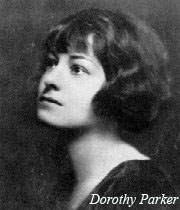 The Paris Review was first issued in 1953 – as it happens, the year that I was born! I received the four-volume set for Christmas and these quotes are from Volume I.
Introduction by Philip Gourevitch: "the interview as a genre of literature unto itself is a distinctly modern phenomenon, a mode of expression that, to a large degree, came into its own during the second half of the twentieth century in the pages of a literary magazine of decidedly modest circulation called The Paris Review.
Dorothy Parker. Quotes: It's easier to write about those you hate – just as it's easier to criticize a bad play or a bad book… I was a woman of eleven when I first read it [Vanity Fair]… I know so little about the typewriter that once I bought a new one because I couldn't change the ribbon on the one I had… (From Issue 13, 1956)
Truman Capote (claims to read about five books a week – the normal-length novel in about two hours!). Quotes:  When seriously explored, the short story seems to me the most difficult and disciplining form of prose writing extant. Whatever control and technique I may have I owe entirely to my training in this medium… I believe a story can be wrecked by a faulty rhythm in a sentence – especially if it occurs toward the end – or a mistake in paragraphing, even punctuation. Henry James is the maestro of the semicolon. Hemingway is a first-rate paragrapher. From the point of view of ear, Virginia Woolf never wrote a bad sentence. I don't mean to imply that I successfully practice what I preach. I try, that's all…
I seem to remember reading that Dickens, as he wrote, choked with laughter over his own humor and dripped tears all over the page when of his characters died. My own theory is that the writer should have considered his wit and dried his tears long, long before setting out to evoke similar reactions in a reader…
Hemingway once said anybody can write a novel in the first person. I know now exactly what he means…
Never demean yourself by talking back to a critic, never. Write those letters to the editor in your head, but don't put them on paper. – (From Issue 16, 1957)
Ernest Hemingway. A working habit he has had from the beginning, Hemingway stands when he writes… The numbers on the chart showing the daily output of words differ from four hundred and fifty, five hundred and seventy-five, four hundred and sixty-two, twelve hundred and fifty, back to five hundred and twelve, the higher figures on days Hemingway puts in extra work so h won't feel guilty spending the following day fishing on the Gulf Stream.
Many times during the making of this interview he stressed that the craft of writing should not be tampered with by an excess of scrutiny… Hemingway finds it difficult to talk about writing – not because he has few ideas on the subject, but rather because he feels so strongly that such ideas should remain unexpressed, that to be asked questions on them "spooks" him (to use one of his favourite expressions) to the point where he is almost inarticulate… The occasional waspish tone of the answers is also part of this strong feeling that writing is a private, lonely occupation with no need for witnesses until the final work is done.
Hemingway quotes: the best writing is certainly when you are in love. If it is all the same to you I would rather not expound on that… Worry destroys the ability to write. Ill health is bad in the ratio that it produces worry that attacks your subconscious and destroys your reserves… it is hard enough to write books and stories without being asked to explain them as well…I still believe, though, that it is very bad for a writer to talk about how he writes. He writes to be read by the eye and no explanations or dissertations should be necessary. You can be sure that there is much more there than will be read at any first reading and having made this it is not the writer's province to explain it or to run guided tours through the more difficult country of his work…
The most essential gift for a good writer is a built-in, shockproof, shit detector. This is the writer's radar and all great writers have had it.
Saul Bellow. Mr Bellow was not interested in responding to criticisms of his work that he found trivial or stupid. He quoted the Jewish proverb that a fool can throw a stone into the water that ten wise men cannot recover.
Bellow quotes: all of us have a primitive prompter or commentator within, who from earliest times has been advising us, telling us what the real world is…
There is such a thing as overcapitalizing the A in artist. Certain writers and musicians understand this. Stravinsky says the composer should practice his trade exactly as a shoemaker does. Mozart and Haydn accepted commissions – wrote to order. In the nineteenth century, the artist loftily waited for inspiration. Once you elevate yourself to the rank of a cultural institution, you're in for a lot of trouble…
Literalism, factualism, will smother the imagination altogether.
Jorge Luis Borges quotes: when a writer is young he feels somehow that what he is going to say is rather silly or obvious or commonplace, and then he tries to hide it under baroque ornament, under words taken from the seventeenth-century writers…Then as time goes on, one feels that one's ideas, good or bad, should be plainly expressed, because if you have an idea you must try to get that idea or that feeling or that mood into the mind of the reader… I remember that Stevenson wrote that in a well-written page all the words should look the same way. If you write an uncouth word or an astonishing or an archaic word, then the rule is broken; and what is far more important, the attention of the reader is distracted by the word. One should be able to read smoothly in it even if you're writing metaphysics or philosophy or whatever.
Kurt Vonnegut quotes: It's the writer's job to stage confrontations, so the characters will say surprising and revealing things, and educate and entertain us all. If a writer can't or won't do that, he should withdraw from the trade.
Robert Stone quotes: It's hard to come down from a high in your work – it's one of the reasons writers drink. The exhilaration of your work turns into the daily depression of the aftermath. But if you heal that with a lot of Scotch you're not fit for duty the next day… What you're trying to do when you write is to crowd the reader out of his own space and occupy it with yours, in a good cause. You're trying to take over his sensibility and deliver an experience that moves from mere information.
Jack Gilbert is asked: Many writers talk about how difficult it is to write. Is poetry hard work? Gilbert: They should try working in the steel mills in Pittsburgh.