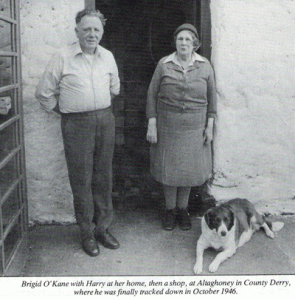 Men would arrive late at night, on foot or on bicycle. They stayed for a couple of nights, were fed and rested. Someone would come out from Derry and rendezvous with them, bringing them a message of when it was safe to travel.
Among the fugitives were escapees from Crumlin Road Jail, including former IRA Chief of Staff Hugh McAteer. Hugh had been sentenced to fifteen years on the charge of treason but within twelve weeks, on the morning of the 15th January 1943, he and three comrades escaped from the Crum.
From his safe house in Altaghoney, a townland in County Derry, Hugh was involved in freeing another 21 prisoners from Derry Jail in March 1943. As they tunnelled their way out, another prisoner played the bagpipes outside the cell to disguise the noise of their departure! However, in November that year Hugh, still engaged in trying to reorganise an enfeebled IRA, was surrounded and captured in a house in Crocus Street, Belfast.
But the house in Altaghoney remained safe.
It consisted of a long white-washed two storey, slated-roof building, set a few yards back from the road and it was divided into living quarters, a drapery shop, general store, a small pub, and a storeroom and loft to the right of the house. When I saw it, the setting – as opposed to its dereliction – was very pretty.
It was owned by two unmarried sisters in their thirties, Brigid and Rose O'Kane. Brigid looked after the business and Rose tended the nearby farmland.
It is hard to imagine the fear that the sisters experienced every time an IRA Volunteer who had been through their house was arrested and interrogated, whether they would be next for arrest.
But they must have been incredibly brave. Although the immediate townland was Catholic, the surrounding area was largely unionist and relations were fairly good. Their shop was frequented by RUC officers and local Orangemen.
In the midst of the disintegration of the IRA the organisation needed another favour. One of its men – originally from Belfast – was wanted for the killing of a Special Branch man in the Free State, for which one Volunteer had already been executed. There were posters everywhere seeking this man.
So, to provide cover for themselves the sisters in mid-1944 placed an ad in the Derry Journal: 'Man wanted to work land, and to assist in general running of property.'
It was answered by a discharged merchant seaman who had been invalided from a torpedoed vessel, though 'Harry McHugh' had never seen a submarine in his life! Country people are fairly tight-knit and do not always take to outsiders, especially those from Belfast! But Harry McHugh melded in, worked about the house and the farm, in between secretly visiting Belfast. He learnt how to cut hair and became the local barber. He was a musician and was invited to play in the local Orange Hall. An RUC man suggested to him that if he was clearing land he could get a permit to blast the rocks with dynamite. So Harry did just that – siphoning off half of the gelignite, detonators and fuses which he sent to Belfast, though there was no IRA worth talking about able to use it.
Harry told me that Brigid and Rose were very respectable and well-spoken. I had this confirmed a few months ago when a woman, their third-cousin, who had lost all contact, wrote to me saying that she remembered Brigid from her childhood. She "dressed with great care, was most ladylike in her appearance and manner." I also learnt that Brigid's great uncle, Michael O'Kane of Clarendon Street, had been very wealthy and made a gift of six stained glass windows to St Eugene's Cathedral in Derry.
Altaghoney was raided at dawn on the 20th October 1946, the front door broken in. Harry, Brigid and Rose were arrested. The RUC found twelve handguns and 2000 rounds of ammunition. Harry was taken to the border and illegally handed over to the Gardai to face execution: the sisters were charged and imprisoned. Their foresight in placing an ad in the paper paid off: after four court appearances the charges were dropped. They had kept their mouths shut.
Harry was sentenced to death but the sentence was later commuted.
I was canvassing for Sinn Féin in an election a few years ago. John McGill, a local schoolteacher, whose wife Claire is now an MLA, said to me, "Would you like to see the house where your Uncle Harry was arrested?"
 I was flabbergasted, had forgotten all about this history. The house was windowless, sad and derelict. Everyone associated with it was dead: Harry White was laid to rest in the republican plot in Glasnevin; Brigid and Rose in Craigbane Churchyard. We rescued mouldy documents, photographs and other memorabilia and I asked John to take me to Craigbane. The ladies had never married and no relations survived them.
I could have cried: they were buried together in an unmarked grave.
For years this played on my mind. I learnt from Tony Curry, the stonemason, that an order he had received for a headstone of South African marble had been cancelled. I told him the story of the two sisters and he gave me the stone and did the engraving for next-to-nothing.
And so, one bitterly cold day in March my brother Ciaran, John and I went to Craigbane and in a little ceremony we laid a raised marble plinth on the graves of Brigid and Rose O'Kane, two brave Irish women who gave shelter to Irish patriots.
Published in Andersonstown News, 7th February, 2011