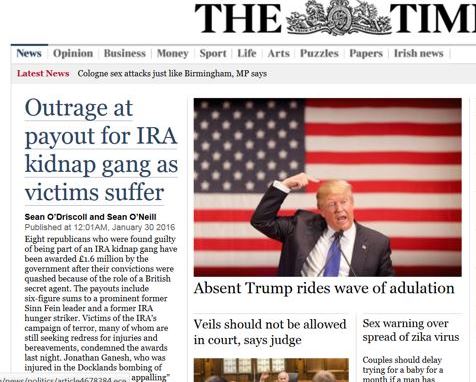 News of my compensation over the Sandy Lynch & Freddie Scappaticci affair was published in the media last year, specifically in the Irish News, but has now featured as a front page story in today's London Times.
I, and my co-accused, who were arrested in 1990, were awarded interim compensation in 2015, after every legal obstacle placed in our way by the British government (including failure to disclose information, and ex parte meetings with the appeal court judges from which we were excluded), which cost the taxpayer millions, was eventually overcome. The compensation reflected the circumstances of our arrest, that our case and trial was a malicious prosecution, and that we served, collectively, over 45 years in jail, because we were set up for arrest by British Intelligence through their agent, 'Stakeknife', who is Freddie Scappaticci.
In 1990 I was the Sinn Féin Director of Publicity. I organised all major press conferences, and often presented to the media, people who had been recruited as informers and supergrasses and who subsequently repudiated their deals with the Brits.
Through a third party, whom I named from the witness box during my trial as 'Patrick', an IRA contact whom I trusted (a senior, veteran West Belfast republican and ex-internee), I was asked to go to a house in Lenadoon to meet an IRA Volunteer, Sandy Lynch, who was prepared to divulge publicly, at a press conference, an incredible story.
That story was this. Lynch was an informer in the IRA in North Belfast who had been picked up by the IRA and admitted he was an informer. One of the things he told Scappaticci was that he had informed on an IRA operation two months earlier which had gone wrong and resulted in an undercover RUC officer, Ian Johnston, being killed by his own colleagues. Johnston's colleagues in Special Branch (whose names I was going to be given) were forcing Lynch to set up for assassination two prominent North Belfast republicans, Kevin Mulgrew and Sean Maguire.
When I arrived at the house in Lenadoon, 'Scap' wasn't there. But the British army and RUC, who had the house in Carrigart Avenue under surveillance, arrived within seconds.
I was charged with the abduction of Sandy Lynch (whom I never met and who never gave evidence against me), conspiracy to murder him, and IRA membership.
During the trial every charge fell.
The case was collapsing.
The trial judge was Lord Chief Justice Hutton, who had defended the Paras at the Widgery Tribunal into Bloody Sunday, and who, later, was picked by Tony Blair to carry out the investigation into the questionable death-by-suicide of Dr David Kelly.
Hutton, who I found hostile, picked his nose throughout our trial, which I noted in my book, Then The Walls Came Down.
And, in that idiosyncratic way Hutton has, to the dismay and anger of my lawyer Dessie Boal, who had legally demolished every road Hutton had gone down, Hutton re-arraigned me in the middle of proceedings, which secured my imprisonment on an eight year sentence, which I served in the H-Blocks of Long Kesh.
Earlier, on remand in Crumlin Road Jail, I had learnt, via a message from Patrick, that it was Freddie Scappaticci who had specified that I should come to Lenadoon and meet Lynch. In the Crum I was also told (inter alia) by the IRA that Scappaticci, after my arrest, was 'stood down' along with others involved in the Lynch affair, and that to avoid arrest they had all fled to Dundalk and Dublin.
To this day I believe the IRA's version of events.
Given current claims about Scappaticci, it is thus extremely important to make this statement.
BBC's Spotlight, and other programmes, talk about Scappaticci's activities in the 1990s and his alleged involvement in the arrest and interrogations of suspected informers, or telling relatives about the killings of their loved ones.
I do not believe this to be true. The IRA told me that Scappaticci was redundant after 7th January 1990.
I do not expect the investigations by the Police Ombudsman and the PSNI to go anywhere quickly, despite the resources announced this week. The whole policy of the British government is to slow down inquiries, massively rely on redactions and Public Interest Immunity Certificates, ensure former soldiers/handlers have anonymity, or are advised to make no comment, and deprive families of meaningful inquests or disclosures.
They will protect Freddie Scappaticci as long as and as far as it goes.
Why is this?
Because those in 10 Downing Street knew about Freddie Scappaticci and every other informer. He was discussed over dinner, with cigars and the Chablis. Scappaticci was the Prime Minister's man murdering weak and troubled and insecure and compromised IRA Volunteers, and civilian supporters, in order to perversely elevate his reputation as an IRA spy catcher.
And it was all for nothing.
For nothing.
Immoral.
It never deflected the course of Irish history, but deflected the course of ordinary lives, gave rise to ordinary suffering and long-lasting grief.
Various dates have appeared in the mainstream media about when Scap became an informer. ('Investigative' journalism is long dead, believe you me.)
Given the IRA killing of Lord Mountbatten, eighteen soldiers at Narrow Water, the great escape from the H-Blocks in 1983, the Brighton Bombing, given everything major the IRA did, including landing massive arms shipments from Libya (and, presumably, elsewhere), and given that the IRA got away with all these things before the 7th January 1990, the question has to be asked: what actually did Freddie Scappaticci stop? Who did he save?
Read the books which scrutinise British imperialism: the books about India, Malaya, Kenya, Cyprus, Aden, et al.
It was all about the vainglory of specific, egotistic, cream-of-this-world, particularly English (at the expense of sounding racist) manipulators, drawing-room militarists, upper-class toffs and their wannabees and acolytes, about their egos, their little war games, even though they might occasionally lose a good chap to assassination or on active service in the Raj, or Khartoum, or Nicosia, or Crossmaglen.
In the North, they moved an IRA or UVF or UDA gun from here to there, waiting on the outcome of an assassination or a bombing, thrilled at their results, sitting pretty, protected, immune, until law becomes real law and law ferrets out the frauds and murderers.
Watch what will happen.
As soon as the paper trail irrefutably leads to 10 Downing Street there will suddenly, magnanimously, be an amnesty for all combatants.
Of course, the British army hierarchy, on cue, and the DUP and UUP, will act, will complain, about the equivalence being made between Her Majesty's Forces and the 'terrorist' IRA: and the presenters of the BBC, writers in The Guardian, The Daily Telegraph, and The Times will, with gravitas, with their po faces, explain  how difficult a decision this has been and make their apologias for the British murder machine.
But on the ground, the poor people and the wretched of this earth, wherever the sun sets, will know the score about these champions of 'freedom' and their dirty war… and will know the sweet scent of justice and freedom and liberation wrought through sacrifice and sheer, sheer, sheer determination…