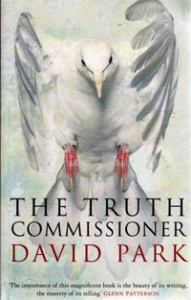 25th February. Finished my review of 'The Truth Commissioner' by David Park which is to be published in 16th March in the online scholarly journal of AEDEI, the Spanish Association for Irish Studies – which can be found HERE.

23rd February. Finished reading my friend Tim O'Grady's wonderful travel book about the USA, 'Divine Magnetic Lands', which I shall elaborate on soon.
19th February. Plans fell through and couldn't get to the book launch in Chelsea of my friend Shane Connaughton's new novel, 'Big Parts', by Muswell Press.
18th February. Asked to launch book, 'Diego – The True Story of a Colombian Guerilla Fighter' by Diego Fernando López Jaramillo, who is serving forty years in La Modelo Prison. Launch is at the former Green Cross Art Shop, 52/53 Falls Road on Friday, 6th March, at 11am.
11th February. Received an invitation to speak at St Andrew's University, Scotland, date to be arranged but probably in autumn.
7th February. Introduced Sean McMahon at Studio 1, BBC, who gave a lecture on Sam Hanna Bell [who was born 100 years ago this October]. Introduced three speakers at literary event in Bank Square Marquee – Maggie Cronin, Dan Gordon and Dan Eggs. All events were part of Féile an Phobail's Féile an Earraigh [spring] festival.
6th February. Introduced tribute to Padraic Fiacc event at Colaiste Feirste.
5th February. Interviewed on phone by a student from Kerry on the effects on Sinn Fein of being banned under Section 31 of the Broadcasting Act. Introduced event at Falls Library – Mayor Tom Hartley being interviewed by Joe Austin.