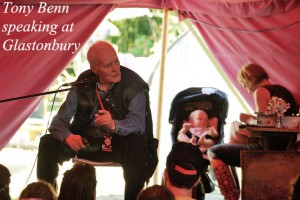 Long an admirer of Tony Benn, the first time I actually met him was in 1984 when he came over to Belfast at the invitation of Sinn Féin and stood with myself and Gerry Adams outside Belfast's Crumlin Road High Court to protest against the 'supergrass' trials which were then taking place.
I met him several other times after that – in London at events organised by the Guardian and twice at the Glastonbury Festival when he was speaking at the Left Field and we caught up on international politics. A few years ago I invited him to give a talk that August at Féile an Phobail but he explained, somewhat embarrassedly I thought, that he couldn't make it because he was taking his grandchildren to Disneyland! In 2006, when I was compiling a book of essays to commemorate the twenty-fifth anniversary of the 1981 hunger strike, he agreed to write a piece for the book.
It was called A Cause that will Succeed, and here it is:
Bobby Sands gave his life for the people of Ireland and their right to be free from British domination, which for centuries has cast such a dark shadow over its history.
He joined the struggle that had gone on for so long and which will continue until his dream of Irish unity and freedom, is realised, and in making the final sacrifice he kept faith with those who had gone before and inspired those who followed.
In Britain we are often told that there is an Irish problem but the truth is that there is a British problem in Ireland and every attempt to deal with it has failed. Occupation failed, partition failed, Stormont failed, direct rule failed, strip-searching, plastic bullets and the H-Blocks failed because they were all designed to retain British rule.
Bobby Sands' election to the House of Commons proved that even when the campaign was waged through the ballot box it was still not accepted by those in power in London.
I am sure that the opportunity that seemed to be opening up with the Belfast Agreement is one that he would have welcomed, but, like many republicans, he would not have been surprised to see it frustrated and undermined by the hostility of the unionists and the weakness of the governments in London and Dublin.
Every excuse for delaying the implementation of what had been promised on Good Friday has been trotted out from the original demand, years before, first for a cease-fire, then that it be permanent, then that the arms be decommissioned, that decommissioning be photographed (in order to humiliate), then because of a bank robbery and the brutal murder of Robert McCartney by individuals, and delayed even after the IRA put all of its weapons beyond use and declared an end to its armed struggle.
But Bobby Sands' cause has prospered and will succeed because peace and justice is what the people need and want.
Bobby Sands said, before he died, "Our revenge will be the laughter of our children" – a phrase that says all we need to know about him and looks beyond the bloodshed to true peace.