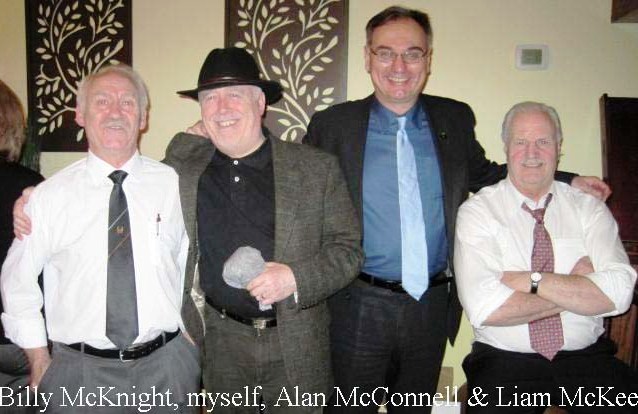 Just back from Toronto where on Saturday night (7th May) I spoke at the Brampton Irish Centre (Lar Na nGael) at the invitation of Alan McConnell, chair of Friends of Sinn Féin, about the enduring legacy of the hunger strike. The hall was packed and the event included readings and music. Great to see the old stalwarts, led by Belfast expat Liam McKee, whose solidarity work has never waned through good times and bad. Had the best of craic with Michael Quigley (and my co-accused from 1982, Michael's wife Helen!), Billy McKnight, Mickey Gilmore, Tony Osborne, Eddie McKee, Paul Kennedy and 'Dub' Alan Louthe who was our chauffeur and photographer! I was introduced by Marie Osborne with whom I had stayed on my last visit ten years ago. After my speech there was a Q & A about policing, a border referendum, the election results and the solidarity work of expats. Every activist/supporter plays an invaluable role as an ambassador of the struggle.
6th May. As the guest of Mail & Globe reviewer, my friend John Doyle, visited photographic exhibition by internationally renowned Canadian artist Edward Burtynsky at the Royal Ontario Museum. 'Oil' consists of three groupings: Extraction and Refinement, Transportation and Motor Culture, and The End of Oil. Later, had a lovely evening, dinner with John and his wife Dolores. John is the author of two books: 'A Great Feast of Light' & 'The World is a Ball', about the game of soccer, which I haven't read, but I think his first book about 'television' coming to Ireland, or, rather, his family home, is so evocative of that period.
5th May. Feature piece I wrote for the Guardian's 'Comment Is Free' was published today.
4th May. Interviewed by Pat Kenny on RTE radio about the death of Bobby Sands thirty years ago and the 1981 hunger strike, provoking failed gambler Eoghan Harris to write in the Irish Independent, "To the anger room, after listening to Danny Morrison making Provo propaganda on the Pat Kenny Show…Surely the national broadcaster has a duty of care to protect these deluded souls [i.e. listeners!] from one-sided exposure to former Provo propagandists like Danny Morrison?"
29th April. Finished 'On Chesil Beach' by Ian McEwan. Read 'I Remember' by Boris Pasternak ['Sketch for an Autobiography'], translated by David Magarshack, published 1959. "Art," says Pasternak, "is full of things that everyone knows about, of generally acknowledged truths. Although everyone is free to use them, the generally accepted principles have to wait a long time before they find an application. A generally acknowledged truth must wait for a rare piece of luck, a piece of luck that smiles upon it only once in a hundred years, before it can find any application."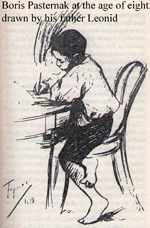 And about the writer Andrey Bely he said: "Andrey Bely possessed all the marks of genius that refused to be driven into a rut by the petty worries of everyday life, by family, by the lack of understanding of those near and dear to him, a genius that ran amok and from a productive force was transformed into a destructive and barren one. This flaw of superabundant inspiration did not discredit him, but aroused one's sympathy and added a martyr-like touch to his charm."
28th April. Interviewed by student Rhiannon McGrath re her dissertation, 'The Political Results of a Successful PR Campaign: Sinn Fein 1985-2010'.
Interviewed by Peter Geoghegan, Irish Examiner, about Bobby Sands and the 1981 hunger strike.
27th April. Interviewed by Karen Atkins, Good Morning Ulster, about 'the royal wedding'!
21st April. Finished 'A Little History of the World' by E.H. Gombrich.
20th April. Interviewed by student Sarah O'Kane re her dissertation – 'Advertising in the Troubles for War and Peace. The British Government and Republican Methods and Reasoning'.
16th April. Addressed a cross-party group of county councillors in Galway on the Good Friday Agreement and the peace process.
7th April. Was chairing the AGM of Féile an Phobail when I got called out with news that my mother had taken a massive heart attack.
5th April. Interviewed by Rod Dudai, from Israel, a PhD student in Queens University Belfast whose doctorate is about informers as a tool of counter-insurgency, and how communities address the issue of informers during transitions out of conflict.
Finished 'I Am A Chechen' by German Sudulaev.