Finished Treasure Island by Robert Louis Stevenson and I was transported back to Glen Road CBS in the mid-sixties, innocence, reading, and being off in other worlds. The film of the book I always associate with Robert Newton in the role of Long John Silver. And, of course, the dialogue and songs still ring in my memory fifty years later.
"Fifteen men on the dead man's chest –
Yo-ho-ho, and a bottle of rum!
Drink and the devil had done for the rest –
Yo-ho-ho, and a bottle of rum!" – The song the pirates sing.
"But one man of her crew alive.
What put to sea with seventy-five." – One of the sailors' songs
"Pieces of eight! pieces of eight! pieces of eight!" – Long John Silver's parrot, Cap'n Flint.
22nd August. Wrote feature & review about Operation Massacre by Rodolfo Walsh.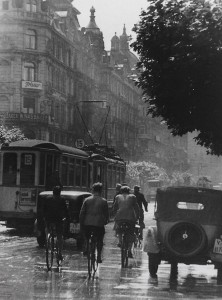 19th August. Finished After Midnight by Irmgard Keun and was very disappointed. I shall not be reading any more of her novels. I cannot understand the praise it has received. Those sections dealing with the Nazis are interesting but otherwise the story, told from 19-year-old Sanna's perspective in Cologne and Frankfurt [pic, right] have little or no drawing power for me. Whilst reading up on Keun I came across a very interesting feature by Ruth Franklin ('Should Novels and Politics mix) on the "question of how to write a political novel—or whether politics and the novel ought to have anything to do with each other at all" which can be read here.
At a committee room in Stormont Jeffrey Donaldson MP and I gave presentations, followed by a Q & A, before a small delegation representing civic society in troubled Bahrain. Included on the delegation were supporters of Ibrahim Sharif al-Sayed, a prisoner of conscience who was tortured and sentenced for campaigning for democracy and reform and speaking out against the regime.
16th August. Finished No-No Boy by John Okada.