The Irish Times cultural section carried a feature on Then The Walls Came Down and the US-based Irish Echo also published a Q & A with me on the book. Here they are, with the Irish Times first:
A prison diary made up of love letters
As Then The Walls Came Down is released on Kindle, Danny Morrison explains how he came to 'write' it:
"Draft Notes for 4th book
Begun 8.20am, Tuesday, 3 May '97"
That was the entry in my logbook.
My third novel, The Wrong Man, a sympathetic portrayal of an IRA informer, had just been published, and I was ready to begin number four. I wanted to write a novel about a woman, from a woman's perspective. I had already written a novel from a young gay man's point of view but this new challenge proved an insurmountable task. Successive drafts repeatedly found their way into the wastepaper basket. I just couldn't get into the psyche of my character – or perhaps faithfully portray a woman.
A year later I added in philosophical despair to the above entry, "Begun and abandoned many times".
I had begun writing The Wrong Man in prison and finished it upon my release. From prison I had written to my partner every night. Prisoners were restricted to one sheet of paper per letter – which many of my comrades admitted they found difficult enough to fill – whereas I enjoyed writing, the practice of writing, and the thinking that it produced. So, daily, I had to request to see the governor, and, à la Oliver Twist, ask him if I could have more paper.
Some years into my eight-year sentence my partner and I broke up. I asked her to make sure she personally destroyed all my letters and not to entrust that to anyone else.
Fast forward. It was around about the time I was giving up on novel number four that a friend told me that my girlfriend had left two huge bags of my prison letters in her loft. It turned out that they hadn't been burnt, after all.
Going through them I realised that as well as being love letters, I was also writing about men in prison, what they were really like beneath the bluster. I was giving a running commentary on the conflict, both inside prison and outside, and what I thought republicans needed to do to break the deadlock. I was telling my partner about the books I was reading, the music on the radio and the memories that songs and symphonies brought back.
Going through the letters I realised I was also telling her the story of my life: what school had been like, our teachers, the neighbours on our street, my first job, how I felt when I first met her, right through to how on top-of-the-world I felt after our last visit.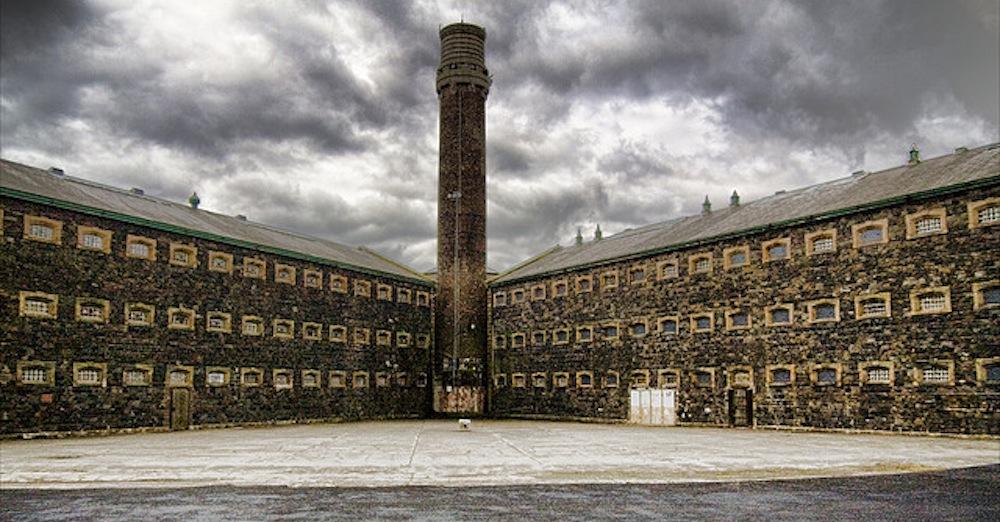 In Crumlin Road Jail (where we were locked up 23 hours a day) and, afterwards, in the H-Blocks of Long Kesh I read voraciously – hundreds of novels. I wrote reviews of almost every book I read (solely for my own advancement and delight) and commented on whether they "worked", the author's use of narrative devices, dialogue, plotting, etc.
I read many authors on the art of writing – from Angela Carter to Virginia Woolf, Somerset Maugham, Paul Scott, André Maurois. Edna O'Brien visited and wrote to me and I corresponded with several writers including Dermot Healy and Tim O'Grady. Writer Jennifer Johnston and poet Medbh McGuckian were also regular visitors and gave workshops to a group of us.
Scouring the letters, I realised that in my hands was the makings of a book. It took quite a while to transcribe them but even after omitting extraneous information, and much editing, I was still left with a huge volume of material, about 160,000 words, which was eventually honed to around 85,000.
I called the book Then The Walls Came Down, after the lyrics of the Traveling Wilburys' song Tweeter and the Monkey Man, which brought back good memories my girlfriend and I shared, though the title also resonated appositely with the ceasefire and burgeoning peace talks.
Walls, first published in 1999, finally went out of print this year and so I decided to make it available as a Kindle download and also to reintroduce to the narrative several thousand more words from the unpublished letters.
This is what The Irish Times said at the time: "Remarkable as a human document… The flashes of humour and compassion bear comparison with those in Brendan Behan's Borstal Boy. A must-read for anyone interested in the North."
Looking back, it is also a picture of me as a writer on a learning curve.
23rd December. The US paper Irish Echo carried a piece on Then The Walls Came Down being adapted for Kindle:
Danny Morrison's Then The Walls Came Down, which was first published in 1999 to favorable reviews, went out of print earlier this year. However, it's now been made available on Kindle with additional material, some of it political, that had been excluded from the original for reasons of space.
"It's a collection of my prison letters from Crumlin Road Jail and the H-Blocks before, during and after the IRA ceasefire," Morrison said of the book. "It is very personal, about my relationship with my partner and the difficulties imprisonment imposes on relationships. But it is also about how I viewed the early stages of the peace process."
A reviewer in the Irish Times said it was "remarkable as a human document" and another in the same paper described it as "one of the most important books to emerge from the conflict in Northern Ireland" and as a "vividly humane account of life in prison."
A Belfast Telegraph reviewer had praised Morrison's 1997 novel The Wrong Man in similar terms, saying it "should come to be regarded as one of the most important books of the Troubles." The Sunday Times recommended it as a "powerful and complex piece of storytelling," while The Oxford Companion to Irish Literature called the novel "a powerful evocation of betrayal, deceit and guilt."
As well as his career as a writer and commentator, the former republican prisoner is secretary of the Bobby Sands Trust and was chairperson of Féile an Phobail from 2004-2014.
Morrison, Sinn Féin's national director of publicity from 1979-1990 and an Assembly member for Mid-Ulster from 1982-1986, was well-known as the first to articulate the "Armalite and ballot box" strategy, which, he has said, "argued for the party to engage with and embrace electoral politics."
Danny Morrison
Date of birth: Jan. 9, 1953
Place of birth: at home, 17 Corby Way, Andersonstown
Spouse: Leslie Van Slyke
Children: three sons, to two earlier relationships
Residence: Andersonstown, Belfast
Published works: West Belfast (1989 & 2014); On The Back of The Swallow (1994); The Wrong Man (1997); and Rudi – In The Shadow of Knulp (2012); Then The Walls Came Down (1999 & 2016); a memoir – All The Dead Voices (2002); a play – The Wrong Man (2005), and some scenes for the play Binlids (1998); a collection of political writings – Rebel Columns (2004); and editor of a literary anthology – Hunger Strike: Reflections on the 1981 Hunger Strike (2006). My short stories have appeared in a number of publications and have been broadcast on BBC, RTE and Lyric FM.
What is your writing routine? Are there ideal conditions?
I write in my upstairs study but I take notes everywhere, and at any time, whenever an idea comes into my head or I want to remember a snatch of conversation. I was at a residential in Berlin last year for some dedicated writing. But I also – unexpectedly – wrote the last chapter of The Wrong Man at Heathrow when my flight had been delayed.
What advice do you have for aspiring writers?
To write is to practice to write, to be always experimenting, to feel comfortable with words and sentences, where they sit, how they sound, do they communicate meaning and mood. One of the most important things one must do is: read! By reading classics – novels which have withstood the test of time – you will learn how the masters carried off certain effects, how they were in control of their material and how that material immortalized an imaginary life.
Name three books that are memorable in terms of your reading pleasure.
Anna Karenina by Leo Tolstoy; Alone in Berlin by Hans Fallada; Bury My Heart At Wounded Knee by Dee Brown.
What book are you currently reading?
Fear by Gabriel Chevallier.
Is there a book you wish you had written?
The Butcher Boy by Pat McCabe.
Name a book that you were pleasantly surprised by.
Brideshead Revisited by Evelyn Waugh.
If you could meet one author, living or dead, who would it be?
Oscar Wilde.
What is your favorite spot in Ireland?
Black Mountain, above West Belfast.
You're Irish if…
You were born in Ireland, practice kindness, tolerance and hospitality, and go with the flow.
19th December. Did interview via Skype with Aidan Olsson, a seventh grader at Summit Middle School in Boulder, Colorado, who is doing a National History Day project on Bobby Sands and the effects of the hunger strikes of 1981.
11th December. Then The Walls Came Down went 'live' on Kindle.
6th December. At lecture in St Mary's University College by lawyer Mike Mansfield who spoke about the McGurk's Bar massacre, December 1971.
28th November. Went to showing of Tony Blair's Killings in St Mary's University College, Belfast, and spoke to George Galloway who made the documentary.
24th November. Attended reception in the Merchant Hotel for the new Canadian High Commissioner, Janice Charette.
23rd November. Spoke at University College Cork after a showing of the film about Bobby Sands, 66 Days.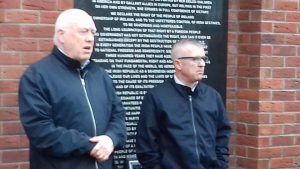 12th November. Spoke at Beechmount commemoration in memory of my friend and comrade, IRA Volunteer Stan Carberry, whose anniversary is on 13th November.
10th November. Wrote short piece for The Irish Times on my reaction to Donald Trump winning US Presidential election:
Around two-thirty you could see the disbelief on the long faces of pundits and politicians alike as it struck them that Trump was going to win.
Many US citizens, including that country's intelligentsia, have been appalled and embarrassed by Trump's racism, sexism, bullying, his vulgarity, political inexperience and general ignorance. But it was wishful thinking on their part to think that 'common-sense' would prevail at the polls and that Hillary Clinton would be a shoe-in.
They got it wrong.
Trump, the snake oil salesman, the purveyor of fraudulent goods and empty promises, got it right. He successfully tapped into the deep anti-establishment anger of millions of Americans – their fears, insecurity, every slight (real or imagined) visited upon them by federal government.
And so, now, it's our turn to pay.
Trump's protectionist policies will eventually hurt our economy, in addition to the anticipated damage and serious repercussions of the British government's decision to leave the European Union – a Brexit, which Trump supported.
It's impossible to know Trump's foreign policy (he has no experience in that field) or whether his irresponsible threat to repudiate the nuclear deal with Iran was just campaign rhetoric. Among the first to warmly congratulate him were Russian President Vladimir Putin; Jean-Marie Le Pen, the founder of the far-right, anti-immigration French National Front party; and the Dutch MP and anti-Islam campaigner, Geert Wilders.
"No-one knows what he is going to do," said one of his more honest handlers.
One man who did know the consequences of things – albeit three centuries ago – was Benjamin Franklin, one of the Founding Fathers of the US, who said: "Whatever is begun in anger ends in shame."
Unfortunately, before it does end in shame, none of us will be immune from the effects of a Donald Trump Presidency on international peace and stability, on ours and the world's economy.
8th November. Did interview with BBC Talkback on why Sinn Féin's abstentionist policy regarding Westminster will not change.