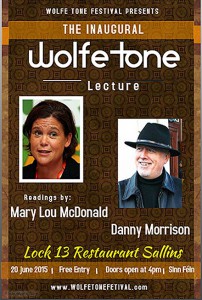 Doing a reading this Saturday, June 20th, at 6pm in the Lock Restaurant, Sallins, County Kildare, as part of the Wolfe Tone Festival. Come along.
8th June. Interviewed on the Nolan Show about James Galway's earlier remarks that Ian Paisley bore a major responsibility for the outbreak of the Troubles.
4th June. Interviewed on the Nolan Show, Radio Ulster, on the prank flying of the Tricolour over Stormont Parliament Buildings yesterday.
Gave lecture at QUB to law students from Duquesne, USA.
At launch of book, The BBC's 'Irish Troubles' by Bob Savage, history professor, Boston College.
3rd June. Interviewed on Newstalk with Sammy Wilson MP on welfare cuts crisis.
1st June. Met with French TV journalists who are making a French/German documentary about the life of Bobby Sands.
29th May. Interviewed on Nolan Show, Radio Ulster, about the Panorama programme on collusion.
25th May. Wrote a short piece for a future book by Brian Rowan on the peace process.
24th May. Spoke at event in O'Reilly Theatre, Dublin, organised as a tribute to the late Dermot Healy.
12th May. In Dublin to be interviewed by John Hedges, editor of An Phoblacht, about my novel West Belfast.
11th May. Interviewed on Radio Foyle in relation to ongoing Tory welfare cuts and what will happen to the Assembly/Executive if there is a failure to agree; and Tory plans re rewrite the Human Rights Act and derogate from the European Convention on Human Rights, which would be in breach of the Belfast Agreement, an international treaty.
10th May. Interviewed on Periscope by Jude Collins, analysing the recent election results.
9th May. Finished Naples '44 by Norman Lewis.
8th May. Interviewed on Radio Ulster's Talkback along with Alex Kane and Brian Feeney about the local results in the general election and the likely scenarios in Britain and here.
7th May. Interviewed by RTE television from Balmoral Hall as the general election results come in.
4th May. Interviewed on Radio Ulster's Talkback along with Alex Kane discussing whether a North Belfast Sinn Féin's leaflet use of census statistics was sectarian.
29th April. Wrote a piece about the death in custody of Freddie Gray in Baltimore, Maryland, referring to the poem In Custody.
28th April. Interviewed by Robert Schulz, a doctoral researcher at the University of Manchester whose project deals with the commemoration of the republican movement, in particular the commemoration of the 1981 hunger strike.