Print This Post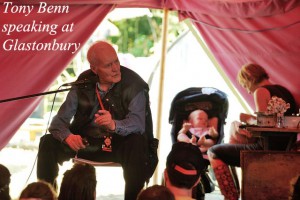 Long an admirer of Tony Benn, the first time I actually met him was in 1984 when he came over to Belfast at the invitation of Sinn Féin and stood with myself and Gerry Adams outside Belfast's Crumlin Road High Court to protest against the 'supergrass' trials which were then taking place.
I met him several other times after that – in London at events organised by the Guardian and twice at the Glastonbury Festival when he was speaking at the Left Field and we caught up on international politics. A few years ago I invited him to give a talk that August at Féile an Phobail but he explained, somewhat embarrassedly I thought, that he couldn't make it because he was taking his grandchildren to Disneyland! In 2006, when I was compiling a book of essays to commemorate the twenty-fifth anniversary of the 1981 hunger strike, he agreed to write a piece for the book.
It was called A Cause that will Succeed, and here it is:
Bobby Sands gave his life for the people of Ireland and their right to be free from British domination, which for centuries has cast such a dark shadow over its history.
He joined the struggle that had gone on for so long and which will continue until his dream of Irish unity and freedom, is realised, and in making the final sacrifice he kept faith with those who had gone before and inspired those who followed.
In Britain we are often told that there is an Irish problem but the truth is that there is a British problem in Ireland and every attempt to deal with it has failed. Occupation failed, partition failed, Stormont failed, direct rule failed, strip-searching, plastic bullets and the H-Blocks failed because they were all designed to retain British rule.
Bobby Sands' election to the House of Commons proved that even when the campaign was waged through the ballot box it was still not accepted by those in power in London.
I am sure that the opportunity that seemed to be opening up with the Belfast Agreement is one that he would have welcomed, but, like many republicans, he would not have been surprised to see it frustrated and undermined by the hostility of the unionists and the weakness of the governments in London and Dublin.
Every excuse for delaying the implementation of what had been promised on Good Friday has been trotted out from the original demand, years before, first for a cease-fire, then that it be permanent, then that the arms be decommissioned, that decommissioning be photographed (in order to humiliate), then because of a bank robbery and the brutal murder of Robert McCartney by individuals, and delayed even after the IRA put all of its weapons beyond use and declared an end to its armed struggle.
But Bobby Sands' cause has prospered and will succeed because peace and justice is what the people need and want.
Bobby Sands said, before he died, "Our revenge will be the laughter of our children" – a phrase that says all we need to know about him and looks beyond the bloodshed to true peace.

Print This Post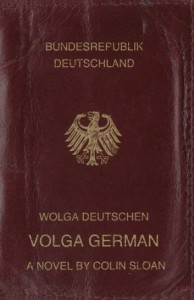 Finished a wonderful, first novel, Volga German by Colin Sloan. Ingenious, imaginative and exceptionally well-written, it is the story of Andreas Mensche, one of those ethnic Germans living in the USSR in the River Volga region since the 18th century preserving their German culture and traditions. When Germany invaded Russia Stalin ordered the dispossession of the 440,000 Volga Germans (officially declared 'enemies of the state') and their mass transportation to the east, including Siberia, where many died doing forced labour.
Another character is Liam Broy from Dublin and a former soldier in the Irish Defence Forces who served in Lebanon. He is befriended by Andreas and the two reflect upon their lives in war and the cost of conflict and the inescapability from the past. I cannot emphasise enough how impressive this book is!
4th March. Interviewed by Jan Freytag, a PhD student at Ruhr-University-Bochum, Germany, who is researching the prison protests, 1976-1981, and the mediation attempts of the Catholic clergy.
3rd March. Addressed a Bahraini Delegation (including human rights groups) at Stormont with Jeffrey Donaldson MP on the lessons of conflict and the history of the peace process here. Event organised by the Causeway Institute.
28th February. Interviewed on the Nolan Show for the second time this week on the political fall-out from the John Downey case.
27th February. Interviewed by BBC Radio 4′s John Humphrys, and by UTV Live, in relation to the release of John Downey and the political ramifications.
26th February. Interviewed on Radio Ulster's Nolan Show and on Radio Foyle about the release of John Downey yesterday and the collapse of the case against him in London in relation to his status as an 'On The Run' in receipt of a letter stating that he was not wanted for any offence.
25th February. Attended launch in the Department of Justice and Equality in Dublin of Sean McConville's monumental work (ten years in the writing) Irish Political Prisoners, 1920-1962, Pilgrimage of Desolation. Great to meet at last, Donal Donnelly, who escaped from Crumlin Road Jail in 1960 and who later recounted that story in his book, Prisoner 1082, Escape From Crumlin Road – Europe's Alcatraz.
21st February. Finished Munich, Alexanderplatz, a short story – 3,500 words – for a German audience.
17th February. Interviewed on Radio Ulster's Nolan Show about the campaign by Celtic fans to put the song by the Irish Brigade, 'Roll of Honour' about the hunger strikers, into the charts in protest against the Offensive Behaviour At Football  Act in Scotland.
12th February. On the 25th anniversary of the British government assassination of human rights lawyer Pat Finucane, I attended a lecture in his memory by Justice Seamus Treacy. The title of the lecture, held in Larmour Lecture Theatre, QUB, was 'Pat Finucane: Legacy or Continuum?' The event was jointly hosted by human rights NGO, Committee on the Administration of Justice and Queen's University Law School.
3rd February. Interviewed by Tim McGarry for BBC television documentary – 'They Think It's All Over' – looking back at the history of discrimination in the North.
6th February. Finished my introduction for Jörg Rademacher's new German translation of Oscar Wilde's The Picture of Dorian Gray, due out this summer.
27th January. Interviewed by Nicholas Kenney, a PhD student from Boston, one of whose case studies is 'Northern Ireland 1968-1975′.

Print This Post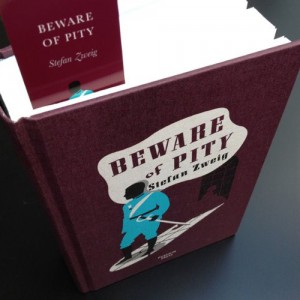 Finished Beware of Pity by Stefan Zweig, the Austrian writer who with his second wife committed suicide in Brazil in 1940. I had previously read The Post Office Girl which I really liked. In 1934 Zweig had been driven into exile by the Nazis and first immigrated to England. This long, psychological novel revolves around an incident at a dance in a wealthy landowner's house when a young cavalry officer commits a faux pas, not realising that the girl he addresses is 'a cripple', having been paralysed in an accident. In a series of events he allows his pity to dictate his reaction and as a result his affections are misinterpreted.
I find it amusing that Chambers Biographical Dictionary, on the basis that Zweig spent a short time in England, describes the Austrian as 'a British writer'! The same dictionary describes the German writer Alfred Döblin, who spent 1933–1940 and 1953-57 in France as 'a French novelist'.
22nd January. Interviewed by Peter Geoghan from the Sunday Herald about my views on the Scottish independence campaign and referendum and what repercussions, if any, a yes vote would have on our political situation in the North.
Finished Truth Is A Strange Fruit by David Beresford.
21st January. Interviewed on BBC Radio Ulster's Stephen Nolan show along with Denis Murray (journalist) and Seamus Close (former Alliance Party MLA and deputy head of the party) about the second part of Eamonn Mallie's Paisley interview broadcast last night on BBC 1.
20th January. Did another interview with PhD student Thomas Leahy who is looking at British security and intelligence policies against the Republican Movement from 1969-1998.
14th January. Enjoyed Purblind, a first novel by Mike Philpott, in which the author boldly uses multiple points of view (which unless by a Tolstoy or Dostoevsky, I do not normally like) but which surprisingly he pulls off! Never, ever guessed the ending! Great imagery and dialogue and period evocation from '63 on.
7th January. Finished Nothing Gold Can Stay by Ron Rash, an Appalachian author and poet. Am not usually a short-story reader (apart from Chekhov, Babel and a few others) but enjoyed this book and his style which is reminiscent of a cross between E. Annie Proulx and Cormac McCarthy, though not as robust or descriptive. Particularly liked A Sort Of Miracle when a man who dislikes his two brother-in-laws suddenly comes to depend on them for his life; and the eerie Something Rich and Strange about the drowning of a young girl.
4th January. Interviewed by Andrew Walsh who is writing a book about the events on August 13th-15th 1969. Had previously been in touch with him over another book of his which was published last year – From Hope to Hatred: The Falls Curfew and Catholic Alienation.

Print This Post
My letter to the Irish Times in regard to the release of State Papers for 1983 appeared in today's edition. Reading these papers over the years I have realised how, easily, subjective and unreliable statements can become orthodox 'facts' just because they have been recorded and preserved and can mislead subsequent generations. This is the letter:
A chara, – Quoting the State Papers 1983 (December 27th) you report Garret FitzGerald telling Mrs Thatcher what the SDLP told him. Namely, that in one polling booth in the North the SDLP agent, a woman, had "turned away 240 people who were attempting personation – out of a total of about 900 who were supposed to vote at the booth. She had been threatened by Sinn Féin and, finally, driven away from the booth in a Saracen armoured car."
Lest this myth go down as historical fact let me state that the alleged incident never took place. I was Sinn Féin's national director of publicity at the time. No such complaint was made by the SDLP or appeared in the media or was reported to the electoral office. In fact, the only political party to be "found guilty of corrupt and illegal practices by an election court" was Joe Hendron MP of the SDLP and his election agent, as late as February 1993. And the only person to be driven away in an (RUC) armoured car was a member of Sinn Féin from Howard Primary School polling station in Dungannon on 9th June 1983 when it came under attack from unionist supporters.
Long before Sinn Féin entered electoral politics in the North the unofficial election slogan of unionist and nationalist politicians was "Vote Early and Vote Often". Personation, which did happen, was a waste of energy as the efforts of one side only cancelled out the efforts of the other.
The real truth is that the two governments' refusal to recognise the republican electoral mandate prolonged the deadlock.
Today, in the North, under the tightest election regulations in Europe, Sinn Féin in the last Assembly elections won 29 seats to the SDLP's 14 – and there wasn't an armoured car, real or imagined, to be seen.
17th December. Interviewed by Rory Tinman who is writing a chapter of a book entitled 'Do By-Elections Matter', and in particular the April 1981 by-election in Fermanagh and South Tyrone won by Bobby Sands.
14th December. Went to service in St Anne's Cathedral to commemorate the life of Nelson Mandela.
13th December. Interviewed on BBC Radio Ulster's Nolan Show about the discussion around whether limited immunity for protagonists in the conflict who reveal the truth about the past would help alleviate the suffering of relatives of victims. I am sceptical.
8th December. Was guest panellist on BBC Radio Ulster's Sunday Sequence discussing the death on Thursday of Nelson Mandela and the issue of freedom fighter or terrorist. Comparisons with Ireland and the IRA naturally arose – though fellow contributor Ruth Dudley Edwards decried them.
7th December. Finished Villain by Shuichi Yoshida (which was adapted for a film in 2011). Interesting insight into the psyche of young Japanese people. I read books alternately on Kindle and paperback. This was on Kindle.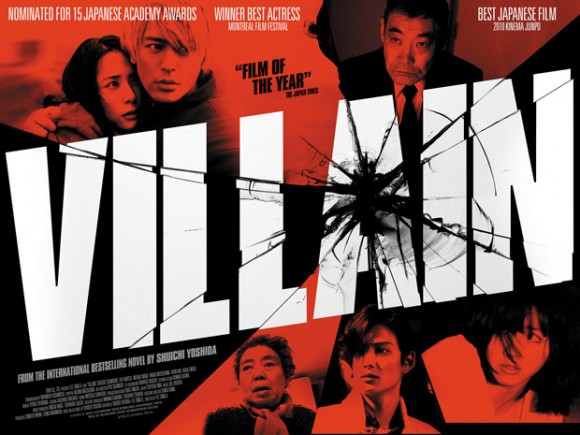 Print This Post
Finished Liberating Paris by Linda Bloodworth Thomason which is set in smalltown Paris, Arkansas, and is about six childhood friends who have just turned forty, their loves and lives. Not bad.
14th November. Did short tour of St Gallen, Switzerland, hosted by Ruth Freiner, which is named after the Irish saint, St Gaul, before travelling to Gossau where I spoke to fifty students and twenty members of the public at the University of Teacher Education. The students had read my novel, Rudi, as part of their coursework, and there was a lively Q & A.
13th November. Visited the graves of James Joyce and Elias Canetti [home page pic] at Fluntern Cemetery, Zurich.
12th November. Addressed three English Language/Literature classes at Schule Schloß Salem,  Überlingen, almost ninety minutes each, back-to-back, before travelling to Zurich where I read at an event organized by the James Joyce Foundation.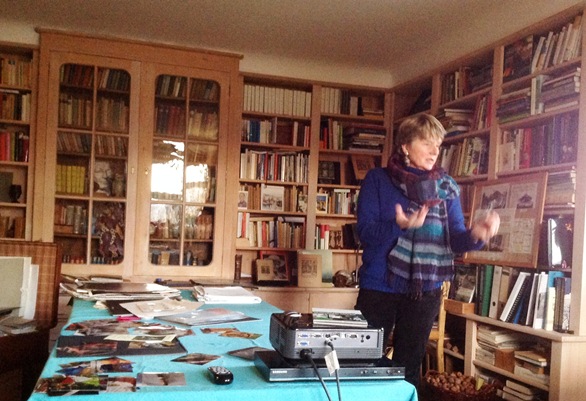 11th November. Travelled to Überlingen, on the German/Swiss border, to address language/literature students at Schule Schloß Salem. In the afternoon travelled to Hermann Hesse's house in Gaienhofen [pic, above] where myself and some teachers were given a tour of the house, his study and library by Eva Eberwein, curator and author.
9th November. Visited the graves of filmmaker Rainer Werner Fassbinder and author Erich Kastner, in the grounds of the Church of St Georg, Bogenhausen, Munich, both of whom I have previously written about.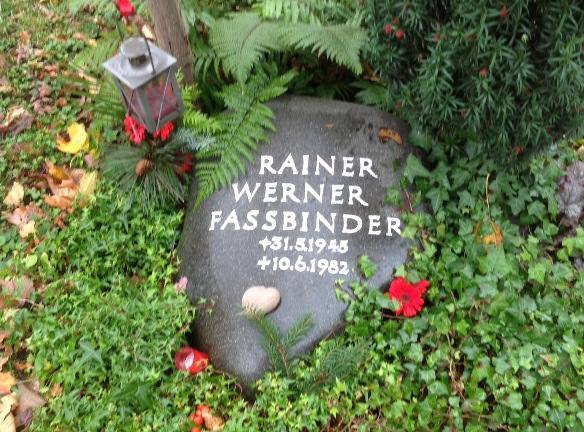 8th November. Speaking in Munich, addressing two separate classes of students studying English Literature who have read my novel 'Rudi'. Later, I was interviewed on a radio station, Radio Lora, about my life as a writer and my books.
5th November. Was on a panel discussion at Stranmillis University College with Colin Keenan (SDLP), Sam White (Director of Charter NI and a former loyalist prisoner) and Emer McGuckian (education project worker), chaired by Dr Eamon Phoenix. The audience was made up of mature students from Kennesaw State University and the subject was 'The Irish Conflict and the Northern Ireland Peace Process'.
4th November. Interviewed by Julie McCullough, BBC Radio Ulster's Talkback, doing a walkabout in the Iveagh/Broadway area for an outside broadcast on Thursday 14th November, about life in West Belfast before, during and after the Troubles.
29th October. Interviewed by David Coyles, a lecturer and researcher based at the Belfast School of Architecture at the University of Ulster who is working on a project investigating the architecture that was constructed during the Troubles.

Print This Post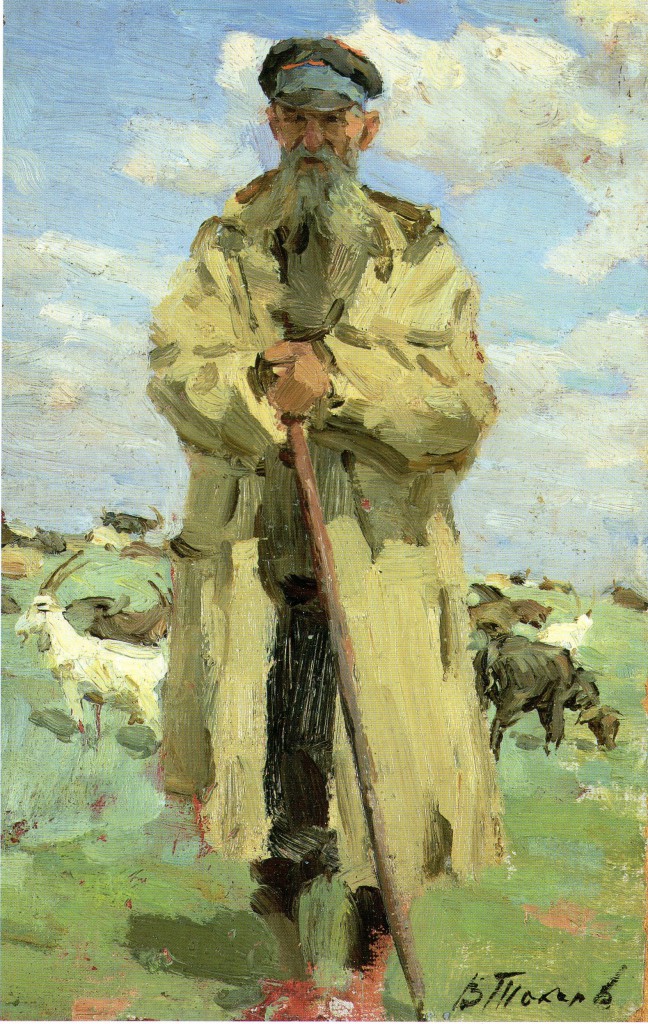 Last Saturday I met Olga Mamonova Baker an art collector and exhibitor of 20th century Russian paintings who manages the East Hill Gallery in London. She had been going to Armagh later that afternoon for some political events but caught an earlier flight in order to be at the book launch of Lethal Allies  by Anne Cadwallader in Belfast.
Anyway, Olga gave me as a present a copy of her wonderful book, 20th Century Russian Art – An Intimate World of Impressionist Painting, from which I have chosen two that particularly took my fancy (had to say that, rather than two that impressed me!). The one on my Home Page is In the Ballet School by Andrei Miroshnichenko; and the one on this page is Old Shepherd by Vladimir Tokarev, 1950s. The book can be got here.

Print This Post
Last Saturday, as chair of Féile an Phobail, I hosted the book launch of  Lethal Allies by Anne Cadwallader of the Pat Finucane Centre.  A very large crowd attended the event in St Mary's University College to hear harrowing accounts of state collusion with death squads who murdered Catholics in the Armagh and Mid-Ulster area.

Print This Post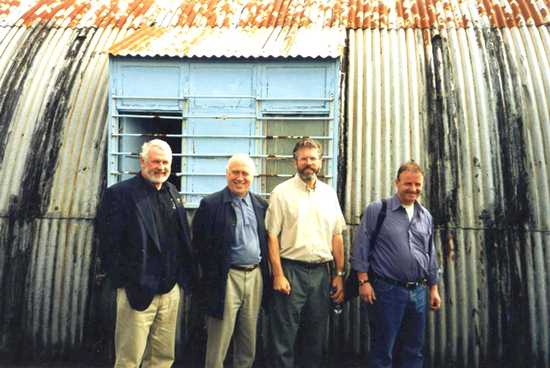 BBC's flagship documentary programme Spotlight is, incredibly, forty years old this week! I remember watching it back in October 1973 in Cage 2, Long Kesh, along with seventy other internees on a small black and white television mounted on the back wall of the Nissen Hut, little realising that the Troubles were infinite and that years later I would be interviewed for the programme dozens of times.  (Picture, above: revisiting the Cages about ten years ago with Martin Ferris TD, Gerry Adams MP and my friend Jim Gibney)
Some of Spotlight's cub reporters – Jeremy Paxman, Gavin Essler, Alex Thompson – would go on to become totems of British television news and documentaries with their idiosyncratic styles of journalism and interviewing techniques. In the mid-Seventies another to work on Spotlight was Bernard Cornwell (who went on to write the Sharpe historical novels as Bernard Wiggins).
Anyway, the anniversary programme is being broadcast tonight on BBC1 at  22: 35pm and includes an interview with me.
16th October. Returned from my week-long trip to the UBUD Writers & Readers Festival in Bali. Finished The Thirty Nine Steps by John Buchan which I first read in 1969. On my Kindle I have the rest of the Richard Hannay series to read. The writing is so 'old-fashioned' with archaisms, and the dialogue is laced with anti-Semitic, racist and sexist comments, and plotted with preposterous coincidences, yet it has a certain charm or nostalgic charm. Buchan, who was also a unionist MP in Scotland was virulently anti-Catholic and anti-Irish.
14th October. At the UBUD festival I took part in a lively panel discussion, The Press Club, which was set, appropriately enough in a cocktail bar! Earlier, I debated the subject of 'Dangerous Ideas' with several other writers in a session chaired by the consummate moderator, Michael Vatikiotis (who once worked for BBC Northern Ireland). On the platform was Solahudin, a leading expert on the jihadi movement in Indonesia and author of The Roots of Terrorism in Indonesia; Lydia Cacho, a Mexican journalist who suffered torture and imprisonment for exposing politicians involved in international child sex-trafficking; and Mona Prince, an Egyptian novelist and activist who is being encouraged to run as President of Egypt. Mona and I had a run-in during the discussion because of her support for the military coup against Morsi.
13th October. Read from my novel, Rudi, along with other authors reading from their works at the Long Table Lunch event at the UBUD Writers and Readers festival in Bali.
12th October. Finished A Writer at War by Vasily Grossman, a great account of the German defeat at Stalingrad and the Russians advancing on Berlin.
8th October. Interviewed by veteran BBC World Affairs editor John Simpson for a forthcoming documentary called The Editors.
7th October. Met with a delegation from civil society in Bahrain at Stormont meeting organised by Jeffrey Donaldson DUP MP.
2nd October. Did radio interview with Radio Ulster's Stephen Nolan about the feature I wrote on the Assembly. Did television interview with Mark Devenport on same feature.

Print This Post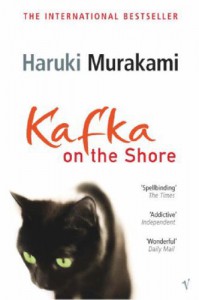 Finished Kafka on the Shore by Haruki Murakami. And I am left scratching my head and asking myself what was it all about. It wasn't so much the talking cats that I had a problem with or that the eponymous 15-year-old character had sex with his mother and sister (though I suppose I should have found that disquieting). Or that a cat killer who might be Kafka's father plans to make a flute out of cats' souls (though I don't know what that means at all). It's just that I got the impression that the author set out with a preposterous plot and post-modernist intentions, tossed in a lot of symbolism, and refused to compromise. I'm wondering did he ever experience major doubts along the way?
Of course, how I read it is not how many critics and readers found the novel, however. The late John Updike described it as a "real page turner". (Using a Kindle Reader for only the second time I could say in post-modernist jest, that it certainly was not "a real page tapper".)
2nd October. The feature I wrote yesterday on Eamonn Mallie's website and my own, warning that the northern assembly might collapse and that unionists should not take the situation for granted, received a lot of media attention. I was interviewed by Mark Devenport for BBC television and by Stephen Nolan for Radio Ulster.
28th September. Spoke at the Engage Arts Festival in Bandon on the subject of 'Art as a Bridge through Conflict'. Also on the panel were the artist Sean Hillen (whose website is well worth looking at ); Ulster Unionist Councillor Chris McGimpsey (who can be very funny) and a representative of the Progressive Unionist Party, Jonathan Hodge from Larne. In fact, some of the exchanges about the North and claims of a campaign of attacks on Orange culture prompted me to write the piece I submitted to Eamonn Mallie's website.
29th September. Did a late night reading from Rudi at a nice little intimate venue – the upstairs of Mary Rose's Wine Bar, Bandon. Part of the Engage Arts Festival.
24th September. Interviewed by BBC's Spotlight, which next week celebrates its fortieth anniversary. I remember watching the first Spotlight programmes in Cage 2, Long Kesh, 1973, on a black & white television along with dozens of other internees.
18th – 20th September. In Malta at the invitation of a London-based organization, ENGI, a 'social enterprise that focuses on the effective and non-violent management of conflict, nationally and internationally.' We were there to talk to Turkish and Greek Cypriot groups from civic society about peace-building models and engagement. Other speakers included Jeffrey Donaldson DUP MP and Rolf Meyer from South Africa and two representatives from Bosnia Herzegovina.
14th September. Finished Norwegian Wood by Haruki Murakami. Sushi, sex & suicide. But liked it!

Print This Post
Finished Women by Charles Bukowski, a hilarious romp about women, sex, drugs and alcohol, written in the first person by Bukowski's semi-autobiographical character, Henry Chinaski.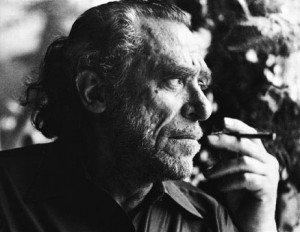 On ego & 'greatness' Chinaski reflects: "There is a problem with writers. If what a writer wrote was published and sold many, many copies, the writer thought he was great. If what a writer wrote was published and sold a medium number of copies, the writer thought he was great. If what a writer wrote was published and sold very few copies, the writer thought he was great. If what the writer wrote never was published and he didn't have the money to publish it himself, then he thought he was truly great. The truth, however, was that there was very little greatness. It was almost nonexistent, invisible. But you could be sure that the worst writers had the most confidence, the least self-doubt. Anyway, writers were to be avoided, and I tried to avoid them, but it was almost impossible. They hoped for some sort of brotherhood, some kind of togetherness. None of it had anything to do with writing, none of it helped at the typewriter."
Chinaski on the subject of alcohol: "That's the problem with drinking, I thought, as I poured myself a drink. If something bad happens you drink in an attempt to forget; if something good happens you drink in order to celebrate; and if nothing happens you drink to make something happen."
To a woman he explains his work:
"I write fiction."
"What's fiction?"
"Fiction is an improvement on life."
"You mean you lie?" asked Gertrude.
"A little. Not too much."
2nd September. Was interviewed by TV3 which is making a two-part documentary on the history of Sinn Féin. Attended the funeral in Bellaghy of Seamus Heaney.
1st September. Speaking at a commemoration in Loughmacrory on the 25th anniversary of the SAS killings of IRA Volunteers Gerard and Martin Harte and Brian Mullin.
30th August. Learnt of the sad death of Seamus Heaney.
29th August. Interviewed by Connal Parr, a PhD student who is on the board of the Et Cetera theatre group. Talked about creative writing Vs polemical writing.