Print This Post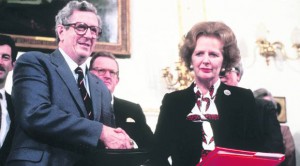 Interviewed this afternoon by BBC television journalist Mark Simpson about my reflections on the Anglo-Irish Agreement which was signed this day thirty years ago. My opinion hasn't changed: Thatcher's aim was to secure increased cross-border security cooperation, and Fitzgerald's motive was to help the SDLP and halt the electoral rise of Sinn Féin .
11th November. Interviewed on the Nolan Show along with Gregory Campbell MP (DUP) about the first arrest of a former British soldier in connection with the killings on Bloody Sunday.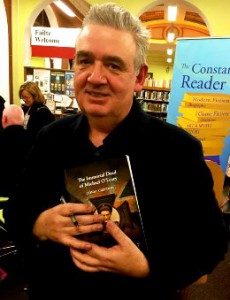 Spoke at the launch of my dear friend Conal Creedon's book, The Immortal Deed of Michael O'Leary for which I wrote the introduction.
10th November. Interviewed by Amanda Morrow from Radio France International's English service about the arrest of a former British paratrooper in relation to the Bloody Sunday massacre.
5th November. Interviewed on the Nolan Show about a poll on attitudes north and south to reunification and devolution commissioned jointly by RTE and the BBC.
26th October. Discussion with academic Caitlin Ball about community restorative justice. Unrecorded.
24th October. Spoke at event in Roddy McCorley Club, a tribute night to the late theatre director, Pam Brighton.
23rd October. Interviewed by Stephen Nolan on BBC Radio Ulster on the supposed status of the IRA Army Council and current talks to resolve differences on welfare cuts.
22nd October. Interviewed by Alex Gibney for US documentary on collusion.
10th October. Took part in a massive protest march though Berlin against the TTIP (Transatlantic Trade and Investment Partnership). Finished reading The Last Jews in Berlin.
6th October. Went to hear former Greek Economic Minister, Yanis Varoufakis speak on a panel discussion at the Volksbühne Theater on Rosa-Luxemburg-Platz on the topic, PLAN B FÜR EUROPA?
4th October. Staying at the Literarisches Colloquium Berlin, at Wannsee, having successfully won an award for a two-week residential. Aim to return to Belfast with at least 25,000 words of my long-delayed manuscript of Band On The Run.
3rd October. Met with refugees at Sozialwerk Nazareth e.V, Norddeich, including a young singer from Angola who performed a brilliant rendition of Jason Mraz's I'm Yours, and also met with English Literature and music teachers from Dame Allan's Schools, Newcastle-Upon-Tyne.
1st October. Addressing students on the cross-over literary devices, techniques, allusions and imagery employed in public speaking from Winston Churchill to Barack Obama, with quotations from literature and the Bible.Gave the opening speech at the conference of Relais de la Memoire, an organisation aimed at young people and promoting reconciliation and understanding in Europe and beyond. Spoke of my life as a writer, the novels I had written which dealt with conflict, and other novels such as All Quiet on the Western Front and the writings of former Wehrmacht soldier and novelist, Nobel Laureate Heinrich Böll (whose Achill Island house is now a writers retreat), and repeated an earlier address to students about literature and conflict. The delegation included students of A-Level age from Marseilles, Paris, Newcastle-upon-Tyne, Vienna and Norden. This was followed by a Q & A.
Later met with 92-year-old Erna de Vries, a German Jew, who survived the Holocaust, and whose mother was murdered by the Nazis.
30th September. My first class at Ulrichsgymnasium, Norden. Spoke to senior pupils about the short story. On their course is My Son the Fanatic by Hanif Kureishi and I broke them into four groups, listened to their analysis and explained various points to them about the story. Later in the morning, I addressed 200 English language and literature students in the Assembly Hall on my journey as a writer; spoke about the inspiration and German connection between my novel Rudi and Hermann Hesse; spoke about peace walls in Belfast and the coming-down twenty-five years ago of the Berlin Wall, and how Irish writers responded to continued division, conflict and partition, and then did a Q & A.
In the afternoon, I took a class of 20 students on the issue of 'migration' and 'translation'. The students had read Rudi and enacted/dramatized three scenes from the book dealing with alienation. Followed by a Q & A.
29th September. Arrive in Germany for speaking tour.
25th September. Interviewed on the Nolan Show with Liam Clarke about my tweet that 'Peter Robinson is finished'.
24th September. Interviewed in studio on BBC's Talkback with Winston Irvine about republican/loyalist murals.

Print This Post
Finished reading A Stranger in My Own Country: The 1944 Prison Diary by Hans Fallada which has been described as, 'An outspoken memoir of life under the Nazis written from a prison cell' (Independent), but which has also been viewed as an apologia because Fallada decided to live in Nazi Germany instead of leaving as had many other artists.
20th September. Wrote feature for Eamonn Mallie's website rebutting an article by loyalist Jamie Bryson on the issue of trust.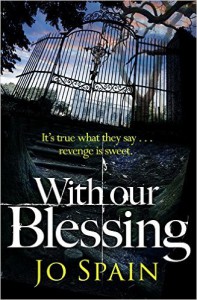 16th September. At book launch in Dublin for Jo Spain's first novel, With Our Blessing.
15th September. Interviewed by Andrew English, a masters student studying nationalism and conflict at University College Dublin.
14th September. Interviewed by Cato Hemmingby, a researcher at the Norwegian Police University College in Oslo, working on issues related to political violence.
11th September. Interviewed in the studio on BBC's Talkback on the issue of unionist bigotry after Minister Arlene Foster referred to "rogue Sinn Féin or renegade SDLP ministers" taking a post from the UUP.
10th September. Interviewed on the Nolan Show, BBC Radio Ulster, re the DUP vote to adjourn the Assembly. Interviewed on Newstalk re the latest in the political crisis.
8th September. Interviewed by Laurène Sénéchal for French televisionon the murder of Kevin McGuigan and the statement that the Chief Constable of the PSNI George Hamilton made about IRA structures.
Finished reading for the second time Alone In Berlin (or Every Man Dies Alone) by Hans Fallada.
28th August. Interviewed on BBC Radio 4's breakfast news about the UUP and the DUP and the political crisis.
25th August. Interviewed on BBC5 Live about the political crisis resulting from the two recent killings. Interviewed on UTV Ireland about the political crisis.
24th August. Interviewed on the Nolan Show, BBC Radio Ulster, about the killings of Kevin McGuigan and Gerard 'Jock' Davison and whether the IRA was involved. Interviewed on the Pat Kenny Show, Newstalk, about the two killings.
21st August. Finished Before The Deluge – a Portrait of Berlin in the 1920s by Otto Friedrich.
11th August. Interviewed by Jack Hepworth, Durham University, who is researching for an MA project provisionally titled 'A social history of Irish republicanism in the Six Counties and the border counties, c.1969-c.1985'.
10th August. Interviewed along with William Humphrey (DUP MLA) by William Crawley on Radio Ulster's Talkback about yesterday's contentious march by the Anti-Internment League in North Belfast which was in breach of the Parades Commission's determination and which was prevented from marching.
7th August. Scribes went well, last night. Packed house. Marian did a great Q&A. A kind and generous woman. Tonight read from the Ambush chapter of West Belfast at the Duncairn Cultural Arts Centre, along with Henrietta McKervey and Tony Macaulay.

Print This Post
Am about to introduce Scribes at the Rock with Henrietta McKervey, Stuart Carolan and the wonderful Marian Keyes!
6th August. Interviewed with Alan Kane on Radio Ulster's Good Morning Ireland by Noel Thompson with regard to Jeremy Corbyn's bid for the leadership of the British Labour Party and what it would mean for Ireland.
3rd August. At unveiling at Falls Library for the legendary actor J.G. Devlin (1907-1991) who hailed from West Belfast.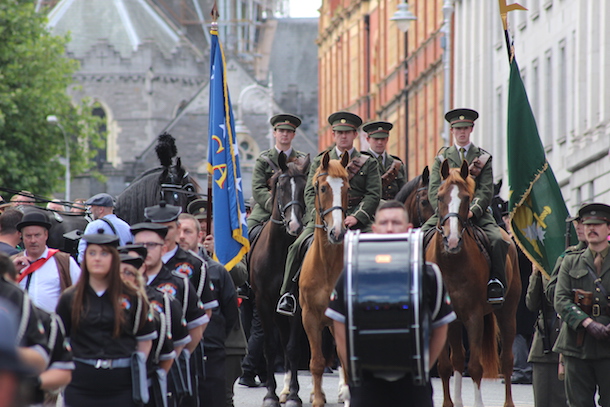 1st August. In Dublin for the re-enactment of the funeral of O'Donovan Rossa in 1915. Massive crowd and a very moving event in Glasnevin Cemetery.
30th July. Interviewed in the Andersonstown Social Club by Bobby Storey about growing up in West Belfast and the politicisation of my generation. The opening event of Féile 2015.
28th July. Interviewed by Dieter Reinsch, a Researcher at the European University Institute in Florence who is doing my PhD Project on Education and Political Imprisonment in Ireland since 1970.
24th July. Spoke at an event in the City Hall, Cork, about the links between the Cork Life Long Learning Festival and Féile an Phobail.
22nd July. Interviewed by Victoria McGroary, a PhD student at Brandeis University in Massachusetts whose thesis is on conflict resolution.
21st July. Interviewed on BBC's Talkback about David Cameron's remarks that the British government would see off ISIS the way they had seen off the IRA!
15th July. Did informal interview with three US students about the conflict.
Interviewed by veteran journalist Vincent Brown about a forthcoming TV3 bio of Gerry Adams.
14th July. Interviewed by French TV for a documentary on the legacy of Easter 1916.
29th June. Finished reading the first part of a trilogy, Green Dawn at St Enda's, by a young English writer Tracey Iceton which is mostly set in Patrick Pearse's school St Enda's School, between 1912 and 1916. Good writing.
23rd June. Interviewed by French/German documentary programme about Bobby Sands.
20th June. Did a reading from West Belfast in the Lock Restaurant, Sallins, County Kildare, as part of the Wolfe Tone Festival.
18th June. At screening of the 1961 film Saoirse in QUB and met the legendary filmmaker, George Morrison, who spoke at the event.
19th June. At Lord Mayor Arder Carson's reception in Belfast City Hall to honour George Morrison.

Print This Post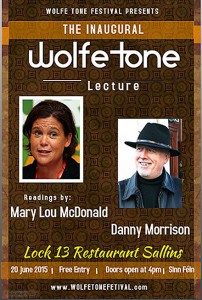 Doing a reading this Saturday, June 20th, at 6pm in the Lock Restaurant, Sallins, County Kildare, as part of the Wolfe Tone Festival. Come along.
8th June. Interviewed on the Nolan Show about James Galway's earlier remarks that Ian Paisley bore a major responsibility for the outbreak of the Troubles.
4th June. Interviewed on the Nolan Show, Radio Ulster, on the prank flying of the Tricolour over Stormont Parliament Buildings yesterday.
Gave lecture at QUB to law students from Duquesne, USA.
At launch of book, The BBC's 'Irish Troubles' by Bob Savage, history professor, Boston College.
3rd June. Interviewed on Newstalk with Sammy Wilson MP on welfare cuts crisis.
1st June. Met with French TV journalists who are making a French/German documentary about the life of Bobby Sands.
29th May. Interviewed on Nolan Show, Radio Ulster, about the Panorama programme on collusion.
25th May. Wrote a short piece for a future book by Brian Rowan on the peace process.
24th May. Spoke at event in O'Reilly Theatre, Dublin, organised as a tribute to the late Dermot Healy.
12th May. In Dublin to be interviewed by John Hedges, editor of An Phoblacht, about my novel West Belfast.
11th May. Interviewed on Radio Foyle in relation to ongoing Tory welfare cuts and what will happen to the Assembly/Executive if there is a failure to agree; and Tory plans re rewrite the Human Rights Act and derogate from the European Convention on Human Rights, which would be in breach of the Belfast Agreement, an international treaty.
10th May. Interviewed on Periscope by Jude Collins, analysing the recent election results.
9th May. Finished Naples '44 by Norman Lewis.
8th May. Interviewed on Radio Ulster's Talkback along with Alex Kane and Brian Feeney about the local results in the general election and the likely scenarios in Britain and here.
7th May. Interviewed by RTE television from Balmoral Hall as the general election results come in.
4th May. Interviewed on Radio Ulster's Talkback along with Alex Kane discussing whether a North Belfast Sinn Féin's leaflet use of census statistics was sectarian.
29th April. Wrote a piece about the death in custody of Freddie Gray in Baltimore, Maryland, referring to the poem In Custody.
28th April. Interviewed by Robert Schulz, a doctoral researcher at the University of Manchester whose project deals with the commemoration of the republican movement, in particular the commemoration of the 1981 hunger strike.

Print This Post
Finished a wonderful, charming little novel from 1943, The Human Comedy by William Saroyan. Saroyan, the son of an Armenian immigrant, made his initial impact during the Great Depression with "a deluge of brash, original, and irreverent stories celebrating the joy of living in spite of poverty, hunger and insecurity" (Merriam Webster's Encyclopedia of Literature). Set in a small town, Ithaca, California, it deals with childhood, youth, love, family life, community and a brother away to war.
There is a great exchange between boys bored on a Sunday afternoon after church. Auggie Gottlieb is in his front yard making a net to catch animals when Enoch Hopper – 'the most high-strung boy in Ithaca, the most restless, the swiftest moving, the most impatient, and the loudest-talking' – comes along. Enoch tries to lure his friend away with a string of proposals, all of which are rejected by Auggie who wants to finish his net:
"Come on, let's start a baseball game or go out to Guggenheim's water tank and climb it…
"Come on, let's go. Let's go out to Malaga and go swimming…
"Come on, let's start a game. Let's go down and sneak into the Bijou, see a Tarzan picture…
"Let's go down to the courthouse park, to the city jail there and talk to the prisoners…
"Let's go down to Chinatown and walk down China Alley…
"Come on, let's go over across the Southern Pacific tracks and get into a game with the Cosmos Playground gang…
"Let's go out to the fair grounds and run the mile track…
"Come on, let's go out on the empty lot and play catch."
It's not until Lionel comes along that Enoch gets someone to play with!
23rd April. Interviewed by Eleanor Hughes a third year History student at Northumbria University who is writing her dissertation on 'The Evolution of the Provisional IRA, 1969-1977'.
22nd April. Interviewed on the Nolan Show along with Malachi O'Doherty's about Malachi's Belfast Telegraph feature claiming a comparison between ISIL suicide bombers and the 1981 hunger strikers, which I rebutted.
20th April. Interviewed by Lawrence Butler Perks, a PhD student at the University of Aberdeen whose subject was 'Myth creation and myth appropriation in the Irish experience of insurgency warfare 1916-1923 & 1969-1998'.
16th April. Interviewed by Sonia Sarkar, an Indian journalist, who is writing a research essay on the British media's coverage of The Troubles.
14th April. Gave a young student from UCC, Will Maness from North Carolina, a tour of West Belfast.
11th April. Finished 1941 – The Year That Keeps Returning by Slavko Goldstein. Here is the review
5th April. Attended Easter Commemoration at Pearse's Cottage, Rosmuc, Galway.
27th March. Reading from West Belfast at the Cork Lifelong Learning Festival. Also on the bill was Martina Devlin reading from her novel The House Where it Happened.
26th March. Speaking at University College Cork on the 1960s and read from West Belfast. Did a reading and Q&A at O'Donovan's Hotel, Clonakilty, re West Belfast.
25th March. Interviewed by Jade Williams, a third year student at Liverpool Hope whose dissertation is on the 1981 hunger strike.
Interviewed by journalist Ken Sweeney about what I believe to be a false claim by US actor Ryan O'Neal. O'Neal claimed on RTE last week that when Stanley Kubrick was making Barry Lyndon in Ireland in the 1970s he was threatened and intimidated out of the country by the IRA.
Interviewed on BBC Radio Ulster's Talkback and BBC Newsline on the issue of Royal Prerogatives and the On The Runs.
19th March. In discussion about the art of writing with a young English author Sophie Lusby who has just finished her first novel.
18th March. Was on William Crawley's Talkback in panel discussion with commentators Alex Kane and David McCann, talking about the DUP/UUP pact in four constituencies.

Print This Post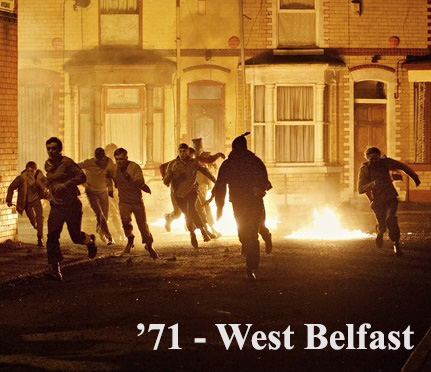 Interviewed on BBC Radio Foyle with Jim Allister, TUV, about Stormont Speaker Mitchell McLaughlin's speech on the issue of mutual respect.
15th March. Took part in discussion on conflict resolution with former Para Glenn Bradley at Queens Film Theatre after the showing of Yann Demange's '71. Full turn-out and very good Q&A.
14th March. In Donegal at commemoration for Kevin Brady and, later, launched West Belfast at a reading and signing in Leo's Tavern.
11th March. Interviewed by Rachel Shaw who is writing her dissertation on the psychological impacts of the Trouble's on its victims.
5th March. Interviewed on the Nolan Show about remarks by New York's Catholic Archbishop Timothy Dolan comparing the IRA to ISIS.
9th March. Interviewed by John Morrison, senior lecturer in criminology at the University of East London, about the evolution of the Republican Movement, and the relevance of centenaries.
7th March. Photographed and interviewed by Elle who is doing a degree in photojournalism.
25th February. Interviewed by Josephine Gallagher, a journalism student from the Dublin Institute of Technology, who is writing a dissertation on RTÉ and the BBC's coverage of the 1981 hunger strikes.
Chaired the service for Pam Brighton at Roselawn Crematorium.
17th February. Began teaching my eight-week Creative Writing Course for Tar Anall, Conway Mill.
11th February. Interviewed on Good Morning Ulster with Trevor Ringland about the opening of two new interpretative centres, Museums of Orange Heritage, funded by £3.6 million from the EU's PEACE III programme, and whether the museums would attract nationalists and republicans.
From the Kennedy Centre cinema, myself and others did a Skype interview with Stephen Fry [who was in London] for a forthcoming BBC documentary, Real Lives Reunited on Stephen Fry's 1997 visit to West Belfast for the premiere of Oscar.
5th February. Interviewed on Nolan Show, Radio Ulster, about a Belfast Telegraph poll indicating that people across East Belfast are deeply disillusioned about the peace process, with many believing that nationalists have got the better deal.
2nd February. Interviewed by Brian Campbell from the Irish News about West Belfast. Hugh Russell took photographs.
29th January. Ronan Bennett officially launched West Belfast at a Féile an Phobail event in St Mary's University College, chaired by Geraldine McAteer, which included Ronan spontaneously interviewing me about writing.
West Belfast was reviewed by Anthony Neeson in the Andersonstown News.
26th January. Interviewed by BBC Northern Ireland for a forthcoming documentary, Real Lives Reunited on Stephen Fry's 1997 visit to West Belfast for the premiere of Oscar.

Print This Post
I'll be reading from West Belfast this Saturday night in Leo's Tavern, following a ceremony earlier in the day to commemorate my friend and comrade IRA Volunteer Kevin Brady. Kevin was killed along with Thomas McErlean and John Murray when the funeral for the Gibraltar Three in Milltown Cemetery in March 1988 was attacked.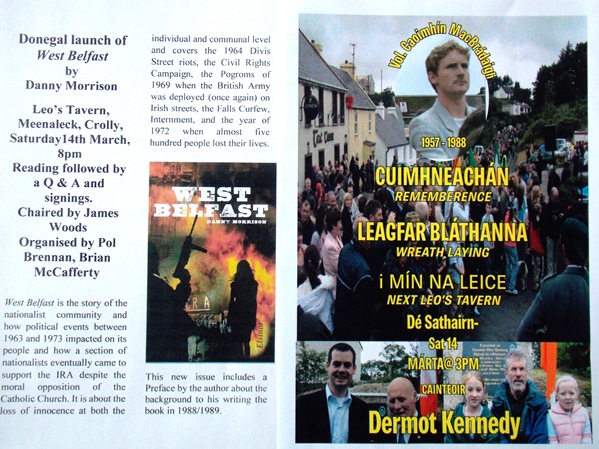 Print This Post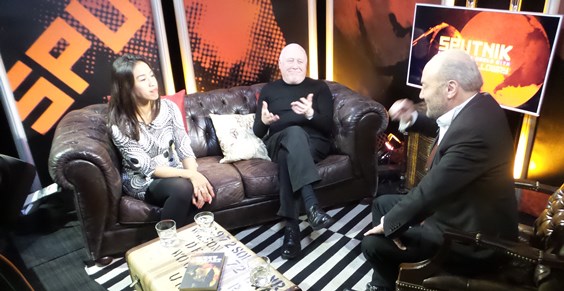 Just back from London where I was interviewed about my novel West Belfast by George Galloway MP and Gayatri Pertiwi for their television programme Sputnik on Russia Today (to be broadcast on Saturday 24th January. About 13.30mins in).
Bought Wandering by Hermann Hesse in Henry Pordes' bookshop on Charing Cross Road. Loved this quote on 'borders':
"If there were many other people who loathed the borders between countries as I do, then there would be no more wars and blockades. Nothing on earth is more disgusting, more contemptible than borders. They're like cannons, like generals: as long as peace, loving kindness and peace go on, nobody pays any attention to them – but as soon as war and insanity appear, they become urgent and sacred."
Hesse has written a lot about wandering and homesickness but says that, "Every road leads us wanderers too back home."
21st January. Interviewed by Lauren Dempster, a Postgraduate Research Student at QUB, on the subject of the 'disappeared' as one element of the broader 'dealing with the legacy of past violence'.
19th January. Interviewed on Talkback regarding Project Petra between the BBC's children programme Blue Peter and MI5 aimed at finding three junior wannabe spies, aged between 8 and 14. Was critical and sceptical of whether kids would get to see the truth behind the illegalities practised by MI5, particularly its dirty war in the North.
18th January. Finished The Narrow Road To The Deep South by Richard Flanagan, which won the 2014 Man Booker Prize. Good book but too long.
14th January. Interviewed on The Nolan Show regarding the 'On The Runs' controversy and the evidence given by former PM Tony Blair to the Westminster committee investigating the scheme.
9th January. My 62nd birthday! Books, cigars, wine and great dinner!
6th January. Interviewed by Tracey Iceton, a PhD student in her second year of a practice-led creative writing doctorate at Northumbria University. The title of her thesis is 'Troubles Women: A creative-critical exploration and re-writing of the portrayal of female characters in twentieth and twenty-first century Troubles fiction.'

Print This Post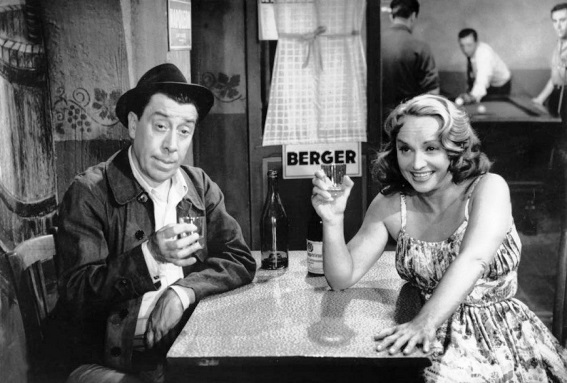 Finished Gabriel Chevallier's hilarious Clochemerle – a comic satire about how the building of a public lavatory provokes a furore in the eponymous Beaujolais village between the left and the right. Must get his novel about WWI, La Peur (Fear). Clochemerle allegedly is named after blackbirds who would fly away when the church bell was rang. The peasants spoke of 'the blackbirds' bell', thus  'la cloche à merles'.
There is a beautiful description about the arrival of Spring: "And the sun, in the empyrean that stretched away to infinity, revelled in it to his heart's content and glittered and shone without restraint. He shed his genial influence on the little twigs and flowering buds, brought boldness to the young men and softness to the girls, made the old people less cross-grained and fault-finding, the parents more understanding, the policemen a little less stupid, the righteous people and pious women a little more tolerant, the thrifty less careful with their money; in a word, opened all hearts."
2nd January. Finished Summer In The Heart, a charming Bildungsroman by John McMillan about young Jim Mitchell who lives in a village (presumably, Greenisland) close to the lough shore of Belfast, his schooldays, his first love and the adventure of life that lies before him. Last July I read another of his novels, The Soul of the City. Like that book this is also lyrical and rich in imagery. Just this one little line evokes a memory of night-time ritual for those of us who lived in cold houses!
"The living room fire was snoring under its night time blanket of slack behind the wiremesh guard."
4th January. Participated in panel discussion on Sunday Sequence re the release of state papers from 1984/1985.

Print This Post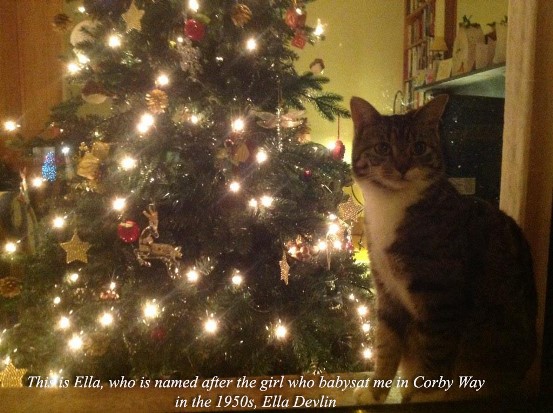 Books, glorious books! Spoilt rotten by Santas. From my beloved I got 1941: The Year That Keeps Returning by Slavko Goldstein, who was born in 1928 to Jewish parents in Sarajevo. His father kept a bookshop but was arrested and disappeared and then murdered by the Ustashe. Goldstein himself became a partisan. Got Belfast Noir and Dublin Noir by my friend John Lynch. Roddy Doyle's book of short stories, Bullfighting, from Gerry Adams. And Richard Flanagan's The Narrow Road To The Deep North from my friend Niamh.
23rd December. On BBC Talkback panel with Alex Kane and Brian Feeney, hosted by William Crawley, about the Stormont inter-party talks. Whilst on air we get news of possible breakthrough and agreement.
19th December. On BBC Talkback panel with Alex Kane and Brian Feeney, hosted by William Crawley, about the Stormont inter-party talks from which British PM David Cameron made a quick exit
18th December. Interviewed about the history of Féile an Phobail by Adrian Devine, a lecturer at the University of Ulster who is writing a chapter for a book entitled 'Managing and Developing Community Festivals and Events'.
Interviewed by Dr Máirtín Ó Catháin, Lecturer in Modern Irish and European History, at the University of Central Lancashire, about republicans and family history and the extent to which a family history of involvement with the Republican Movement has an influence on individuals and what impact family history has generally on republican activists.