Print This Post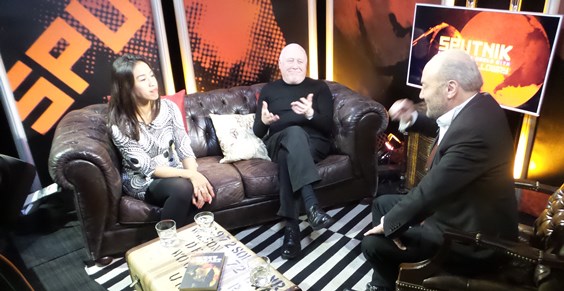 Just back from London where I was interviewed about my novel West Belfast by George Galloway MP and Gayatri Pertiwi for their television programme Sputnik on Russia Today (to be broadcast on Saturday 24th January. About 13.30mins in).
Bought Wandering by Hermann Hesse in Henry Pordes' bookshop on Charing Cross Road. Loved this quote on 'borders':
"If there were many other people who loathed the borders between countries as I do, then there would be no more wars and blockades. Nothing on earth is more disgusting, more contemptible than borders. They're like cannons, like generals: as long as peace, loving kindness and peace go on, nobody pays any attention to them – but as soon as war and insanity appear, they become urgent and sacred."
Hesse has written a lot about wandering and homesickness but says that, "Every road leads us wanderers too back home."
21st January. Interviewed by Lauren Dempster, a Postgraduate Research Student at QUB, on the subject of the 'disappeared' as one element of the broader 'dealing with the legacy of past violence'.
19th January. Interviewed on Talkback regarding Project Petra between the BBC's children programme Blue Peter and MI5 aimed at finding three junior wannabe spies, aged between 8 and 14. Was critical and sceptical of whether kids would get to see the truth behind the illegalities practised by MI5, particularly its dirty war in the North.
18th January. Finished The Narrow Road To The Deep South by Richard Flanagan, which won the 2014 Man Booker Prize. Good book but too long.
14th January. Interviewed on The Nolan Show regarding the 'On The Runs' controversy and the evidence given by former PM Tony Blair to the Westminster committee investigating the scheme.
9th January. My 62nd birthday! Books, cigars, wine and great dinner!
6th January. Interviewed by Tracey Iceton, a PhD student in her second year of a practice-led creative writing doctorate at Northumbria University. The title of her thesis is 'Troubles Women: A creative-critical exploration and re-writing of the portrayal of female characters in twentieth and twenty-first century Troubles fiction.'

Print This Post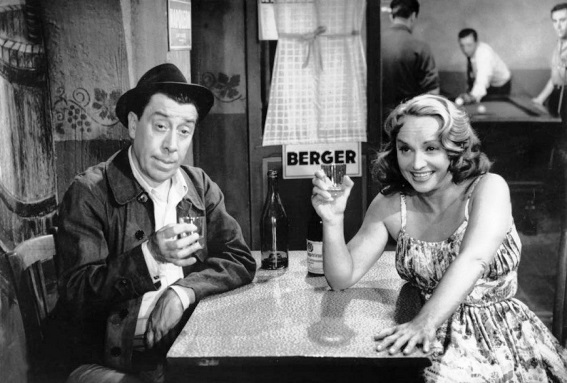 Finished Gabriel Chevallier's hilarious Clochemerle – a comic satire about how the building of a public lavatory provokes a furore in the eponymous Beaujolais village between the left and the right. Must get his novel about WWI, La Peur (Fear). Clochemerle allegedly is named after blackbirds who would fly away when the church bell was rang. The peasants spoke of 'the blackbirds' bell', thus  'la cloche à merles'.
There is a beautiful description about the arrival of Spring: "And the sun, in the empyrean that stretched away to infinity, revelled in it to his heart's content and glittered and shone without restraint. He shed his genial influence on the little twigs and flowering buds, brought boldness to the young men and softness to the girls, made the old people less cross-grained and fault-finding, the parents more understanding, the policemen a little less stupid, the righteous people and pious women a little more tolerant, the thrifty less careful with their money; in a word, opened all hearts."
2nd January. Finished Summer In The Heart, a charming Bildungsroman by John McMillan about young Jim Mitchell who lives in a village (presumably, Greenisland) close to the lough shore of Belfast, his schooldays, his first love and the adventure of life that lies before him. Last July I read another of his novels, The Soul of the City. Like that book this is also lyrical and rich in imagery. Just this one little line evokes a memory of night-time ritual for those of us who lived in cold houses!
"The living room fire was snoring under its night time blanket of slack behind the wiremesh guard."
4th January. Participated in panel discussion on Sunday Sequence re the release of state papers from 1984/1985.

Print This Post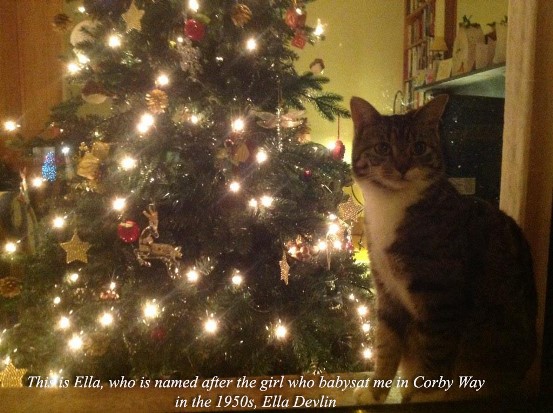 Books, glorious books! Spoilt rotten by Santas. From my beloved I got 1941: The Year That Keeps Returning by Slavko Goldstein, who was born in 1928 to Jewish parents in Sarajevo. His father kept a bookshop but was arrested and disappeared and then murdered by the Ustashe. Goldstein himself became a partisan. Got Belfast Noir and Dublin Noir by my friend John Lynch. Roddy Doyle's book of short stories, Bullfighting, from Gerry Adams. And Richard Flanagan's The Narrow Road To The Deep North from my friend Niamh.
23rd December. On BBC Talkback panel with Alex Kane and Brian Feeney, hosted by William Crawley, about the Stormont inter-party talks. Whilst on air we get news of possible breakthrough and agreement.
19th December. On BBC Talkback panel with Alex Kane and Brian Feeney, hosted by William Crawley, about the Stormont inter-party talks from which British PM David Cameron made a quick exit
18th December. Interviewed about the history of Féile an Phobail by Adrian Devine, a lecturer at the University of Ulster who is writing a chapter for a book entitled 'Managing and Developing Community Festivals and Events'.
Interviewed by Dr Máirtín Ó Catháin, Lecturer in Modern Irish and European History, at the University of Central Lancashire, about republicans and family history and the extent to which a family history of involvement with the Republican Movement has an influence on individuals and what impact family history has generally on republican activists.

Print This Post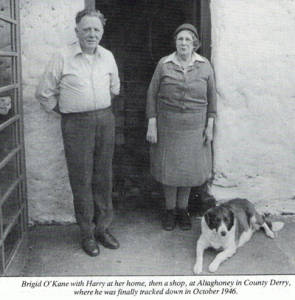 Spoke at Craigbane Graveyard at the unveiling of a newly erected headstone to Brigid and Rose O'Kane who billeted IRA Volunteers on the run in the 1940s, including my Uncle Harry.
12th December. On BBC Talkback panel with Alex Kane and Brian Feeney, hosted by William Crawley, about the Stormont inter-party talks from which British PM David Cameron made a quick exit.
4th December. At event in St Mary's University College, Falls Road, where author Eimear O'Callaghan was interviewed by journalist and political commentator Paul McFadden about her memoir, Belfast Days – A 1972 Teenage Diary.
3rd December. Interviewed by Irena Sargsyan, Georgetown University, Washington, DC, who is writing her doctoral dissertation studying how some leaders of resistance movements are "able to overcome the collective action problem and mobilize and sustain armed campaigns that require voluntary risky actions, whereas others are not. Why are only some opposition leaders effective in achieving political objectives through sustained armed resistance?"
Took part in BBC Talkback panel discussion on academic report on the loyalist flag protest – 'The Flag Dispute – Anatomy of a Protest'. In the studio with Paul Nolan (one of the authors), Councillor Lee Reynolds (DUP), Billy Hutchinson (PUP) and a loyalist protestor.
1st December. Saga of West Belfast continues. More editing required. Did final corrections. Out by Christmas? Beginning to doubt it.
28th November. Did interview with Ocean FM on last night's political discussion.
27th November.  Spoke along with former Unionist Party member Roy Garland at a discussion in Sligo organized by Tús Nua – 'Beyond Conflict – Building The Future'.
26th November. Wrote review of William 'Plum' Smith's prison memoir Inside Man for loyalist website (longkeshinsideout) which shall appear tomorrow.
25th November. Interviewed on Radio Foyle about Gerry Adams' use of the word 'bastards' when referring to political opponents who are sectarian, homophobic, racist and/or sexist – take your pick!
Talk with Berlin-based Jim Masterson who is writing an academic paper on how the media has supported the peace process in the North; have they been positive and objective or rather obstructive or even destructive in their reporting of events.
24th November. Interviewed by my friend Tom Hartley about my early life for community television station, NvTV. Date of broadcast to follow.

Print This Post
A friend in the USA, Barbara, sent me this crazy animated video of a "Sinn Fein Christmas party" which I found hilarious! You'll need to activate Quicktime on your computer.
Enjoy!

Print This Post
Finished the final edit of West Belfast. Many thanks to Tina Neylon for the proofing and Seán Misteíl for the brilliant cover! Thomas Pago of Elsinor Verlag hopes to have the book out by early-to-mid-December.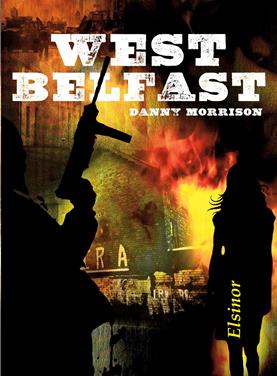 1st November. At Nuremberg, Germany, the left-wing literature festival, and read from Rudi.
25th October. Was a guest speaker at a meeting of Sinn Féin election candidates and representatives at the Balmoral Hotel, Dunmurry, on the electoral strategy of the Republican Movement after the 1981 hunger strike and the building of a mass base.

23rd October. Was guest speaker at an internal Sinn Féin education meeting in Navan and was interviewed by Councillor Joe Reilly in front of a packed room and then did a Q & A.

22nd October. Interviewed by Mark Reynolds, GAA museum archivist who is writing a thesis on the GAA and the 1980/1981 hunger strikes.

20th October. Interviewed in Bombay Street by Meili Deschen from Swiss National Television for a documentary on walls and borders which will be broadcast to coincide with the fall of the Berlin Wall twenty-five years ago.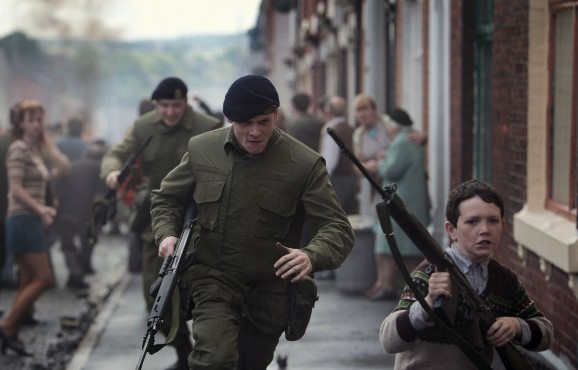 18th October. Met up with Yann Demange at QFT at the showing of his film '71. Two years ago I gave Yann and his producer Angus Lamont a tour of West Belfast when they were researching. Also met Robin Gutch (producer of Hunger) whom I hadn't seen in six or seven years; and the screenplay writer Gregory Burke (who also wrote Black Watch).

15th October. Interviewed on the Nolan Show along with Ruth Dudley Edwards regarding a feature she wrote in the Belfast Telegraph, 'Time UK's enfant terrible and its leaders wised up', criticising "the ingratitude and the sense of entitlement" of the leaders of Sinn Fein and the DUP.
Finished the wonderful The Marquise of O- And Other Stories by Heinrich Von Kleist.

13th October. Interviewed by Aoife Hennigan who is writing her Leaving Cert essay on 'Bobby Sands and the 1981 hunger strike'.
At book launch in Crumlin Road Jail of William 'Plum' Smith's prison memoir, Inside Man.

8th October. Took part in debate in Trinity College Dublin: 'That This House Believes Political Violence Is Legitimate'. Narrowly lost.

3rd October. Did recorded interview for BBC's Sunday Sequence with host William Crawley and former UUP MP David Burnside about British Home Secretary Theresa May's proposals to ban 'extremists' accessing the web and being interviewed on television and comparisons between these proposals and the Broadcasting Ban on Sinn Féin introduced in 1988.

28th September. In Divis Street at site of republican election offices in 1964 to mark the anniversary of the Tricolour Riots and hear guest speaker Tom Hartley.

26th September. Interviewed on the Nolan Show about next Monday night's Peter Taylor's television documentary on the BBC: 'Who Won The War?'

Print This Post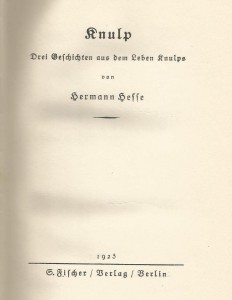 I am half-way through The Marquise Of O- (And Other Stories) by Heinrich Von Kleist, a German playwright and author of novellas dealing with violence and mystery. In 1811 thirty-four-year old Kleist in a suicide pact with Henriette Vogel who was dying from incurable cancer first shot her and then himself at Wannsee, near Berlin. He simply couldn't cope with life, with existence.
Then, last week, I discovered that one of my readings in Berlin was going to be at the Heinrich von Kleist Library in a district of the former East Berlin – and what an occasion it turned out to be! The library was full, Marina Georgi and her staff laid on drinks and food and gave me presents of a pen, beers from the local micro-brewery, but most precious of all was a hardback copy of Knulp, published in 1925. Marina told me that earlier that day an old man called into the library. He couldn't come to the event but that he would like her to give me the book as a memento of my visit! What a gesture, what kindness. Thank you, whoever you are.
16th September. Was part of a panel discussion on tonight's BBC television's Spotlight chaired by Noel Thompson. Was on with Fionnuala O'Connor and Alex Kane to discuss the legacy of Ian Paisley who died last Friday. I said that I was wrong when I thought he would never do a deal with Sinn Féin but that I was glad he had, and had brought the DUP over the line. I also doubted whether he had done it for egotistical reasons and I didn't buy into the theory that he wanted 'peace-maker' rather than 'trouble-maker' on his headstone because he must have known that he could not so easily erase all that came before. Simplistically – although the cause of the conflict is much more complex – if the cause of our recent Troubles could be laid at the door of one man, it would be Ian Paisley. After we left the studio Fionnuala and I were criticised on air by Gregory Campbell for our 'disgraceful' remarks!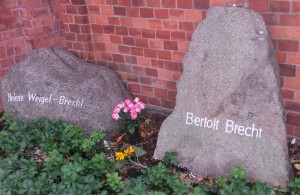 12th September. Went to Dorotheenstadt Cemetery and visited the graves of Heinrich Mann, Herbert Marcuse, Christa Wolf, and Hegel, and was standing at the grave of Bertolt Brecht when I received a text message from my brother Ciaran to tell me that Ian Paisley had died.
During one of my interviews I was asked about the provenance of the name Rudi which was thought not to be German. Then, as I was walking around Dorotheenstadt didn't I come across this grave!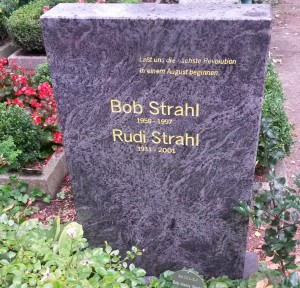 11th September. Visited the House of the Wannsee Conference. Here on 20th January 1942 Reinhard Heydrich chaired a meeting lasting just a few hours. Attended by fifteen high-ranking SS officers and representative of Germany's public administration the plan was drawn up to murder all European Jews. The house itself is eerie for having been filled with evil but now it is the location for a permanent exhibit and an education department which offers youth groups and school children talks on the holocaust and the history of National Socialism and its consequences. There were about thirty young people there at two separate seminars. The historian Joseph Wulf had between 1965 and 1972 attempted but failed to found a documentation centre in the villa. It was only in 1992, after German reunification, that the Memorial and Educational Site was established – on the 50th anniversary of the Wannsee Conference.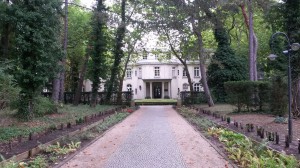 At Heinrich von Kleist library tonight I read from Rudi and was interviewed by Milena Adam who also acted as translator.
10th September. Visited the Stasimuseum in the morning. This afternoon, in the Haus Der Berliner Festspiele was my first event – 'Approaches to Trust' – which was moderated by the well-known translator Bernhard Robben with an actor, Matthias Scherwenikas, reading from a political essay I wrote. Later, it was the same platform but in the Martin-Luther Kirche and the discussion and reading was about Rudi.
9th September. Interviewed by Berlin's Radio 1 about the situation in Ireland and my book Rudi.
Attended the official opening of the ilb.
8th September. With friends was given a personal tour of the Reichstag. Later, met the Irish Ambassador to Germany, Michael Collins. He introduced Jörg Rademacher who spoke about his exhibition on the life of Oscar Wilde which was on display and about his new translation of Dorian Gray for which I wrote the introduction.
7th September. Went to Jablonskistrasse, the setting of no 55, the apartment where the fictional Otto and Elise Hampel live in the Fallada novel Alone In Berlin.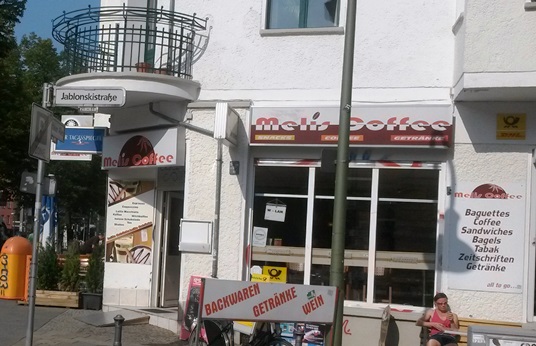 6th September.  In Berlin to attend the International Literature Festival (ilb).
1st September. Interviewed on Radio Foyle, then on the Nolan Show, re the 20th anniversary of the IRA ceasefire.
31st August. Went up to Long Kesh and looked out across the old car park towards where the visiting area and H-Blocks were, and reflected on the conflict on this the anniversary of the 1994 ceasefire.
30th August. Interviewed in RTE studio Dublin by Aine Lawlor for the Marian Finucane Show about the 20th anniversary of the IRA ceasefire and also about my writings.
27th August. Interviewed by Paul Clarke on UTV along with William 'Plum' Smith, former loyalist prisoner, about the 20th anniversary of the IRA ceasefire.
25th August. Did Skype interview with Leaving Certificate student Megan Conway on Bobby Sands and the 1981 hunger strike.
23rd August.  At meeting in Ulster Hall addressed by George Galloway whom I later took to the Andersonstown (PD) Social Club, then to Kelly's Cellars.
18th August. Interviewed by Victoria McGroary who is at Brandeis University, USA, and who is working on her doctorate about the Troubles, in particular Sinn Féin and its transformation into the dominant nationalist party in the North.
9th August. At City Airport picked up Martin Sixsmith and his wife Mary. Later, did guest interview with Martin about his journalism but particularly about his book, Philomena.
8th August. Interviewed by Gerry Braiden for The Herald on the Scottish referendum on independence on 18th September. Chaired Féile event given by Sean Connolly on performance enhancement.
6th August. At City Airport picked up Marina Lewycka (A Short History of Tractors in Ukrainian) who will be speaking at Scribes tomorrow along with Conal Creedon and Ronan Bennett.
5th August. Edited down a lengthy feature on Culture of Trust which will appear in Berliner Zeitung and Frankfurter Rundschau.
4th August. At Féile-organised discussion of 20th anniversary of IRA ceasefire. On the platform: Brian Rowan, Eamonn Mallie and Charlie Bird.
1st August. At the launch of white marble bust of Bobby Sands, sculpted by Paraic Casey from County Clare. At the event in the Felons Club both Paraic and Gerry Adams spoke.
31st July. Chaired launch of Tom Hartley's new book, Milltown Cemetery – Written In Stone. This is my introduction:
My name is Danny Morrison and I am proud to chair this opening event of Feile 2014, especially since it is on behalf of one of my oldest friends, Tom Hartley.
I actually knew Tom's brother Terry when both of us were waiters in the International Hotel back in 1968. I think it was in that hotel that the inaugural meeting of the Civil Rights Movement was held, and, of course, it was also from that hotel, where he worked, that in 1966 young Peter Ward went for a drink to the Malvern Arms and was shot dead on his way out.
Of course, none of us back then, fairly innocent, were to know of the darkness that lay ahead.
Tom and I became friends and comrades through our work in the Republican Press Centre where I was based as editor of Republican News and Tom was the manager.
He wrote a few pieces back then but was mostly in charge of putting pressure on people to pay their bills. In fact, he got a very angry reply back from a republican prisoner serving life in England who had received a letter from Tom saying that if he didn't pay his bill his subscription would be cut off.
Later, Tom became general secretary of Sinn Fein and was a good, healthy and progressive influence on the party, and, of course, he has also been Lord Mayor of Belfast. Tom was the first member of Sinn Fein to attend the First World War commemoration service at Islandbridge in Dublin in 1994.
This festival, Féile an Phobail, celebrated its 25th anniversary last year. Tom was involved from the outset but his initial contribution actually didn't involve cemeteries but taking a minibus of tourists around West Belfast and pointing out famous landmarks. He would stop in Harrogate Street and point out a certain house and explain that a famous Irishman had been born in it. It was missing a plaque but it was, of course, the house were one Tom Hartley had been born.
When he first began his walks of City Cemetery he gave myself and the poet Michael Longley a private, fascinating tour, and he certainly opened my eyes to the history of the unionist people as 'written in stone' and our complicated history. For example, one grave he brought us to was that of Robert Lynd.
Robert Lynd was born in North Belfast in 1879. His father, a Presbyterian minister and former Moderator, was an anti-Home Ruler. Robert, though, declared himself a socialist, became a fluent Irish speaker and later a republican, but was opposed to physical force, believing that violence would alienate the unionists, for whom he always maintained a great affection.
He worked in London as a journalist and while there got to know Michael Collins. He taught Roger Casement Irish and was one of the most active petitioners for Casement's reprieve in 1916, visiting him in Brixton Prison.
He was a member of Sinn Fein for a while and also wrote the introduction to James Connolly's book, Labour in Irish History.
He died in London in 1949 but was buried in the city cemetery. There were tributes from George Bernard Shaw and Sean O'Casey. The Union flag at Inst.
College, his old school, hung at half-mast. Present at his funeral here on the Falls Road, were Vice-Marshall Sir William Tyrrell; Sam Porter, then Lord Chief Justice; Lynd's nephew, Robert Lowry, a future Lord Chief Justice (who in 1978 would acquit Gerry Adams of an IRA membership charge); the artist William Conor; the former IRA Chief of Staff, Sean McBride, then Minister of External Affairs for the Dublin government; McBride's assistant, Conor Cruise O'Brien; and Senator Denis Ireland.
Tom was discovering for us an almost, almost lost past.
I now have the honour of introducing our main speaker, Philip Orr, who will officially launch Tom's companion volume to his book on City Cemetery. Philip is a former teacher, a consultant to various museums, a playwright and author of the best-selling book, The Road To the Somme: Men of the Ulster Division Tell Their Story.
He is a good friend of Feile and has appeared on many Feile platforms before –  performing along with Mike Gaston a selection of Robbie Burns poems and songs, discussing with Joe Austin the poppy and the lily and he will be speaking at the Falls Library next Wednesday on the subject of 'The Great War and Unionist Memory'.
26th July. Went to the Gate Theatre in Dublin to see The Price by Arthur Miller. Brilliant.

Print This Post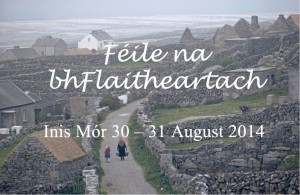 Féile na bhFlaitheartach (Liam O'Flaherty Summer School) will be held on Inis Mór in the last weekend in August (30-31). See clár below:
Saturday August 30
10.30am    Ferry departs from Ros a'Mhíl/Rosaveel to Inis Mór.
11.15am    Ferry arrives in Cill Rónáin – Local transport to Kilmurvey House available outside Tourist Office. (Fare to be paid)
12.30pm – 2.00pm Kilmurvey House. (Tea and coffee available for purchase on arrival.)
Opening of the School by Seosamh Ó Cuaig, the chairperson of the Liam & Tom O'Flaherty Society. Seosamh Ó Cuaig is a writer, film maker, and broadcaster.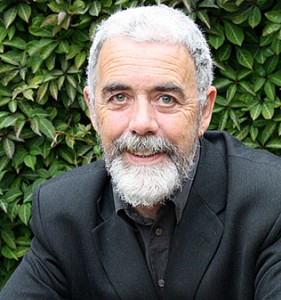 THE BRUTAL TRUTH, THE SLAUGHTER OF THE POOR: Theo Dorgan (pic, right), poet, writer, editor, translator, broadcaster and member of Aosdána reflects on the First World War, looking at themes in the writings of Liam O'Flaherty with particular reference to his novel The Return of the Brute.
Followed by a discussion.
2pm      Lunch available in nearby restaurants.
3pm      Local transport available to Tom O'Flaherty's grave í gCill Éinne. (Fare to be paid.)
4pm     Commemoration at the grave of Tom O Flaherty.
•    Address by Seosamh Ó Cuaig,
•    Reading  from Tom O'Flaherty's Aranmen All by Fionnghuala Ni    Chonceanainn    with Deirdre Ní Chonghaile on fiddle
•    Sean-Nós  lament sung by Treasa Ni Mhiolláin.
8pm      Aran on Stage
Reading of Liam O'Flaherty's only play, Dorchhadas, by Aisteoirí Cois Fharraige, in  Scoil Fhearann an Choirce,  to be followed by a discussion.
Sunday 31 August
12 noon:  Lecture at Tí Joe Mac in Cill Rónáin
Páipéar deireanach Thomáis Uí Fhlaithearta – 'An t-Éireannach' 1934-37′:  Éamon Ó Ciosáin, NUI Maynooth, speaks on Tom O'Flaherty's Irish language articles in the radical 1930s newspaper An t-Éireannach.
Discussion  entitled "Cuimhne ar Mhícheál Ó Maoláin— ceardchumannach as Árainn," led by Seosamh Ó Cuaig will follow.
Following the leacture and discussion, lunch will be available in local restaurants.
The Summer School Fee is €10 or €3 for attendance at inidvidual events. Admission is free to all  paid up members of the  the Liam & Tom O'Flaherty Society. Amount of contribution to local transport costs to be announced.
There are return sailings to Ros a Mhíl at 5pm and at 6.30pm on Sunday evening.

Print This Post
Finished a wonderful novel by Armagh-born but England-based writer John McMillan, The Soul of the City. It is a Bildungsroman, set in Belfast and London and is evocative of the 1960s and early 1970s so fine, lyrical and powerful are the detailed observations of mores, language, fashion and music. So many good and serious Irish writers are ignored by the media and the mainstream. Earlier this year I read and was highly impressed by Colin Sloan's The Volga German.
At the end of Part I, our hero Jim Mitchell is leaving for England and looks over to the County Down coast where he and his friends had so many happy summer weekends:
'The ship was moving out into the Irish Sea, ploughing swiftly and powerfully through the furrowed, infinte dark heaving mass of water. We saw the lighthouse beam close by, stabbing the wild black darkness. Lighthouse Island! Then the indistinct shape of our island. It was strange to think of the little wooden house huddled there in its cove facing out to sea, its dark interior illuminated momentarily by each stroke of the lighthouse beam; the empty dark rooms filled with the ghosts of those carefree youthful years of friendship and carousal, guitars and girls around the crackling driftwood fire -.'
16th July. Interviewed on Nolan Show with Alex Kane about the amount of street drinking in Belfast on the Twelfth and whether it is any different to other events where crowds drink at concerts or on St Patrick's Day.
15th July. Interviewed by Augusto Gazir Soares, who is doing an MA in Anthropology at QUB, and his final dissertation is about "social media, politics and humour in Northern Ireland".
10th July. At the launch of Féile's August festival programme.
2nd July. In Sligo for the funeral of my friend, the poet and writer, Dermot Healy (below), who had given me much encouragement for many years and who wrote to me while I was in prison – something that no prisoner ever forgets.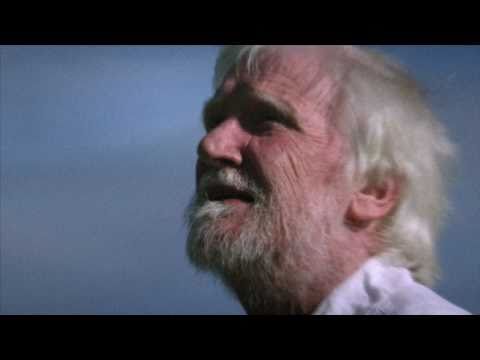 28th June. At funeral of Gerry Conlon (formerly Guildford Four) who tragically died a week ago from a short illness. He had been a year below me at St Peter's School.
26th June. Interviewed on the Nolan Show with Alex Kane re Haass proposal of a Troubles Museum.
18th June.  Began work on reading and judging over three hundred short stories from schools in Belfast.
17th June. Interviewed by Peter Krause, a Research Fellow at Harvard University, who was in Belfast to conduct fieldwork for a university press book on 'the internal politics of the Irish national movement, 1968 – 2001'.
Interviewed by BBC South East about the informer, the discredited Raymond Gilmour, making claims to have 'new' information about the IRA and Martin McGuinness from the 1980s.
16th June. Interviewed by John Braithwaite, Australian National University, for Peacebuilding Compared, about the root causes of the conflict in the North of Ireland and what has been effective and ineffective in dealing with them.
13th June. Interviewed by Christophe Boltanski, a French journalist with Le Nouvel Observateur, a weekly French newsmagazine, who is writing a story on truth and reconciliation.
Spoke at a Féile an Phobail event in Cultúrlann; introduced by Gerry Adams and gave my Féile  Schwanengesang as retired chair.
12th June. Did second part of interview with Marissa McGlinchey who is writing a study of dissident republicans.

Print This Post
Finished A Girl Is A Half-formed Thing by Eimear McBride, her debut novel, written about ten years ago but which only went into print last year after many rejection slips. She took quite a risk in the style of writing but this stream of consciousness narrative about an outrageous, promiscuous young girl and her complex relationship with her family wins through by its passion. McBride's staccato style occasionally jars but we are driven on by that classic, if not voyeuristic lure of wondering what will happen next.
5th June. Interviewed by Andrea Riccio, a researcher from Sapienza University of Rome who is currently working on a PHD about hunger striking.
Interviewed by historian Bob White from Illinois.
At QUB gave talk to US law students from Duquesne University.
13th May. Did interview with Roy Garland on Nolan Show, BBC Radio Ulster, about Protestant working-class boys' underachievement at second-level education.
8th May. In Liverpool read from my novel Rudi as part of the Writers on The Wall Festival.
7th May. Interviewed by Marissa McGlinchey regarding dissident republicans.
2nd May. Interviewed on Louth radio station LMFM about Gerry Adams' arrest. Interviewed on Nolan Show Radio Ulster and later Nolan on 5 Live about arrest of Gerry Adams.
1st May. Interviewed on Today FM about the arrest of Gerry Adams.
29th April. Interviewed on Skype by Maggie Scull, a PhD student at King's College London, on the subject of the Catholic Church and the Troubles.
11th April. In Cork for the Lifelong Learning Festival and chaired their Scribes event.
9th April. Interviewed on Radio Ulster's Nolan Show about Martin McGuinness's visit to England and his toasting the Queen.
7th April. Interviewed on Good Morning Ulster and later BBC Radio Foyle about Martin McGuinness's visit to Windsor Castle banquet.
31st March. Interviewed on Louth's LMFM about the Boston College archives.
30th March. Interviewed on BBC's Sunday Sequence regarding the banning of books in British prisons.
18th March. Interviewed by Brendan Byrne re the life and times of Bobby Sands.