Print This Post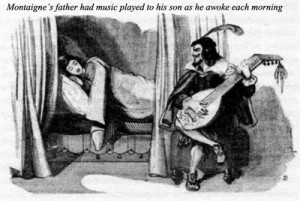 Here are my notes from Sarah Bakewell's book, mostly in her writing. Though I thought she was a bit repetitive she still brings out some interesting points and observations.
Among the readers to be fascinated by Montaigne's way of depicting the flux of his experience was one of the great pioneers of 'stream of consciousness' fiction in the early twentieth century, Virginia Woolf. Her own purpose in her art was to immerse herself in the mental river and follow wherever it led.
During the salt tax riots, Montaigne, then fifteen witnessed the killing of Moneins. A scene he never forgot. It raised in his mind, perhaps for the first time, a question that would haunt the entire Essays  in varying guises: whether it was better to win an enemy's respect by an open display of defiance, or to throw yourself on  his mercy and hope to win him over by submission or an appeal to his better self.
The nineteenth century psychologist Dugald Stewart speculated that Montaigne's lack of control of his memory made him better at such tasks. Montaigne was attuned to the kind of 'involuntary' memory that would one day fascinate Proust: those blasts from the past that irrupt unexpectedly into the present, perhaps in response to a long-forgotten taste or smell.
'Forget much of what you learn' and 'Be slow-witted' became two of Montaigne's best answers to the question of how to live.
The conflict between French Catholics and Protestants and the outbreaks of fighting were often referred to by Montaigne and his contemporaries as 'troubles'.
His friend La Boétie wrote a treatise, On Voluntary Servitude. The subject is the ease with which, throughout history, tyrants have dominated the masses, even though their power would evaporate instantly if those masses withdrew their support. There is no need for a revolution: the people need only stop co-operating, and supplying armies of slaves and sycophants to prop the tyrant up.
Montaigne had a visceral rapport with others. When speaking to the Brazilian Indians in Rouen, he was struck by how they spoke of men as halves of one another, wondering at the sight of rich Frenchmen gorging themselves while their 'other halves' starved on their doorsteps. For Montaigne, all humans share an element of their being, and so do all other living things. 'It is one and the same nature that rolls its course.' Even if animals were less similar to us than they are, we would still owe them a duty of fellow-feeling, simply because they are alive.
Alongside the wish to be happy, emotionally at peace and in full command of one's faculties, something else drives people periodically to smash their achievements to pieces. It is what Freud called the thanatos principle: the drive towards death and chaos. The twentieth -century author Rebecca West described it thus: 'Only part of us is sane: only part of us loves pleasure and the longer day of happiness, wants to live to our nineties and die in peace, in a house that we built, that shall shelter those who come after us. The other half of us is nearly mad. It prefers the disagreeable to the agreeable, loves pain and its darker night despair, and wants to die in a catastrophe that will set back life to its beginnings and leave nothing of our house save its blackened foundations.'
By writing so openly about his everyday observations and inner life, Montaigne was breaking a taboo. You were not supposed to record yourself in a book, only your great deeds, if you had any. The few Renaissance autobiographies so far written, such as Benvenuto Cellini's Vita sua and Girolamo Cardano's  De vita propria, had been left unpublished largely for this reason. St Augustine  had written about himself, but as a spiritual exercise and to document his search for God, not to celebrate the wonders of being Augustine… Only with the coming of Romanticism was Montaigne's openness about himself not merely appreciated, but loved.

Print This Post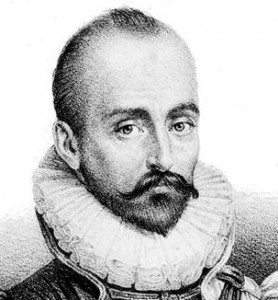 Finished How To Live – A Life of Montaigne – in one question and twenty attempts at an answer by Sarah Bakewell. Was disappointed and found her repetitious. Have still to read Montaigne's essays!
15th June. Gave the oration at the funeral of Seando Moore. Large turn-out. Oration posted on the website of the Bobby Sands Trust.
14th June. Interviewed by Lachlan Whelan, author of Contemporary Irish Republican Prison Writing (Palgrave-Macmillan, 2007), who is working on another prison-related book with an emphasis on the writings of Bobby Sands.
Did short interview over the phone with journalist Brian Rowan with regard to the issues of Truth Processes and conflict resolution, and other issues likely to arise from tomorrow's publication of the Saville Report into Bloody Sunday.
12th June. Joe Austin phoned about an hour ago to tell me that Seando Moore had just died. My old friend Seando. He had battled cancer for a dozen years and amazed everyone because after each increasingly gloomy hospital diagnosis he used to rise like Lazarus. His wife Patricia is a wonderful woman. I first met Seando when he was about 17. He joined the IRA in Beechmount though he came from the Murph. He was so youthful-looking that he was christened 'the child' and that became his nickname/nom de guerre. Occasionally, when he and I were in Andersonstown late night in 1972 we would mosey round to my widowed Aunty May's in Andersonstown Crescent and she would put us up, understanding that we were on the run. Every morning, without fail, breakfast would consist of a boiled egg – and Seando would whisper, has she no cereals!
On the night that I was arrested and interned Seando, Paul Fox, myself and a lot of the Beechmount squad were at a dance in Clonard Hall when the Brits surrounded the place and came in firing rubber bullets. Males were separated from females and we were taken outside, put up against a wall while a spotlight was shone on us and somebody in the back of a Saracen said "arrest" or "release". Anyway, Paul 'Basil' Fox and I got the thumbs down. About 70 or 80 people were arrested and brought to Springfield Road barracks. Then, just three of us were taken to Castlereagh, then two of us – 17-year-old Paul Fox and myself – were taken to the Kesh. I remember the girl I was with, standing at the door of the hall, and she had this look on her face which seemed to say, 'Hey, you brought me out, how am I getting home?' I never saw or heard from her again, sensible woman. But even though things were looking bad I had to laugh. I was kept in Clonard car park in the back of another Saracen and could see those being put up against the wall for the spotlight to be trained on them. Seando, who had deep ginger hair, had dyed his hair ink black but not his eyebrows or eyelashes! When I recognised him I started laughing – his disguise was so obvious. But he got through the check. He called around to my Ma's a few nights later and told her that I had sent word out from Long Kesh for him to collect the crates of home brew I had bottled! He took them to his billet in Terry and Bernie's and had a great time!
He and I were together, standing at the corner of Brighton Street during the riots that occurred after the death of Frank Stagg on hunger strike in an English jail, February 1976. We heard a muffled explosion from the direction of Iveagh. About half an hour later we learnt that a small bomb had exploded in a house in Nansen Street and that our friend and comrade, Sean 'Stu' Bailey, was seriously injured, along with several young people. Stu died from his wounds within a few hours.
Later that year, Seando was arrested in Islandbawn Street with a rifle before an attack on the British army. Political status had been withdrawn and he went on the blanket protest when he was sentenced. By this stage he was married to Patricia and what a tower of strength she was.
When he was in the H-Blocks and on the blanket we used to write to each other – comms as they were known. One in particular broke my heart where he spoke about the men playing 'Bingo' on their dirty walls when the screws went off duty and how funny it was. I both laughed and cried at his descriptions of how they got through each hour, each day, each month, each year, of that incredible protest.
He eventually was released and had a family. About eleven years ago he was diagnosed with cancer of the colon, I think.
He was the inspiration behind the booklet 'Green River', which honoured all of those from the greater area around Beechmount who had contributed to the struggle.
He was indefatigable as a worker and supporter of Sinn Fein and in defending the memory of the hunger strikers. There is not a republican throughout the 32-Counties who has not met or been impressed by him and his wit and his dedication, particularly on the tenth, twentieth, and twenty-fifth anniversaries of the 1981 hunger strike when he toured Ireland with exhibitions and organised speakers.
Proudly displayed on the wall of his Locan Street home is a 'Mrs Dale' or 'Maggie Taggart'.
Around 1979 or 1980, a young man, Artur from Ballymacarrett, had a friend who specialised in radios. Artur came to my house in Beechmount Parade and he came up with the possibility of building small crystal sets that would fit inside the average plastic capsule for tablets and that could be smuggled into the prisoners and could be hidden up their back passages when not in use. It was a brilliant idea, especially since the BBC's main aerial was at Sprucefield, only two miles from the H-Blocks, and the signal would be powerful. The crystal sets had two code names – 'Mrs Dale', after the long-running BBC Radio 4's [Home Service] soap, and 'Maggie Taggart', a local, Belfast BBC presenter who had a warm, sonorous voice.
Visiting Seando in the last few months I would 'eye' Mrs Dale and think about the lifeline to the real world those little few pieces of components had represented to men struggling against an unwarranted brutality.
My best memory of Seando is when we were walking around the yard of Cage 2, Long Kesh, in the summer of 1973. He had, of course, been captured and interned by then, his dye wearing off! Everyone in jail was nicknamed several times. I called Seando 'Shabby Tiger', after a lewd television series which we all loved.
His magnetism and loyalty and friendship and inoffensiveness was his charm.
We were having a light-hearted yarn after having just come from a tedious political meeting in the transline hut. Seando suddenly stopped, looked at me and said half-satirically, "And what do you think, Dan, of a Thirty-Two-County, Democratic, Socialist Republic!"
"That would be wonderful," I replied.
And so it would, I still think, after all these years.
Mr Seando Moore.
10th June. At Queens University speaking to law students from Duquesne University, Pittsburg, on law, politics and history.
9th June. Speaking on the phone to an old hero of mine, the actor Jimmy Ellis, who has agreed to speak at the rededication of the grave of playwright Sam Thompson in the City Cemetery on the 30th July as part of Féile.
7th June. Interviewed by Nick Ritchie, who is studying politics at the University of Stirling, for his dissertation on 'The Reform of Policing Systems in Post-Conflict Societies, an Analysis of Police Reform in Northern Ireland.'
2nd June. Met with John Geraghty of Belfast Metropolitan Colleges to discuss use of St Thomas's School, Whiterock Road, for an event featuring Seamus Heaney during this summer's Féile an Phobail.
31st May. Attended a rally outside Belfast City Hall to protest against the brutal Israeli killings of humanitarian aid workers on board a ship in the Mediterranean.

Print This Post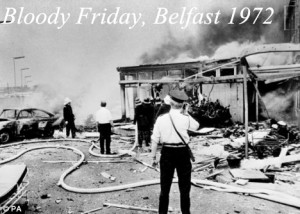 Brian Rowan did a short interview with me across the phone for a story published in yesterday's Belfast Telegraph. It is a good analytical piece on "Why we have to forgive before we start to forget." Here it is in full:
Saville represents a milestone in dealing with the past. But big, set-piece inquiries can never tell the whole story. A wider amnesty may be needed to lay the ghosts to rest, argues Brian Rowan.
It is but one date on a long calendar of 'bloody' days – just one day in a decades-long conflict. Whatever questions are answered about the events of January 30, 1972, there will be much about that day – and many other days – that will remain unanswered.
The story of this conflict cannot be understood by examining one page in the book.
"While Bloody Sunday was undoubtedly a significant incident in the conflict, the publication of the (Saville) report highlights the concerns of some that selective incidents are being dealt with while others aren't examined," says Kate Turner, director of the Healing Through Remembering project.
Bloody Sunday stands out because of the scale of the killing. So, too, does Bloody Friday and the IRA bombs and killing on that day – July 21, 1972.
Other days are forgotten – not examined, rarely mentioned – because only one person died, or someone was injured.
There is not yet a joined up approach to dealing with the past – no detailed examination of all the pages in the book that stretches from the beginning to the end of the long wars.
"There is currently a tapestry of different approaches to dealing with the past," says Kate Turner. "The Bloody Sunday Report is just one of them.
"These include official approaches like the work of the Historic Enquiries Team, Police Ombudsman and the inquiries recommended by Judge Cory.
"But there are also 'unofficial' examinations of the past: autobiographies, television documentaries and it seems every day there is newspaper coverage relating to the past, for example on anniversaries.
"What all of these – particularly Bloody Sunday – show us is that issues not dealt with properly don't just go away."
But there are those who want the past to go away, who are afraid of its ugly truths emerging.
Faces and minds are set against any process that might dig in the 'wrong' places, hidden corners of the IRA and the loyalist organisations and the secret corridors of state and security.
There is much that has been buried, never to be found. The Consultative Group on the Past – headed by Lord Eames and Denis Bradley – was tasked with shaping a process that might bring all sides to some table. But that piece of furniture has not yet been made – and may never be designed.
There is no consensus in terms of what happened and how it should now be addressed. The Eames-Bradley proposed Legacy Commission, with investigation and information recovery units, is buried under the dust on some political shelf inside the NIO.
Danny Morrison was Sinn Fein director of publicity and for years part of the IRA organisation. On the question of the past, he told this newspaper: "You'll get as many opinions about it as there are people. Some people just want to know the truth and others want justice or revenge.
"Other parties will want self-justification . . . In my opinion the protagonists who bear both political and moral responsibility for either causing the conflict or participating in it will want to shift the blame onto others. So, I remain to be convinced there will be a meeting-point."
He is not suggesting, or arguing, for a do-nothing approach, rather thinking out loud about how you begin to address the many competing needs and interests.
It suits a government to argue there is no consensus and, therefore, no point in proceeding. But that isn't going to wash.
"The events of the conflict are now the stuff of history lessons in our schools, despite the fact that we all retain very different versions of what that history actually was," says Kate Turner.
"So the question is not about whether or not the past relating to the conflict is examined, rather it is: 'Can this be done in a way that is joined up and just?'
The past is not just about the big players – political, security, republican and loyalist – it is not just about what they want to tell and not tell.
It is about the families of the many hundreds of people who were killed and the many thousands injured and traumatised.
Sandra Peake, chief executive of the WAVE Trauma Centre, says the cost of the Bloody Sunday Inquiry should not be used as a reason for rejecting other processes on the past.
"There needs to be an agreed mechanism for dealing with the past that delivers a victim/ survivor centred approach for all – independent and structured to get the necessary buy-in from those that can provide the answers," she said. "Truth and justice may often need to be looked at separately. In getting the truth some have given up any hope or right to justice."
The big, set-piece inquiries, will never tell the whole story. And it might well be that after prisoner releases, and the decommissioning and disappeared legislation, that some wider amnesty across the board is needed.
For many that will be an ugly thought. But it might be the only way to some more explanation and better understanding of what went on here and elsewhere.
Doing nothing, looking away, is not an option – not for this Government, or any other
government.
Brian Rowan will be taking part in this summer's Féile an Phobail. Here is a description of the event:
Peace Lines and Lyrics, Falls Road Library, Tuesday 3rd August, 12.30pm
At the unveiling of an archive presentation journalist Barney Rowan will be joined by Sinn Fein Deputy First Minister Martin McGuinness and loyalist William 'Plum' Smith, who chaired the 1994 Combined Loyalist Military Command ceasefire news conference. The conversation will focus on interviews from the early 1990s when Martin McGuinness said the British Government needed to speak to republicans (which, of course, they actually were at this time, privately, though John Major said it would 'turn his stomach'). Former Red Hand Commando prisoner 'Plum' Smith will be asked about the build-up to the CLMC ceasefire – about loyalist fears and concerns after the IRA declared its complete cessation of military operations. Special guest – singer/songwriter Gerry Creen, who has been billed with Nanci Griffith, Brian Kennedy, Juliet Turner and Mick Hanly, and whose signature tune 'A Rose By Any Other Name' has been described by Rev Harold Good as "a timely reminder of where we have been, where we are now, and to where we must not return".