Print This Post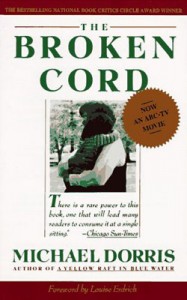 Whether a work of art, a poem or a novel can stand on its own, be judged on its own, without reference to its provenance and its creator, is a recurrent question in criticism. Because Wagner was anti-Semitic does this inevitably taint his music? Would our judgement be flawed if we knew little or nothing about his politics but adored his operas?
I was recently emailed by Sacha Layos from the USA. Sacha has an interest in Foetal Alcohol Syndrome but she was responding to a piece I had written some years ago about the writer Michael Dorris, some of whose novels, and those of his wife Louise Erdrich, I had read. The couple had adopted several children, some of whom had major medical problems, including Reynold who was killed by a car when he was just 23.
Dorris had written a book called, 'The Broken Cord' about FES from which Reynold suffered. Then, Jeffrey Sava, another adoptee accused Dorris and Erdrich of child abuse. Their marriage foundered and in 1997 Dorris checked into a motel room in Concord, New Hampshire, under an assumed name, placed a plastic bag over his head and suffocated himself. At the time of his death he was the subject of a police inquiry following accusations of sexual abuse by two of his adopted children, Jeffrey and Madeline, who are now adults. Both adopted children were early diagnosed with fetal alcohol effect, a condition which often manifests itself in unstable and aggressive behaviour and pervasive lying.
Anyway, Sacha's email was so interesting that I asked her permission to reproduce it – and here it is.
I just read your piece on your site regarding Michael Dorris' death. In it, you ask: "So the question is, I suppose: can a novel, a piece of music, a statue, a painting, be judged on its own merits, separate from its creator and the life he or she led?" I do not know the original date of your thoughts on Mr. Dorris though I suspect it was quite some time ago. That said, the timing of your question for me is very current for I am nearing the end of 'The Broken Cord'. I wanted to offer you my thoughts on the subject since I suspect this is probably something you continue to question.
For background, I am reading the book because I have two adopted children both of whom were prenatally exposed to alcohol. I also serve on a local advisory board for an FAS diagnostic team. At this juncture, one more severely affected than the other – though as Dorris aptly described, the effects of pre-natal exposure both vary widely and in the timing of their appearance. In the course of reading the book, I was reminded by a friend of the circumstances surrounding Dorris' death and the accusations that led thereto of which I previously was only vaguely aware. Despite being completely taken in by this book so much so that I found myself beginning to underline passage after passage that mirrored my exact situation, I stopped briefly in my tracks to research the history of the tragic ending. I questioned the same things you did and considering I have very strong feelings about those who abuse their children given my own history and that of my daughter's, I contemplated changing my rapidly forming opinion of his work.
What I've concluded is that not only CAN you separate out a work from its creator, but you MUST do so especially in this case. Obviously, the truth will never be known in this case… partly because, with FAS, there is no truth. I think one has to be a parent to a child with FAS to truly understand that statement because it is not just a reference to the affected child's ability to lie. You can never separate out what is the alcohol, what is the nature, what is the nurture and in the end, it does not matter because all you can do is go forward. In that same vein, you can never know the true motivations, thoughts, feelings, character of a writer, and I suspect our collective literary exposure and subsequent life experiences would be severely limited should we choose to only give credence to those writers with whom we morally agree.
Dorris' book speaks volumes to me. I know the exact struggle he went through with respect to raising a child or children affected by alcohol. That struggle is endless yet Dorris' identification and illumination of that dark side is potentially the most effective tool that could be used to help not only parents of affected kids, but service providers who think they too are going to have all the answers to this or that kid's problems (they don't by the way). The vortex of FAS can consume even the strongest of souls and this is what happened to Dorris though we will never know exactly in what manner.
Thanks for your time. Those are my two cents.
Sacha Layos

Print This Post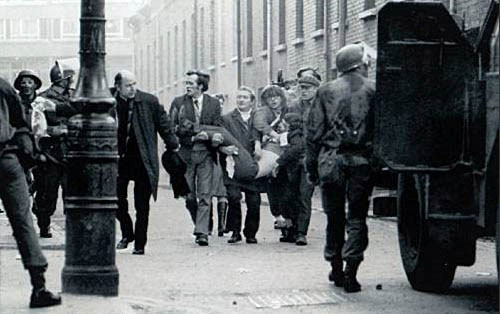 After the publication of the Saville Report many letters appeared in the Irish Times, including one by a Niall Ginty, attempting to draw attention away from the British government and the Paras. A letter I wrote in response was published in that paper on 24th June.
Madam, Niall Ginty (June 18th), commenting on the Bloody Sunday Report, tosses out statistics alleging that the IRA killed more than any other organisation during the conflict, and that if there is "a process for all victims" then the inquiry should begin with the IRA.
Whether intended, the effect of his comment is to excuse British paratroopers and divert attention elsewhere.
I am not sure where Mr Ginty has been living and whether he has heard of Mountjoy, Portlaoise, Crumlin Road or Long Kesh. Several thousand republicans served lengthy sentences in prison for IRA activities whereas the British state protected its killers and continues to do so and not just by granting the paratroopers anonymity.
The statistics Mr Ginty quotes are, in fact, wrong. Sir John Stevens spent fifteen years inquiring into allegations of collusion between British agencies and loyalist paramilitaries. The public was promised the truth. Instead, Stevens was only allowed to publish 17 pages out of his 3000-page report. It is clear that the UDA and UVF were little more than armed wings of British forces. The numbers they assassinated, added to those killed by regular forces, is a higher figure than that killed by the IRA.
But to argue in this way, as Niall does, is fallacious. If Vietnamese insurgents killed more people than US forces that still would not have made the US morally superior in that conflict. Niall juggles with figures for propaganda reasons.
Even when IRA Volunteers, such as those arrested in Balcombe Street, London, in 1975, told British police that they had carried out the Guildford and Woolwich bombings in 1974 and that the wrong people had been imprisoned, the British state kept the Guildford Four in prison for another fifteen years, rather than admit to having got it wrong.
In my own case, I was lured to a house by a British agent working inside the IRA. Against this man there are serious allegations that he was involved in murdering people at the behest of British intelligence (deaths which are part of the "IRA" statistics that Niall relies on). I was sentenced and served eight years, some of my co-accused twelve years. It took us twenty years to have our convictions overturned only for the British state in 2009 to issue a Public Immunity Certificate hiding the reasons for our convictions being quashed. It continues to protect the man involved.
Had the British government on 1st February 1972 admitted what Saville in 2010 declared had really happened on Bloody Sunday then Ted Heath's government would have fallen, there would have been a crisis in Britain, paratroopers would have faced life imprisonment and, in all likelihood, Britain would have been propelled much more quickly down the road of negotiation instead of fighting a dirty war. Thousands of lives might well have been saved.
It cost £200 million and 38 years to get the truth because Britain lied. Here, still no inquests have been held into those victims of RUC shoot-to-kill in 1982. Judge Peter Corey's recommendation of a transparent inquiry into the assassination of human rights lawyer Pat Finucane twenty one years ago has been set aside and the British government has legislatively re-written the terms of any future inquiry to its advantage.
Perhaps that explains why Mr Ginty only wants to talk about the IRA.

Print This Post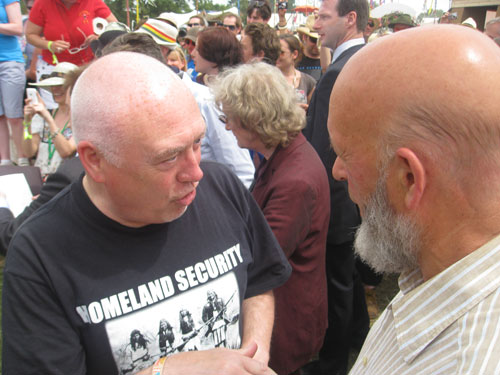 Back, exhausted, from an equatorial Glastonbury. On the last day I saw Ray Davies with the Crouch End Festival Choir, Richard Thompson and Stevie Wonder [who didn't play 'My Cherie Amour' or 'You Are The Sunshine of My Life', but was still brilliant].
Ray Davies was mesmerising and I felt very emotional as he dedicated 'Waterloo Sunset', 'Days' and 'See My Friends' to Peter Quaife, the original Kinks' bassist, who died just a few days ago.
26th June. Jackson Browne was a bit disappointing though he did 'After The Deluge' – which Christy Moore also played later in the night at the Acoustic Tent. Went to hear Michael Eavis interviewed by legendary disc jockey Johnny Walker. Eavis is a fascinating man and joked that his Methodist father and preacher would turn in his grave at the thought of him accepting a CBE from the Queen in 2007 but that he did it for the sake of his elderly mother. Johnny Walker asked him for his reaction about being nominated by Time magazine as one of the top 100 most influential people in the world and he said he was humbled. Caught the Pet Shop Boys concert and they put on a brilliant show.
25th June. Hardly slept because of the heat. Went to the field above the Pyramid Stage to do a live interview with Radio Ulster and bantered Conor Bradford about him having a kaftan and flares in the attic from the Sixties. In the afternoon, The Stranglers concert was brilliant. Later, was sitting down watching Willie Nelson perform on the Pyramid Stage when someone brushed past me. Looked up and it was my son Kevin whom we thought couldn't make it to Glastonbury. It was a lovely surprise. That night when all the young ones headed off to see Dizzy Rascal and the Gorillaz, I went to see Alan Price, former organist with The Animals, who did a great set.
24th June. Got call from Jacqueline McIntyre producer of BBC radio's Good Morning Ulster, asking me if I would do an interview live around ten to nine tomorrow re the fortieth anniversary of the festival. Agreed to it. At our campsite we were joined by friends whom we first met at Glasto about five years ago – Gary from London and his fiancée Michelle from Cork. At the Green Fields a surprise visitor showed up – Prince Charles! We spotted Michael Eavis first and people thought it was Bono coming to pay a surprise visit, his gig having been cancelled because of an injury. But the difference between Bono and Charlie is day and night. Spoke to Michael Eavis about having contacted him earlier with a proposal that he give a talk at Féile an Phobail this year on the subject of 'The Glastonbury Story'. Shook hands with Prince Charles who asked me did we 'really' sleep in tents for three nights. I told him we came for six days every year. Not sure what he made of my T-Shirt – the native American Indian one which says, 'Homeland Security – Fighting Terrorism Since 1492', but I am sure he didn't have a clue about my background. He was very personable but slighter in height than I had imagined.
23rd June. To Glastonbury Festival – perhaps my last, given how crippling the arthritis in my ankles and feet has become. But painkillers ease the problem and we camped close to the main stages.
18th June. Wrote obituary on Seando Moore for The Irish News.