Print This Post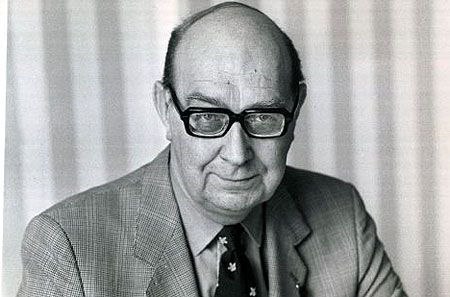 Finished a biography on Philip Larkin by Richard Bradford, 'First Boredom, Then Fear – The Life of Philip Larkin'. From the intro: "The defensive strategy of the pro-Larkinists, that a writer's prejudices are separable from and irrelevant to their literary achievements, is charitable but both demonstrably invalid and impossible to maintain. To treat poems as pure artefacts is formalism gone mad – try reading Yeats's 'Easter 1916' without involving thoughts on the actual Easter Rising and Yeats's experience of it – and to cite only those elements of a writer's life which we believe best correspond with his stature as an artist takes us back to the worst aspects of Victorianism."
Larkin – "a man for whom the mundane, the dreary and the mildly depressing were inspirational."
Not love you? Dear I'd pay ten quid for you:
Five down and five when I get rid of you.
…
He married a woman to stop her getting away
Now she's there all day,
Love Larkin's poetry. Note his racism (which many of his friends tried to excuse): "…hardly any of his letters from 1972 onwards fails to include, apropos nothing in particular, some reference to the enduring presence of 'Pakis' or 'Niggers' in English society, such as satanic figures as Arthur Scargill or the burden placed upon taxpayers like Gunner and himself by the growing mass of lazy, unwashed left-wing students."
Interviewed by Jenny Mallon, a final year student at the University of Ulster, Jordanstown, the focus of whose study is 'the year 1981 and the Irish hunger strikes'.
30th March. Interviewed by final year history student at the University of Ulster, Coleraine, Daniel McKenna, on his dissertation on the political rise of Sinn Fein 1981-1983.
Did a reading and a Q & A at the creative writing class in the Metropolitan College, Whiterock, organised by writer and broadcaster Paul Clements.
29th March. Did Skype interview with Hope Mills [USA], a graduate student studying the 'artistic response to the 1981 Hunger Strike'.
25th March. Went to Féile FM, which was its last day of full-time broadcasting, to explain why the management of Féile an Phobail felt it had to close the station.
16th March. Was invited by English teacher Kelly McGahan to judge a public speaking competition in St Louise's College. The standard was incredibly high and the young girls were amazingly confident.
Spoke at symposium in the Market Place Theatre, Armagh, after the performance of 'The Chronicles of Long Kesh'
15th March. Did Skype interview on republican politics with Bonnie Weir [USA] for her doctoral thesis.
14th March. Spoke at the official launch of the hunger strike exhibition at the Strule Arts Centre, Omagh.
12th March. Learnt of the sudden death of Brian Moore, a.k.a Cormac the cartoonist. Very sad.
10th March. At the launch of Stephen Walker's book 'Hide and Seek' in the Queen's Bookshop. His book is about the extraordinary story of Vatican-based Irish priest Monsignor Hugh O'Flaherty and the quest to capture him by SS police chief Herbert Kappler. O'Flaherty, based in the Vatican during WWII, organised the hiding of many PoWs and Jews from the Nazis, saving over 6,500 lives.

Print This Post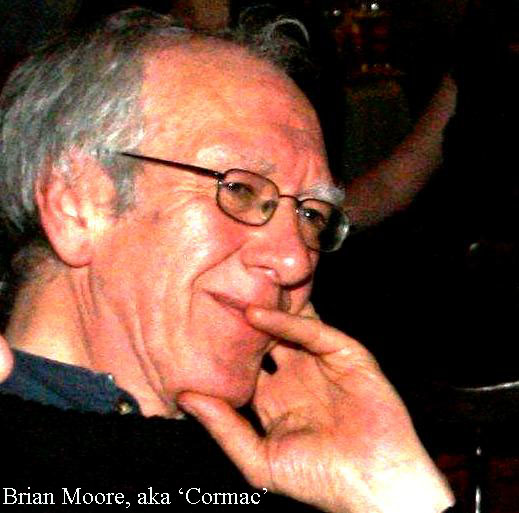 Got a call from Flair Campbell late on Saturday night to tell me that Brian Moore had died suddenly after a short illness. Brian was one of life's gentlemen, intelligent, witty, dedicated, selfless and hugely talented as a singer and songwriter but also as the mischievous, subversive cartoonist 'Cormac', often the first thing that readers of Republican News and An Phoblacht/Republican News would go to when they bought the paper.
I wrote the introduction to a compilation of his work – and now I cannot find the book!
I was last with him and joking in the Cultúrlann on the Falls Road in early February at the launch of the Robert Ballagh book by Ciaran Carty during Féile an Earraigh. I was slegging him as an artist manqué but Brian, who was quite proficient in French, corrected my pronunciation. Other times you would see him coming into Madden's Bar for a pint of Guinness before catching the last bus to Andersonstown to be with his partner Máire O'Hare.
Tom Hartley and I always looked forward to him arriving into our office on the Falls Road with his precious cartoon sealed inside two pieces of cardboard. It was Tom who would subsequently retrieve these cartoons from the printers and who deposited many of them in the Linenhall Library for posterity.
His cartoons are too numerous to mention as would be the number of free gigs he performed for every good cause under the sun.
His death comes as a great shock, so unexpected.
There are other tributes to Brian at the An Phoblacht site.

Print This Post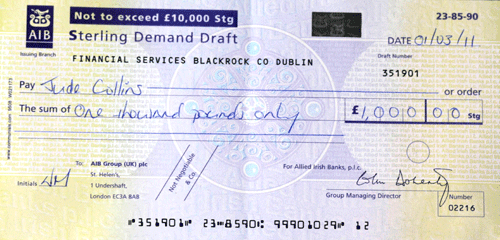 Four years is a long time in politics but it was four years ago that Eoghan Harris accepted a bet from Jude Collins which eventually cost Mr Harris one thousand pounds. Here is the story as told by Jude Collins!
MONEY TALK AT TALKS BACK
There are stories that have a happy ending and there are stories that have an unhappy ending. This is a happy-ender.
It began back in August 2007, at the 'West Belfast Talks Back' session of Féile An Phobail, where Senator Eoghan Harris, a columnist for The Sunday Independent, was one of the panellists. In his column the previous week, the good Senator had announced that at the south's next general election, Sinn Féin's remaining seats (they'd just dropped from five to four) would be mopped up by Fianna Fail. Mmm, I thought. On my way to the WBTB session I stopped off at my bank and got them to give me a £100 note for five twenties.
Fast forward to questions from the audience at 'West Belfast Talks Back'. I stand up and hold aloft my money. "I have in my hand a £100 note," I say. Cue yelps of delight from audience. "With it I want to bet Eoghan Harris is wrong about Fianna Fail mopping up Sinn Féin seats at the next election. According to his column he is certain it will happen, so I'd like odds of 10-1".  Faced with denying his own column prediction, the good Senator said he'd be glad to take my money from me and give me those odds.
Now – and this is getting to the interesting bit, so pay attention – fast forward four years, from 2007 to 2011. The south's general election has been called and I contact Senator Eoghan again. What about our bet? There's a pregnant pause of several days; Senator Eoghan eventually breaks cover and declares he's prepared to cede the bet even before polling day. "You got lucky with the financial melt-down, my boy," he tells me. I explain that I'm not a boy and it had nothing to do with luck, just shrewd political judgement on my part (it never pays to be modest in matters of money).
After that there are a few minor wobbles before the happy ending. At one point the Senator got an idea that the bet was in Euros, not pounds, but when I mentioned a 2007 tape recording and an Irish Times report saying otherwise, he accepted that he'd misremembered. And he changed his minds several times about when he'd pay me – before the election, then after the election, then just before the election. A bit of a Hamlet, the Senator.
But now he's paid (I told you it was a happy ending). The postman, God bless him, brought a  big fat banker's order for £1,000 the other day, and the money is now nestling in a specially created account in my bank. I had thought of getting it in fivers, rushing home and rubbing them all over my naked body but the present Mrs Collins said that might traumatise the cat so I didn't. Fair play to ex-Senator Eoghan: he did cough up the £1000 with a degree of good grace. That said he was of course totally, wildly, completely and utterly wrong  in his prediction and I was undeniably, impressively and wonderfully right, so  nya-nya-na-nya –NA… I'm going to leave marks on this kitchen table if I dance on it any more.
The £1000 question: what will I do with the money? I thought about getting a dog and calling him Eoghan but I've decided instead to focus on the May election here. Out there somewhere, I know, there is a simple soul convinced that May 5th will see the SDLP mop up Sinn Féin seats and Margaret Ritchie emerge as the new First Minister. My mission over the next eight weeks is to find him or her, put an arm round his/her shoulders and flutter a £1000 note under his/her nose. "Can I interest you" I will say "in a little bet?"
P T Barnum was right. There's one born every minute.
You can read more of Jude Collins at – http://judecollinsjournalist.blogspot.com

Print This Post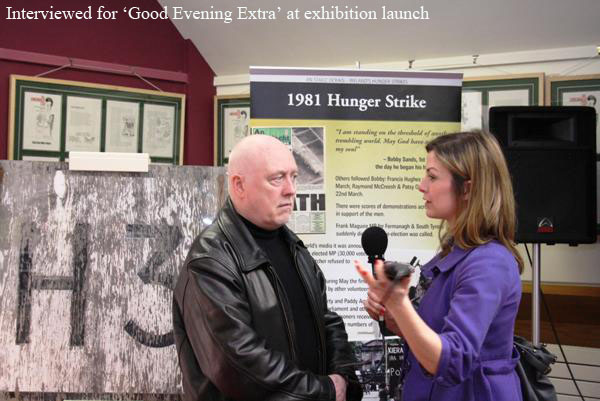 Did an interview today with Sarah O'Neill whose thesis is a literary biography of Jennifer Johnston, and Jennifer was one of the writers who came into the H-Blocks whilst I was there to teach creative writing.
7th March. Did interview along with David Hume of the Orange Order on BBC's Talkback re the Orange Order's proposal that Royal Mail issue stamps to commemorate the signing of the Ulster Covenant in 1912, the formation of the 36th Ulster Division in 1915, the Battle of the Somme in 1916, and 'the establishment of Northern Ireland.' Met Professor Bob White from Indianapolis re the current situation.
4th March. Finished 'Revolutionary Road' by Richard Yates, first published in 1961, a story of US suburbia in the mid 1950s, and very depressing. Didn't like it much and cannot understand why it got such rave reviews. Attended tribute for the late publisher Steve Mac Donogh in the Project Arts Theatre, Templebar, as part of the Dublin book festival.
3rd March. Did interview on the 1981 hunger strike with Italian journalist Fausta Speranza who works for Vatican Radio. My feature on the hunger strike, 'The Night of Auld Lang Syne', appeared in the print edition of An Phoblacht.
1st March. Attended launch of hunger strike exhibition in Linenhall Library. Did interview on hunger strike for BBC Radio Ulster's 'Good Evening Extra'. Myself and Peter Shirlow interviewed by Paul Clarke on 'UTV Live' tonight re the electoral rise of Sinn Féin.
25th February. Attended event in name of David Ervine at the Crescent Arts Centre organised by Brian Rowan. Interviewed by Queen's research student Kathleen Ireton about conflict resolution and 'the use of apologies – the controversy of how and when they are used, how they come about, reactions to them,' and specifically the IRA's apology to non-combatants in 2002.
23rd February. Wrote a feature for next week's An Phoblacht, 'The Night of Auld Lang Syne'.
Finished 'Embers' by Sándor Márai, the Hungarian expatriate writer who shot himself in San Diego in 1989. An interesting novel about friendship, love and betrayal, involving two old men who have known each other since they were ten, the affluent Henrik and the poor Konrad, and the ghost of Henrik's long-dead wife Krisztina. Why the men haven't met in over forty years is slowly revealed. The word 'monologue' to me always suggests, though need not, something pejorative, a boring harangue. Well, there are monologues on 'hunting' (which would please Kevin Myers no end), 'friendship', 'fidelity' and 'growing old'. Best quote: "Memory has a wonderful way of separating the wheat from the chaff."
22nd February. Interviewed by Evelyn Kaldoja from Estonia's largest circulating newspaper, Postimees, on the 1981 hunger strike.

Print This Post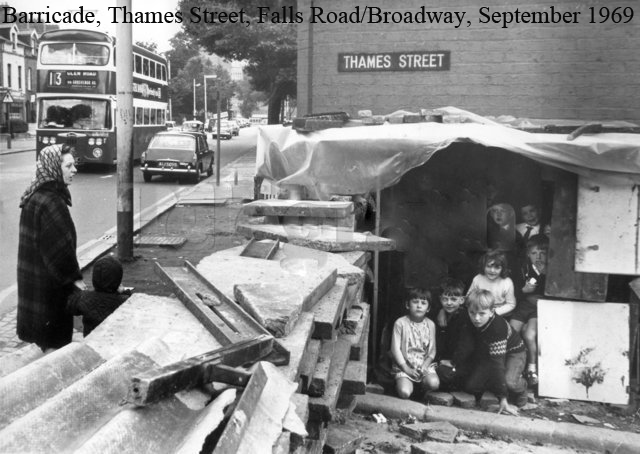 Wrote a feature about the hunger strike which appears in today's print edition of An Phoblacht. I called it The Night of 'Auld Lang Syne' and its relevance becomes clear. Here it is.
Sometimes the bell didn't work so you banged on the door. If he didn't know you, Stoker Cosgrove would shout, "Who is it?" But he had known me since I was a 10-year-old and knocked about with his son Tommy and Tommy's older sister, Nora, who had been a bit of a tomboy. The Pigeon Club, where Stoker did security, also happened to be my Da's watering hole after he finished the night shift at Telephone House.
Next door to the club at one time had been Iveagh Elementary School, attended by Protestant children, some who came from around the side streets off the Falls, but most from down Broadway where Broadway became part of the loyalist 'Village' area. The headmaster and staff got on well with the locals, and relations had always been good, even after August 1969 when thousands of Catholics had been burnt out of their homes. In response to our desperate attempts for protection (and before the IRA reorganised) the British army billeted in the school and we welcomed them, brought them cigarettes and made them tea.
It was Stoker who had said, "You'll rue the day you made them sandwiches." His statement struck me at the time – which is why I recall it with such clarity.
On Thursday, 4th September, 1969, a loyalist mob, whipped up by Ian Paisley, marched up Broadway. It was after midnight and they were mostly drunk, having looted Roddy's Bar. They came up to remove our barricade, claiming that their kids couldn't get to school – a claim repudiated by the headmaster and the Rev Ray Hill, minister of Broadway Presbyterian Church on the Falls Road. We had built an access for pedestrians, though one that could easily be closed down if there was an attack.
We rushed out to defend our homes only to be met by the British army who turned on us with fixed bayonets on their rifles and forced us back whilst a motorist was badly beaten by the mob. One of our neighbours actually joined with the soldiers in trying to push us back, arguing that we should trust the army to deal with the situation. He pushed young Tommy Cosgrove once too often and it ended in a punch-up. That neighbour ended up in the SDLP, Tommy in the IRA.
During the commotion 57-year-old Jimmy Dempsey, a father of four, who lived seven doors below me, dropped dead and an ambulance couldn't get into the area.
It wasn't until a lone gunman took up position at a fence in Iveagh Crescent and fired shots over the heads of the loyalists that they retreated.
Stoker had been right. Rather than tackle the loyalists the Brits had turned on us. The same was to happen a few weeks later when in full view of the Brits and the RUC, loyalists burned down Catholic homes in Coates Street, behind Hastings Street Barracks.
I banged on the door of the club and Stoker opened it and said, "Your Da and Mrs Morrison are over in the corner," which always struck me as being funny. He didn't want to say "your Ma" but it sounded as if my Da was out with another woman!
1980 had been a tough year. I had spent much of it visiting prisoners in Armagh and the H-Blocks, mostly Mairead Farrell and Bobby Sands, in the build-up to the hunger strike. Now, the hunger strike was over but instead of taking the opportunity to resolve the crisis (which is what the Catholic hierarchy and the SDLP, amongst others, claimed would happen if only the prisoners ended the fast) the Brits were arrogantly pressing home a presumed advantage to defeat the resolve of the protesting prisoners. A second hunger strike was inevitable.
It was the last day, the last hours of 1980, and my wife and I decided to see in the New Year with my parents. It was a while before I relaxed. The club was packed, noisy and dense with smoke. Someone requested a particular song and the two musicians nodded to each other and played a cover version of Johnny McEvoy's 1967 hit, 'Nora'. It was quite ironic – as things turned out.
The song has an interesting history. It was first a poem, written in 1864 by a Canadian schoolteacher to his wife and was titled, 'When You and I Were Young, Maggie', and is about a couple in old age reflecting back on time. But in actual fact the teacher George Johnson's wife died just months after they were married and the words were adapted as lyrics in a song popularised from 1866. 'Maggie' became 'Nora' when the romantic ballad appeared in Sean O'Casey's 'The Plough and the Stars'.
At midnight the musicians played 'Auld Lang Syne' and we got up and linked and sang heartily and to my right I discovered that I was linked with Nora – for whom the song, I realised, had been dedicated – and for a guilty while I was able to forget that eight miles away three hundred men were lying in the H-Blocks still on the blanket, and for some a clock was ticking.
Nora was now no longer a tomboy but a married woman with three young children. That night none of us could imagine what was to unfold.
Just after 5am on Wednesday 8th July, we received news that the fifth hunger striker, Joe McDonnell, had died. I went to the Republican Press Centre on the Falls Road to deal with the media. The eight o'clock news was on the radio when a dull shot rang out. It was nothing unusual and shootings had become fairly routine phenomena around this time. 'Bingo' Campbell, who ran messages for us, shouted up the stairs: "They've shot somebody in Linden Street!"
I ran out to see what was happening and found a small crowd around a body lying on the ground, encircled by a much larger crowd of both dumbfounded and angry people.
"The fucking cops just opened fire for nothing!" I was told. It was clear from the scene – and later proved by a Canadian camera crew – that there had been no rioting in the area. The victim had been shot in the head and her face was swollen and certainly wasn't recognisable to me. An ambulance came and I went back to the Sinn Féin office to resume work.
Only later in the day did I learn that it had been Nora. She had got up that morning and found that she was without cigarettes. She left the house for just a minute to go to the corner shop. RUC Chief Superintendent Jimmy Crutchley had been driving past her corner as the front seat passenger in a jeep and he ordered another officer to fire. The jeep had to make a deliberately sharp right turn to enable fire. Nora died the following day from a skull fracture and brain injuries inflicted by the plastic bullet. Crutchley was later promoted to Assistant Chief Constable of the RUC.
At the time of Nora's death her brother Tommy was on the blanket, his third time in jail – twice interned, now sentenced. Another blanket man at that time, and one familiar to many people throughout Ireland, was Seando Moore, who died last June and who, had he been alive, would have been on the road this year taking the hunger strike exhibition around Ireland, such was his devotion to his fallen comrades.
Seando had married Patricia McCabe whose brother Jim was Nora's husband.
After Nora's death in 1981 Jim was left to raise seven-year-old Paul, two-year-old Jim and three-month-old Aine. He is still active in Relatives for Justice, campaigning against the use of plastic bullets.
A city so silent and lone, Nora
Where the young and the gay and the best
In polished white mansion of stone, Nora
Have each found a place of rest
Is built where the birds used to play, Nora
And join in the songs that were sung
For we sang just as gay as they, Nora
When you and I were young.