Print This Post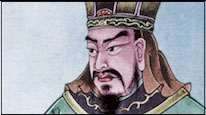 My interview with Julian Putkowski on Sun Tzu's 'Art of War' was broadcast on the World Service of the BBC last Wednesday and is available here until next Wednesday. From the BBC website:
"It was written by the military scholar Sun Tzu about 2,500 years ago and still has tremendous relevance to war now.
"Over the centuries it has been influential to both traditional armies and guerrilla fighters – the IRA, for instance, read it with interest and commanders in the first Gulf war and the recent war in Iraq have spoken of the influence of Sun Tzu on direct military operations and the intelligence cycle during extended wars.
"But ultimately the moral of Sun Tzu's book is that the greatest leaders avoid war:
'A government should not mobilize an army out of anger, military leaders should not provoke war out of wrath. Act when it is beneficial, desist if it is not. Anger can revert to joy, wrath can revert to delight, but a nation destroyed cannot be restored to existence, and the dead cannot be restored to life.'
"How have Sun Tzu's ideas stood the test of time?"

Print This Post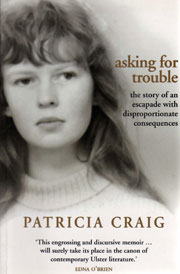 Finished Patricia Craig's memoir, 'Asking For Trouble', the story of her dismissal from St Dominic's Grammar School in 1959 over her alleged scandalous behaviour with lads in the Donegal gaeltacht, and the repercussions that had on the rest of her life. Patricia, who became a renowned critic, reviewer and anthologist, will be talking about her life and her work in the literary arts during August's féile.
16th May. Finished 'The Inseparable Twins' by Anatoly Pristavkin, a beautiful, sad book about sibling love in the midst of cruel war. I can never think about this book without hearing the music 'Caucasian Sketches' by the Russian composer Mikhail Ippolitov-Ivanov, that music being used to introduce the adaptations of the novel for radio's 'Book At Bedtime' in the early 1990s. I had been after the book since then and recently got it second-hand. It is the story of two Moscow orphans, the Kuzmin twins, Sashka and Kolka, who are sent to an orphanage in Chechnya, to a village where the indigenous population has been dispossessed and transported to Siberia, accused by Stalin of collaborating with Germany. Except that not everyone left; some have taken to the mountains from where they wage an irregular war. The book is heartbreaking and exhilarating and is one of my favourites.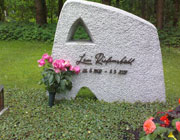 15th May. Yesterday, I visited the Old North Cemetery, which was very peaceful – no dogs or cyclists allowed; but could discover no graves of the famous. Today, visited the grave of Leni Riefenstahl in Waldfriedhof Cemetery. She was the director famous for her innovations as a filmmaker, in particular 'Triumph des Willens' ('Triumph of the Will'), and famous for her personal friendships with Hitler and Goebbels. She was arrested after the war but was released without charge. She also made the film about the 1936 Olympic games, 'Olympia'. This was the games when Chancellor Adolf Hitler stormed out after Black American, Jesse Owens, took gold in the sprint (and features as a sidebar in a great first novel, 'Olympia', by Canadian Denis Bock)
Riefenstahl lived in denial of her Nazi associations and died just seven years ago at the age of 101. Her grave is well maintained.
14th May. Speaking in Munich in a fringe event of Germany's Kirchentage – bi-annual meetings of Catholics and Protestants that go back over one hundred years. A special 'House of Ireland' was organised by German-Irish travel agent Christian Ludwig. It was here that a panel discussion took place, which included myself and the Irish ambassador to Germany Dan Mulhall, on the subject, 'Northern Ireland – the Long Road To Peace'.
Visited the house where  Thomas Mann wrote 'Buddenbrooks' (1902) which I read in The Crum in 1990. Two quotes: "Every day is fishing-day, but not every day catching day." And the motto or advice of Johann Buddenbrooks the elder, who founded the family firm: "My son, attend with zeal, to thy business by day; but do none that hinders thee from they sleep at night."
12th May. Finished José Saramago's 2005 novel 'Death At Intervals'.
3rd May. Interviewed by Italian journalist Giulia Caruso.
1st May. Gave the Bobby Sands lecture in Roslea, County Fermanagh: obviously, because of the current election campaign, with many resonances to Bobby's election in this constituency in April 1981.
30th April. Finished 'Little Man, What Now?' by Hans Fallada. Apparently it is more popular than 'Alone in Berlin' but I think the latter is better. Sent letter by email to Professor Thomas E. Hachey, Executive Director of the Center for Irish Programs at Boston College, seeking clarification about the terms under which Ed Moloney and Anthony McIntyre were involved with Brendan Hughes in the archive under Mr Hachey's control. Ed Moloney quotes Brendan Hughes as stating that my Uncle Harry threw me out of his house because of political disagreements – which is a lie and something which never happened. I know this is a minor complaint in comparison to what the Dark has alleged about dozens of other former activists or divulged, including incriminating his best friend who had been due to give the oration at the Dark's funeral but for a sudden illness. How comradely, bizarre or perverse is that? Could mother-of-ten Jean McConville, killed and secretly buried by the IRA because they could not stand over admitting to her killing, could she from her small landing with its limited view of Divis Flats have divulged more than what was privileged to the Dark (about people who are still alive and still open to prosecution and imprisonment)? Given that the public are allegedly allowed access to the archive I want to know can I have access to the tapes in case there are things omitted which perhaps place allegations made in the book in a different light. When I receive an answer I shall publish it.

Print This Post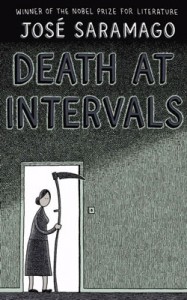 Have just finished José Saramago's 2005 novel 'Death At Intervals'. Initially, difficult to get into but after a struggle enjoyed the proposition/trope of the fable/satire that one day, in this small country where the novel is based, people stop dying and it has catastrophic consequences. A smaller number of healthy working people have to take on the burden of an increasing number of sick and elderly folk who just cannot die!
A character called 'death' (gender, feminine) also enters the scene and begins writing letters to the papers, and another to the prime minister announcing that death will soon resume but everybody will get a warning letter, allowing them seven days to put their affairs in order. This character, 'death', eventually becomes flesh and experiences human and humane desires.
The story wilts from time to time but as a novel of ideas it throws up certain questions about mortality, religion, human nature, and, of course, Saramago can be immensely funny and ridiculous, teasing his reader with the issue and nature of the suspension of disbelief.
I read Nobel Literature Laureate Saramago's 'All The Names' about two years ago – very Kafkaesque and enjoyable. Lent it to my friend Niamh who found it unreadable! Still have his novel 'Blindness' to read.

Print This Post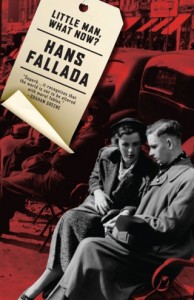 I stayed up, rather than read in bed, and about twenty past midnight I finished the last sixty pages of 'Little Man, What Now?' by Hans Fallada. My eyes were sore but it doesn't matter as I no longer enjoy a full night's sleep because of severe arthritis in my feet and take pain killers during the night, most nights, to deaden the pain. I bought the book through a great website which recycles books called Green Metropolis, a community of book lovers where most paperbacks and hardbacks can be purchased for under £4!
I enjoyed 'Little Man, What Now?' but I don't think that in stature it comes anywhere near, 'Alone In Berlin'. It is set in 1931 in the dying days of the Weimar Republic on the eve of Hitler coming to power and is the story of an impoverished couple, struggling to survive, Hans Pinneberg and his pregnant girlfriend/wife Emma 'Lammchen' (lambkin). The style is very simple and the two main characters extremely innocent and vulnerable – though Hans rages against the world and the oppression of the small fellow by bureaucrats and work colleagues who have no loyalty or solidarity towards each other. Lammchen's naivety can be infuriating, though she also acts to calm down Hans. There is a wonderful scene when to please her he spends most of his extremely meagre wages on a dressing-table with a mirror (which she so desires but knows they cannot afford for a few years yet). She also has asked him that maybe one day, again she know it will be many years in the future, they can go out to a fancy restaurant and blow a lot of money, just for the experience.
Pinneberg stares at the dressing-table, "Then quite determinedly: 'I want it and I'm going to do it. Just once in my life I want to have been like that, and hang the consequences.' A little bit further down the line, and that is the mood in which a man steals, fights and kills. And it was in this mood that Pinneberg bought a dressing-table.'
Incredibly, Fallada wrote this book in just sixteen weeks! In an Afterword by Philip Brady we learn that by the time the novel was published Fallada had spent nineteen months in a mental hospital and a total of over two years in prison.
"By the end of his life he had been variously institutionalized for some seven and a half years. The anguish began early: school was a torment, he was isolated, was bullied by those around him and a prey to constant, serious illness. To keep away from school he inflicted illness on himself by drinking quantities of vinegar, which produced a deathly pallor. In October 1911 at the age of eighteen he fought a duel with a fellow-pupil, killed him, failed to kill himself (this was not his first suicide attempt) and was charged with murder. From January 1912 until October 1913 he was confined in an institution. Soon after his release he became a morphine addict."
Brady also says that contemporary reviewers praised its realism and authenticity and stressed the novel's social relevance, "the general significance, the symptomatic character, of the seemingly insignificant lives led by its central characters."
And now I must find Fallada's novel, 'The Drinker'!

Print This Post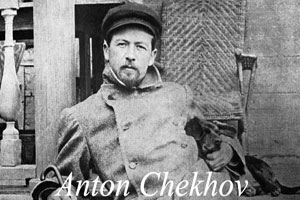 My order from the Folio Society of their new four-volume edition of sixty of Chekhov's greatest stories, published to mark the 150th anniversary of his birth, arrived today. A treasure! Finished 'Little Man, What Now?' by Hans Fallada.Discovered a little hardback copy of 'The Go-Between' by L.P. Hartley in a charity shop on the Antrim Road – price 50p!
25th April. Death of Alan Sillitoe at the age of 82. Learnt something about writing from his book 'Raw Material', first published in 1972, but which I read in jail in 1990. "Everything written is fiction, even non-fiction – which may be the most fictional non-fiction of all," he wrote. "Those who seek after truth have no right to condemn, while those who think they have found it do little else." On the subject of memory he said: "Memories are part of yourself and, peaceful or not, your eternal friends, for if they lead you to some sort of truth it is only with the object of completing your wholeness, the humanity that will protect you against the world while at the same time making you more vulnerable to yourself."
15th April. At Central Library for the launch of Tim Brannigan's memoir, 'Where Are You Really From?'
9th April. Learnt that Paddy Leonard, the very popular fishmonger in Curlies, and latterly Sainsburys, had died in early December within weeks of being diagnosed with a rare form of cancer. He was such a helpful, jovial character. His wife Pauline was a friend of my sister Geraldine's in the late sixties. But the fact that he was four months dead before I learnt of it, in such a close community, shocked me.