Print This Post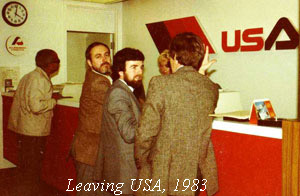 Wrote a feature for today's edition of the 'Andersonstown News', which they titled: "From Most Wanted to Not Wanted in three decades":
A long, long time ago, when I was a teenager and hadn't a clue about life, I applied for a job as a librarian. What a wonderful career, I thought, sitting behind a counter and reading all of one's favourite novels, in between stamping the return date on a few books.
I filled in the application form, posted it and was invited to do an interview in Academy Street, Belfast. Three men were on the panel.
"St Peter's? Britton's Parade?" said one of the panellists, as he drew on his cigarette and blew out magnificent plumes of smoke from the engine room of the unsinkable Titanic. "That's where the IRA gave its press conference, isn't it?"
Back then, I was a pretty honest tout.
"Yes, that's the school I went to and where Joe Cahill met the press," I said, too affirmatively, about the IRA's brazen appearance, days after the introduction of internment in 1971, when the Belfast Brigade confirmed that the arrests had not impacted on its capability.
"Fine, Mr Morrison, we'll let you know if you got the job," said Captain Edward John Smith.
Thirty nine years later and I am still waiting to hear if an elderly Mr Morrison starts on Monday as a junior librarian.
Don't wonder – this story is going somewhere.
In 1982, after a dozen times unsuccessfully applying for a US visa, it was decided that I and Owen Carron should illegally enter the USA on the percentage basis that at least one of us would get through to speak at the annual Nor-Aid dinner dance in New York. Owen, the previous August, had succeeded the late Bobby Sands as MP for Fermanagh and South Tyrone.
I flew from Dublin to Amsterdam to Toronto, where I was promptly arrested. They had found anti-Paisley leaflets in my suitcase (protesting against Paisley's tour of Canada was my pretext for being there). I was held in an immigration centre for the weekend, appeared in court, and, after promising that I was not using Canada as a jump-off to illegally enter the States, I was released.         
A few days later, having used Canada as a jump-off to illegally enter the States, I was arrested by the FBI at the border using Polish papers. I, Petra Somebody, was from Cracow and my arrest coincided with US President Ronald Reagan's designation of 'Let Poland Be Poland Day', as part of his pro-Solidarity crusade.
The FBI had also caught Owen Carron at – the appropriately named – Peace Bridge, just outside of Buffalo.
We and our drivers ended up in jail – Fort Erie Penitentiary, I think. About eighty per cent of the prisoners were black and were forced to wear uniforms, even when on remand. We refused to wear a criminal uniform and so as not to upset the clientele and provoke a riot we were moved to the women's wing, twenty nine out of thirty of whom were prostitutes. Boy, did they love Owen Carron! They kept calling him a leprechaun.
To cut a long story short we later got bail, were kicked out, and were brought back in 1983 to face trial, were found guilty and sentenced to a year's probation, but were expelled without further imprisonment. The irony was that we were given an open-ended visa to go to the USA to face a charge of entering the USA without a visa – to speak for five minutes at a Ra-Ra party!
Fast forward twenty years. Frank Costello, a US ex-pat who lives in Belfast, gets me an invite to speak at the Harvard Kennedy School. I go for an interview at the US Consulate in Queen Street. I am asked if I am in Sinn Fein and I say I am not. I am then told that if I were in Sinn Fein I would have no problem getting a visa. I am refused a visa. In the 1970s and 1980s I was refused a visa because I was a member of Sinn Fein and I am now refused a visa because I am not a member of Sinn Fein!
Fast forward to 2010. Through a friend, Gretchen Bales, I receive about a dozen invitations, and the offer of handsome fees, to speak at universities across the USA on the subjects of Irish literature and conflict resolution. Okay, we are living in a post 9/11 world but my conviction for conspiring to kill the lovely Sandy Lynch has meantime been overturned and I am an innocent writer, hardly al Qaeda.
As a test case, we decide to apply for a visa to speak at just one venue – the University of California on October 20th. I apply to the PSNI for a Bill of Health. Their List of Offences and Proof of Acquittal costs £20 but the Consulate refuse to recognise the word of the good PSNI! I need a Metropolitan Police Report which costs me £70. In early September I go to the US Consulate for an interview (at which, incredibly, you have to stand) which is pretty perfunctory except the guy wants to know what dates I was in the RA and I disappoint him with no-noes.
It is now the 27th November 2010 and the US authorities have yet to inform me whether I will be speaking in California four weeks ago.
But I don't feel bad. Tomorrow I am expecting a letter from Academy Street to confirm that I can begin lending you books anytime soon.

Print This Post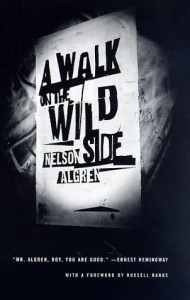 Read 'A Walk On The Wild Side' by Nelson Algren. The main character, Dove Findhorn, Texas son of an alcoholic preacher, is initially a bit of a greenhorn and too honest for his own good.
"My pappy was a preacher of sorts," he says. "The sort to make you throw your Bible away."
Dove loses his virginity to a much older woman, Terasina Vidavarri, whose thoughts on love are: "It is lucky to love any time, for then you have someone to live for… but if you are not in love that is lucky also. Because then you have no problem."
Dove leaves his small town for New Orleans at the height of the depression, becomes a 'salesman' becomes a stud in a brothel and is later imprisoned. As a result of growing poverty the pimps discover that they have "more girls than beds to put them on." A variety of sad characters pervade the book and some of the scenes in the brothel are both funny and sad.
Algren observes about human nature: "Although Prohibition was good as done, habits it had formed in those who had had their living off it for years could not be changed overnight. Every self-respecting speak-easy devised its own secret knock, peep-hole and password. Buyers wanted more than to walk through an open door, they wished to be admitted to a mystery. More, they wished to belong to a mystery."
The novel is dark, disturbing, sad and tragic. Algren's asides are scathing of the system: "Self-reliance for the penniless and government help to the rich, the Old Guard was in again… It was all right to take a slug of whiskey from your own flask in a taxi, but forbidden on a trolley-car. That didn't help those who rode trolley-cars. You couldn't carry liquor down the street, but if you owned a car you just bypassed that. For every statute they had a little loophole – that by coincidence fitted their own figures as if measured for them. Those who had no hand in writing statutes – panders and madams and such as that –  had a harder time squeezing through… when it's all bought and paid for then there's always one thing sure: it's some Do-right Daddy-O running the whole show…
"For a Do-Right Daddy is right fond of money and still he don't hate fun…Later he had to be purged of guilt so he could sleep with his wife again. That was where the pulpit came in. There had to be something official like that to put the onus on the women. The preachers, reformers, priests and such did this work well. Some girls were just naturally bad, they explained. Others were made bad by bad men. In no case was it ever the fault of anyone who profited by the shows. Daddy, you can go home again…
"The girls themselves read of the latest crusade, but their eyes skimmed idly over the print. When the last sermon was preached, the last editorial written and the last raid done, then those who had preached, written and raided would be coming down to see them for a bit of fun again.
"That was the ancestral treachery no one would admit."
In jail Dove is advised by fellow prisoner Murphy ('William Makepeace Murphy', 'a sort of Kangaroo Public Defender') who tells him that "it's always easier to convict a man of something he didn't do than it is to prove that what he actually was doing was a crime." And he goes on: "Never play cards with a man called Doc. Never eat at a place called Mom's. Never sleep with a woman whose troubles are worse than your own. Never let anybody talk you into shaking another man's jolt. And never you cop another man's plea…
"Life is hard by the yard, son. But you don't have to do it by the yard. By the inch it's a cinch. And money can't buy everything. For example: poverty."
The ending is very sad. Dove returns home – no longer the man who set out. But he still thinks to himself: "If God made anything better than a girl, He sure kept it to himself."

Print This Post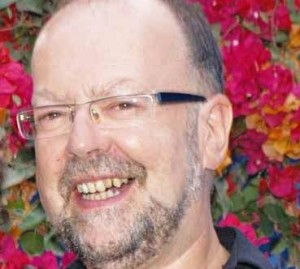 Heard the sad news that publisher Steve McDonogh died a few days after suffering a massive brain haemorrhage. I had worked with Steve on the essay book on the hunger strike, published in 2006, and first met him about 1982.
Presented prizes at Belfast Royal Academy during the morning assembly to the winners of the Draoicht short-story competition: Matthew Smith, Connor Brogan, Victoria Campbell, James Moorehead and Morgan Dempsey.  Was introduced by the Headmaster, Mr. J. M. G. Dickson and I made a short speech about the importance of the short story and writers confidently tackling the genre from a young age. 
18th November. Interviewed by Michael Anderson of the Institute for British/Irish Studies on the republican perception of the causes of the conflict.
Attended conference in Newtownabbey's Theatre at the Mill, organised by the Arts Council around the issue of the impending cuts in the arts budget.
16th November. On behalf of Féile and as one of the judges in the Draoicht short-story competition for Belfast schools I presented winner 16-year-old Bernadette Laverty from St Louise's with her prize.
13th November. We went to see a wonderful film at QFT, 'Another Year' by Mike Leigh, which he also wrote. It is about the stable, loving and not-in-the-least mundane life of a middle-aged married couple, and a year in the life of their home which acts as a refuge for others in trouble or who are lonely or bereaved. Moving and funny. Jim Broadbent as Tom the husband was great but the film was stolen by the performance of Leslie Manville as Mary, work colleague of Tom's wife Gerri. Mary is a fragile, twitching dipso, a desperately lonely woman, who advances first on Tom and Gerri's son (who is half her age) and then on Tom's recently widowed older brother in a scene full of pathos.
12th November. Came across a wonderful site where you can buy second hand books at a reasonable price – http://www.bookdepository.co.uk/ Got 'The Drinker' by Hans Fallada for £6.89. What a bargain! Visited the Oxfam and War on Want bookshops in Botanic Avenue and touched for more bargains: 'The Sorrow of War' by Bao Ninh [which I have read several times, so this is for any friend]; 'Soul Mountain' by Gao Xingjan [Chinese Nobel Laureate]; and 'The Wapshot Scandal' by John Cheever.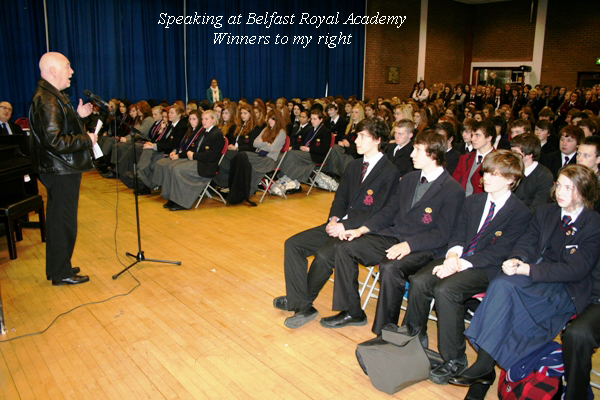 Print This Post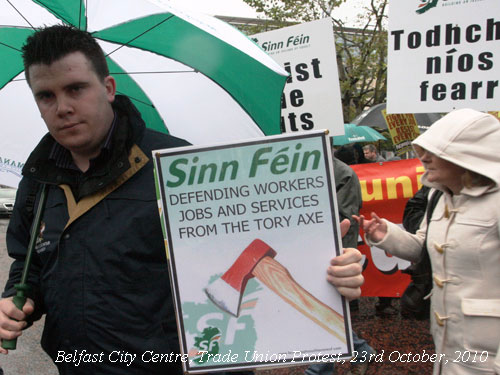 Interviewed on BBC's 'Talkback' and UTV television re the non-wearing of the poppy by nationalists though SDLP leader Margaret Ritchie has now sprouted one, fully-formed.
Wednesday 10th November. Along with others as guests I represented Féile an Phobail at East Belfast Talks Back in Ashfield Boy's School, Holywood Road, which is closely modelled on West Belfast Talks Back. Among the speakers – Martin McGuinness, Peter Robinson, Liam Clarke and Dawn Purvis. In the chair – the charming Mark Devenport. Good audience involvement and great turn-out, despite the organisers being prohibited from announcing the presence of the twins and the Secretary of State (who failed to turn up for the second year running but sent a substitute from the '1970s', a la from the 'Life On Mars' television drama, Hugo Swagger).
Met with actress Roma (Tomelty) Carnegie to plan an event or events to commemorate the life of her father, the actor and writer Joe Tomelty, whose centenary occurs in 2011.
Tuesday 9th November. Finished 'A Walk On The Wild Side' by Nelson Algren. Really enjoyed it, though it was dark, disturbing, sad and tragic.
Monday 8th November. At St Mary's University College I gave a presentation about the work of Féile to business people on an 'emerging leaders' course organised by Common Purpose.
Thursday 4th November. Did interview by Skype with schoolteacher Deva Watson and her pupils from Chichester High School in Boothwyn, PA., USA on the 1981 hunger strike.
Sunday 31st October. Interviewed by Newstalk [Dublin] along with a panel of commentators exploring the life and complex political legacy of Ian Paisley.
Friday 29th October. Finished reading the short stories submitted to Féile by Belfast Schools as part of our Draoicht festival. Patricia Gormley and I are the judges and, like in previous years, we are usually unanimous in our opinions. Once again Belfast Royal Academy did extremely well, pocketing five out of the six prizes! My favourite, though it did not come first, was 'Ring-A-Round-A-Roses, A-Pocket-Full-Of-Secrets' in the 11-13-year-old category, which was well-plotted and had many twists and turns.
Saturday 23rd October. Took part in trade union march from the Art College to City Hall in protest at proposed budget cuts. Good turnout.
Thursday 21st October. Finished 'Klingsor's Last Summer' by Hermann Hesse, three stories examining the human condition, 'A Child's Heart', 'Klein and Wagner' (a weird and confusing story about a civil servant who has deserted and possibly killed his wife and children and who goes on to rationalise suicide and take his own life) and a story about a dying artist, Klingsor. The description of Klein's despair is reminiscent of Hamsun's 'Hunger' and the hyperbole in 'Klingsor' of Whitman's high-blown poetry.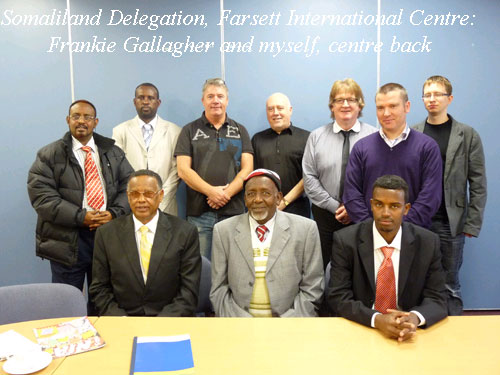 Thursday 14th October. At Farset International conference centre, Frankie Gallagher (UDA) and I addressed a delegation from Somaliland in the Horn of Africa which was visiting Ireland on a fact-finding tour regarding the peace process, how to raise the morale of their community and engage their young people. I spoke about the work of Féile an Phobail in this regard but also gave them my republican analysis of the conflict. This part of their visit was organised by Co-operation Ireland.
Finished 'Falconer' by John Cheever, the great writer who died in 1982.