Print This Post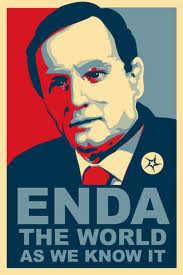 I was interviewed by Brian Rowan in a feature for the 'Belfast Telegraph' about next week's elections in the South. Feature was titled, 'When Sinn Fein risks need to translate into Dail seats'. "The party's former PR director is not playing the numbers game in the Republic's imminent election," says Brian Rowan [Tuesday, 15th February 2011].
Danny Morrison grew up inside the republican movement alongside Gerry Adams, reached significant positions of leadership and, on many occasions, was the man who put that leadership's thinking into words. He is probably best-known for a 30-year-old speech – in 1981 he defined the republican goal of taking power with an Armalite in one hand and a ballot paper in the other.
And Morrison was there in 1986 at the Ard Fheis when Sinn Fein split on the issue of ending its abstentionist policy in relation to the Dail.
"'86 was to facilitate the opportunity – to get to the position where they are today," he told the Belfast Telegraph.
Morrison is talking about the now-imminent Irish election and the possibility of Sinn Fein becoming a significant player in the Dail.
"It is Sinn Fein stepping onto the main stage," he said, "even if they aren't in government. It's them now being taken seriously."
In the reading between those sentences he outlines his expectations – that Adams will be elected and that Sinn Fein will have a significant number of TDs. But he is not playing the high numbers game suggested in some opinion polls.
So what would be a success? "Anything over seven [seats]."
Would double figures be a huge success? "Absolutely."
"If you go over 10/12 [seats], what it does is that it confirms the viability of the original strategy, which was about having a powerful presence or influential presence in parliament in the south and in government in the north," Morrison said. "It opens up all sorts of possibilities."
But he accepts this is new politics for Adams; that his decision to give up his West Belfast seat to compete in the Irish election "is not without risk".
We all know that Adams' political comfort zone has been within the peace process. For all Adams' denials of IRA membership, he was part of the war before he was part of the peace. And it was his leadership, alongside Martin McGuinness and others, that moved the IRA in a different direction. On the streets of Dundalk, Drogheda and Dublin, the issues and day-to-day priorities are very different: the economy, jobs and emigration. And, on the fine detail of some of this, we have seen Adams stumble.
But Morrison said: "He will be a quick learner. Adams has a plus on his side and that is that he is a celebrity, that he is a leader.
"So the downsides could be neutralised by these positives: easily-recognisable figure … he has charisma. There's no doubt about that."
We will know soon if this really is Sinn Fein's moment of opportunity – the election it has been waiting for since that policy decision way back in 1986. And we will know if Adams' risk was worth taking.
"The decision to run in Louth certainly took me by surprise," Morrison admitted.
"Nobody was expecting it. It took everybody by surprise and it comes not without risks."
But Morrison also knows that, for all its surprise, this decision will have been carefully thought through – not just by Adams, but also by those closest to him.
"Of course, things like that are kept tight, but also the people who make those decisions aren't fools; they would make a judgment call on it," Morrison said.
That call has been made and now Adams has to deliver – both personally and in the wider party sense. Morrison is not playing the numbers game that others are, but in a couple of weeks' time it will be on numbers that the Sinn Fein president – and his party – will be judged.

Print This Post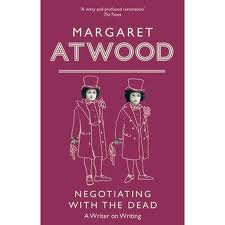 Finished 'Negotiating With The Dead' by Margaret Atwood on the role of the writer. It was just about okay. Book to follow up on – 'Doctor Glas' by Hjalmar Soderberg
14th February. Interview with Brian Rowan re Gerry Adams standing in Louth, published in Belfast Telegraph. Archival footage of me was shown in the BBC television documentary, 'As Others See Us', alongside a reflective interview with journalist Peter Taylor.
12th February. Finished 'The Visible World' by Mark Slouka, a novel based on the real life events surrounding the assassination in Prague in 1942 of Nazi leader Reinhard Heydrich. Thoroughly enjoyed it.
11th February. Finished work on the text and design for the hunger strike exhibition panels – 18 in total. Finished 'Memed, My Hawk' by Yashar Kemal, a great story of high adventure set amongst brigands in Anatolia who are both political and criminal. You don't want to close the book the writing is so good, the story so thrilling.
7th February. Wrote a feature for today's Andersonstown News, 'The Story of Two Sisters'.
Finished 'Monsieur Pain' by Roberto Bolaño. Very disappointing. Hopefully not representative of his other works, about which I have read rave reviews. Did interview with Pol McLernon about the origins of Radio Free Belfast (1969).
5th February. Finished 'Rosshalde' by Hermann Hesse: not great but was quite moving towards the end.
1st February. Wrote a feature for yesterday's Andersonstown News, 'Bombers Unite Community'.

Print This Post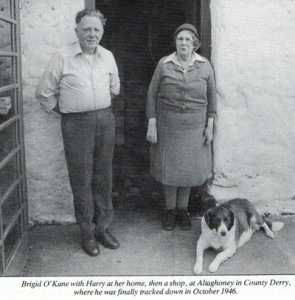 Men would arrive late at night, on foot or on bicycle. They stayed for a couple of nights, were fed and rested. Someone would come out from Derry and rendezvous with them, bringing them a message of when it was safe to travel.
Among the fugitives were escapees from Crumlin Road Jail, including former IRA Chief of Staff Hugh McAteer. Hugh had been sentenced to fifteen years on the charge of treason but within twelve weeks, on the morning of the 15th January 1943, he and three comrades escaped from the Crum.
From his safe house in Altaghoney, a townland in County Derry, Hugh was involved in freeing another 21 prisoners from Derry Jail in March 1943. As they tunnelled their way out, another prisoner played the bagpipes outside the cell to disguise the noise of their departure! However, in November that year Hugh, still engaged in trying to reorganise an enfeebled IRA, was surrounded and captured in a house in Crocus Street, Belfast.
But the house in Altaghoney remained safe.
It consisted of a long white-washed two storey, slated-roof building, set a few yards back from the road and it was divided into living quarters, a drapery shop, general store, a small pub, and a storeroom and loft to the right of the house. When I saw it, the setting – as opposed to its dereliction – was very pretty.
It was owned by two unmarried sisters in their thirties, Brigid and Rose O'Kane. Brigid looked after the business and Rose tended the nearby farmland.
It is hard to imagine the fear that the sisters experienced every time an IRA Volunteer who had been through their house was arrested and interrogated, whether they would be next for arrest.
But they must have been incredibly brave. Although the immediate townland was Catholic, the surrounding area was largely unionist and relations were fairly good. Their shop was frequented by RUC officers and local Orangemen.
In the midst of the disintegration of the IRA the organisation needed another favour. One of its men – originally from Belfast – was wanted for the killing of a Special Branch man in the Free State, for which one Volunteer had already been executed. There were posters everywhere seeking this man.
So, to provide cover for themselves the sisters in mid-1944 placed an ad in the Derry Journal: 'Man wanted to work land, and to assist in general running of property.'
It was answered by a discharged merchant seaman who had been invalided from a torpedoed vessel, though 'Harry McHugh' had never seen a submarine in his life! Country people are fairly tight-knit and do not always take to outsiders, especially those from Belfast! But Harry McHugh melded in, worked about the house and the farm, in between secretly visiting Belfast. He learnt how to cut hair and became the local barber. He was a musician and was invited to play in the local Orange Hall. An RUC man suggested to him that if he was clearing land he could get a permit to blast the rocks with dynamite. So Harry did just that – siphoning off half of the gelignite, detonators and fuses which he sent to Belfast, though there was no IRA worth talking about able to use it.
Harry told me that Brigid and Rose were very respectable and well-spoken. I had this confirmed a few months ago when a woman, their third-cousin, who had lost all contact, wrote to me saying that she remembered Brigid from her childhood. She "dressed with great care, was most ladylike in her appearance and manner." I also learnt that Brigid's great uncle, Michael O'Kane of Clarendon Street, had been very wealthy and made a gift of six stained glass windows to St Eugene's Cathedral in Derry.
Altaghoney was raided at dawn on the 20th October 1946, the front door broken in. Harry, Brigid and Rose were arrested. The RUC found twelve handguns and 2000 rounds of ammunition. Harry was taken to the border and illegally handed over to the Gardai to face execution: the sisters were charged and imprisoned. Their foresight in placing an ad in the paper paid off: after four court appearances the charges were dropped. They had kept their mouths shut.
Harry was sentenced to death but the sentence was later commuted.
I was canvassing for Sinn Féin in an election a few years ago. John McGill, a local schoolteacher, whose wife Claire is now an MLA, said to me, "Would you like to see the house where your Uncle Harry was arrested?"
 I was flabbergasted, had forgotten all about this history. The house was windowless, sad and derelict. Everyone associated with it was dead: Harry White was laid to rest in the republican plot in Glasnevin; Brigid and Rose in Craigbane Churchyard. We rescued mouldy documents, photographs and other memorabilia and I asked John to take me to Craigbane. The ladies had never married and no relations survived them.
I could have cried: they were buried together in an unmarked grave.
For years this played on my mind. I learnt from Tony Curry, the stonemason, that an order he had received for a headstone of South African marble had been cancelled. I told him the story of the two sisters and he gave me the stone and did the engraving for next-to-nothing.
And so, one bitterly cold day in March my brother Ciaran, John and I went to Craigbane and in a little ceremony we laid a raised marble plinth on the graves of Brigid and Rose O'Kane, two brave Irish women who gave shelter to Irish patriots.
Published in Andersonstown News, 7th February, 2011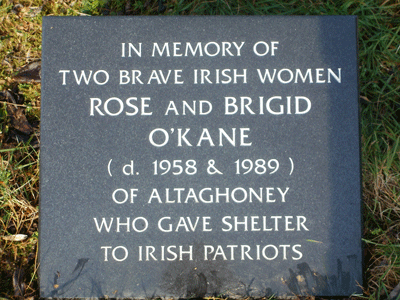 Print This Post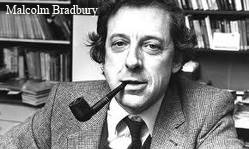 Read 'The Art of Fiction' by David Lodge for the third time in early January and again took notes. It is such a valuable book for the novelist and novice. He is crisp, clear, affirmative: "the novel is supreme among the forms of narrative literature in rendering subjectivity".
He can also be quite funny, as here, when he is quoting a scene from Malcolm Bradbury's campus novel, 'The History Man', to make a point, though in this case it is the scene which is more important:
The adulterous Howard Kirk is in bed with his colleague Flora Benidorm, "who likes going to bed with men who have troubled marriages; they have so much more to talk about, hot as they are from the intricate politics of families which are Flora's specialist field of study"!
Point of View: The choice of the point(s) of view from which the story is told is arguably the most important single decision that the novelist has to make, for it fundamentally affects the way readers will respond, emotionally and morally, to the fictional characters and their actions…
One of the commonest signs of a lazy or inexperienced writer of fiction is inconsistency in handling point of view… Of course, there is no rule or regulation that says a novel may not shift its point of view whenever the writer chooses; but if it is not done according to some aesthetic plan or principle, the reader's involvement, the reader's "production" of the meaning of the text, will be disturbed.
Mystery: …mystery is an invariable ingredient of popular narrative, whatever its form – prose fiction or movies or television soaps. Modern literary novelists, in contrast, wary of neat solutions and happy endings, have tended to invest their mysteries with an aura of ambiguity and to leave them unresolved.
Names:  In a novel names are never neutral. They always signify, if it is only ordinariness. Comic, satiric or didactic writers can afford to be exuberantly inventive, or obviously allegorical, in their naming (Thwackum, Pumblechook, Pilgrim). Realistic novelists favour mundane names with appropriate connotations (Emma Woodhouse, Adam Bede). The naming of characters is always an important part of creating them, involving many considerations, and hesitations…
The invention of the word processor has made it easy to change the name of a character at a large stage of composition, just by touching a few keys, but I would have a strong resistance to doing that to any but the most minor character in my fiction. One made  hesitate and agonize about the choice of a name, but once made, it becomes inseparable from the character, and to question it seems to throw the whole project en abîme, as the deconstructionists say.
Motivation: What kind of knowledge do we hope to derive from reading novels, which tell us stories we know are not "true"? One traditional answer to that question is: knowledge of the human heart, or mind. The novelist has an intimate access to the secret thoughts of her characters denied to the historian, the biographer or even the psychoanalyst. The novel, therefore, can offer us more or less convincing models of how and why people act as they do.

Print This Post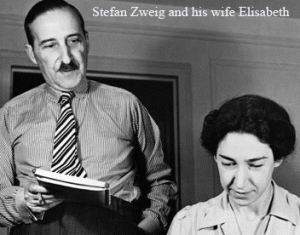 Finished 'The Post Office Girl' by Stefan Zweig, a sad, desperate story set in the 1920s about a poor young woman whom life is passing by, suddenly lights up, then fades again. The novel was found after Viennese-born Zweig and his wife committed suicide in Rio de Janeiro in 1942 to where he had gone into exile.
Was interviewed by a third-year English university student, David Ody. He is doing his dissertation on the impact of imprisonment of republicans and the effect of the educational development that occurred in the cages of Long Kesh and the H-Blocks, circa 1974-1980/81.
30th January. Did radio interview with Diane Byrnes ['Echoes of Erin'] on Pittsburgh station.
28th January. Met with delegates from the Ancient Order of Hibernians [USA] and gave them a rundown of my analysis of the situation.
26th January. Finished 'The Solitude of Thomas Cave' by Georgina Harding which is based on an unsubstantiated anecdote that an English sailor accepted a bet from his comrades that he could not survive alone at the arctic circle until they returned for the next whaling season. It is a remarkable novel.
25th January. Interviewed by American woman, Katie Keenan, a Visiting Researcher, re Féile an Phobail. She is in Belfast studying the role of cultural events in the re-imaging of Belfast as a 'post-conflict' city.
24th January. Wrote quirky feature for today's Andersonstown News, titled, 'George Galloway – MP for West Belfast!'
20th January. Attended Allianz Arts & Business Awards on behalf of Féile which won a prize. Finished 'The Fry Chronicles', an autobiography by Stephen Fry. Never realised how insecure he is. Lots of name dropping and funny in parts.
17th January. Wrote a feature for today's Andersonstown News, titled, 'Compression Of Expression'.
13th January. Interviewed by Patrick Vacquier, a French student, about Bobby Sands and the 1981 hunger strike.
11th January. Interviewed by Pascal Pragnère, a French student, about national identities in the conflicts in Ireland and Euskal Herria.
10th January. Wrote a feature for today's Andersonstown News, titled, 'Suspicions About Suspicious Minds'.