Print This Post
January 29, 2010 by danny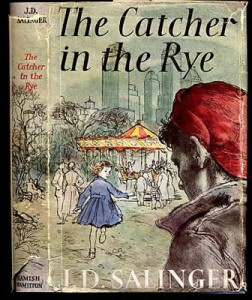 I loved 'Catcher In The Rye', found it very moving and the product of a benevolent, affable human being completely at odds with the real Salinger, a recluse who lived behind a six-foot fence in a compound, ordered all his fan mail to be burned and sued anyone who tried to publish his biography.
Holden Caulfield, the alienated youth, who rightly distrusts adults – 'phonies' who are hypocrites and liars, and is sickened by their behaviour –  adores his little sister Phoebe. His brother, Albie, died young, and his older brother, DB, works in Hollywood as a script writer. Written in the first person, Holden, who has run away from boarding school, witnesses a scene which lifts the depression he feels even though the scene confirms the carelessness of adults towards children and why they cannot be trusted.
"This family that you could tell just come out of some church were walking right in front of me – a father, a mother, and a little kid about six years old. They looked sort of poor. The father had on one of those pearl-grey hats that poor guys wear a lot when they want to look sharp. He and his wife were just walking along, talking, not paying attention to their kid. The kid was swell. He was walking in the street, instead of on the sidewalk, but right next to the kerb. He was making out like he was walking a very straight line, the way kids do, and the whole time he kept singing and humming. I got up closer so I could hear what he was singing. He was singing that song, 'If a body catch a body coming through the rye'. He had a pretty little voice, too. He was just singing for the hell of it, you could tell. The cars zoomed by, brakes screeched all over the place, his parents paid no attention to him, and he kept on walking next to the kerb singing 'If a body catch a body coming through the rye'. It made me feel better. It made me feel not so depressed any more."
Later, Holden steals into his home to see Phoebe. In the bedroom he talks to her:
"'You know that song "If a body catch a body comin' through the rye"? I'd like – '
"'It's "If a body meet a body coming through the rye"!' old Phoebe said. 'It's a poem. By Robert Burns.'
"'I know it's a poem by Robert Burns.'
"She was right, though. It is 'If a body meet a body coming through the rye'. I didn't know it then, though.
"'I thought it was "If a body catch a body",' I said. 'Anyway, I keep picturing all these little kids playing some game in this big field of rye and all. Thousands of little kids, and nobody's around – nobody big, I mean – except me. And I'm standing on the edge of some crazy cliff. What I have to do, I have to catch everybody if they start to go over the cliff – I mean if they're running and they don't look where they're going I have to come out from somewhere and catch them. That's all I'd do allday. I'd just be the catcher in the rye and all. I know it's crazy, but that's the only thing I'd really like to be. I know it's crazy,'
Phoebe gives him her Christmas savings even though he's only looking to borrow two dollars. He starts to cry and Phoebe, though scared, puts her arms around him.
'Catcher In The Rye' sells more than a quarter of a million copies in paperback every year and is a modern classic. If you have not read it, you are in for a treat!

Print This Post
January 28, 2010 by danny
Elise Lemme married Otto Hampel in 1935. She was a domestic servant and a member of the National Socialist Frauenschaft (Women's League). Otto had served in WWI and was a factory worker. After the death of Elise's brother, a soldier killed during the German assault on France, she and her husband decided to oppose the Nazi regime in their own way. They wrote postcards and leaflets anonymously which called upon people not to buy Nazi papers, to refuse to serve in the war and to overthrow Hitler.
Their campaign lasted for two years before they were eventually betrayed and arrested.
The novelist Hans Fallada was harassed and persecuted by the Nazis for refusing to join the party. He could have fled as had Thomas Mann and Hermann Hesse, but stayed on. He took to drugs and alcohol and when he refused a command by Goebbels to write an anti-Semitic novel was imprisoned in an asylum for the criminally insane, though eventually he was released. When the war was over his publisher gave him a Gestapo file about the campaign waged by the Hampels, a simple working class couple. Fallada, inspired by the struggle of the Hampels, incredibly, wrote this long novel in twenty-four days, capturing the terror of ordinary Berliners and of a noble and hopeless civil disobedience campaign by two people, renamed Otto and Anna Quangel, against Hitler's regime.
There are a number of great exchanges during the interrogations of Otto Quangle by Inspector Escherich. In one of these Escherich says: 'What did you expect anyway, Quangel? You, an ordinary worker, taking on the Führer, who is backed by the Party, the Wehrmacht, the SS, the SA? The Führer, who has already conquered half the world and will overcome the last of our enemies in another year or two? It's ludicrous! You must have known you had no chance! It's a gnat against an elephant. I don't understand it, a sensible man like you!'
As Germany disintegrates and society collapses, a friend of the Quangels, retired Judge Fromm, thinks to himself: 'The worse it gets, the better it will be. The sooner it will all be over!'
Fallada died in February 1947 of an overdose of morphine just weeks before the book was published. This is the first English translation and it is a wonderfully inspiring book.

Print This Post
January 26, 2010 by danny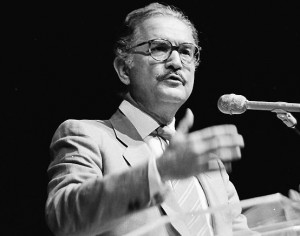 I find that Carlos Fuentes wears his considerable erudition too conspicuously on his sleeve which has a slight intimidating effect on the reader and can make for a bit of struggle. As well as being a famous novelist he writes on politics and culture and was Mexico's ambassador to France from 1975 to 1977.
Yet there are some nuggets in his 2002 book, 'This I Believe – An A–Z Of A Writer's Life'. "I hope the reader of this book," says Fuentes, "will discover the various kinds of love that are contained in each chapter of my personal alphabet. There is one kind, however, that I would like to highlight so as always to keep it present in my mind. I refer to the quality of attention. Love as attention. Paying attention to the other person. Opening oneself to attention. Because extreme attention is the creative faculty, and its condition is love."
A pertinent quote – given the propensity of revolutionary organisations to split and feud – is this: "In the midst of the French Revolution, Saint-Just had this to say about the battle for revolutionary freedom: fighting for freedom against tyranny is an epic struggle; fighting between revolutionaries is tragic."
Later, under L for Left he writes: "The nostalgic Left that looks back on what no longer exists cannot be the constructive movement it needs to be. But the Left in power must always admit the existence of the other Left, the one that is not in power, the one that resists power, until (an even when) the Left occupies the seat of power. This is the Left's great challenge in the twenty-first century: to learn to oppose itself so that it will never again fall into the dogma, chicanery and tyranny that sullied it so badly during the twentieth century."
He quotes Winston Churchill's famous warning that democracy is "the worst form of Government except all those others that have been tried from time to time."
On cruelty, he says: "As far as Buñuel was concerned, the human capacity to injure one's brother transcended all social barriers."
An okay book but not great.   

Print This Post
January 24, 2010 by danny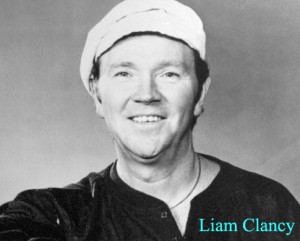 Finished 'Slaughterhouse-Five' by Kurt Vonnegut around Sunday lunchtime; then visited my mom and her friends, Mary and Sarah, in Grovetree House; came home and read a limited amount of Sunday Shit online by the anoraks led by the key Tralfamadorian, Mick Fealty, who has broken cover, recently calling for Adams to go, and is now a political player, not a facilitator/moderator.
Went shopping on the Boucher Road for some things. To save the planet from, at least, hermaphroditism in certain, sensitive fresh water molluscs, I do not use plastic bags. So, there I was standing, waiting on my wife who had gone AWOL, standing at the exit, and cradled against my breast were three onions, some pork sausage meat, a packet of herbs, probably costing a packet (for a soup I hope to re-create from the ingredients on the back of an M & S carton, which I had memorised, down to the crushed celery seeds, six kidney beans and four atoms of chilli paste – like yeh!).
And there, whilst waiting, a man approaches me. Someone whom we have hurt or someone whom we have not. In fact, someone whom I had not seen in perhaps forty years – Paddy McNeill!
I might be wrong, but in 1962 or 1963 when our class in St Teresa's Primary, Glen Road, got a new teacher, John Sands, who took over from Oliver Campbell, Paddy McNeill emerged, thanks to the encouragement of Sands, as the most extrovert character among us. His speciality was to do improvisations and sing songs like Val Doonican's 'Paddy McGinty's Goat'. Caught up in the tailwind of his confidence I would get up with Paddy and we would do skits from 'Steptoe and Son', with me as the da, Alfred (portrayed by the actor Wilfred Brambell), and Paddy as the son, Albert. But we kids were in thrall to Paddy McNeill's spirited renditions of Clancy Brothers' classics like 'The Leaving Of Liverpool' and 'The Holy Ground'.
I am not sure when we parted – and I didn't get more than a few minutes with him today to discuss the old days. We must have been in the same class at least until 1967 or 1968 and perhaps longer, perhaps even at St Mary's Grammar to which we had to go [in September 1969] to do A-Levels. I left there in 1970 due to unhappiness.
I certainly remember visiting Paddy's home, off Stewartstown Road, in 1967, and I remember that he had a talented older brother in our school who also sang, and played the guitar.
So, Paddy and I yarned today for a few minutes, whilst our wives looked on anxiously, and I said that I remembered him once expressing an interest in becoming an airplane pilot (he had mentioned in our mid-teens that Aer Lingus were taking on young people to train and he would love to be part of that, up there in the skies). I told him that I had mentioned him in a published story where he said that I couldn't become a pilot because of my colour blindness (though shortly afterwards I realised that I had got him mixed up with another past pupil, Ruairi Maguire, who had been the one to say that about my sight). Paddy's momentary incredulousness made me think I had got the story completely wrong but then his wife said, and he remembered, that he had taken flying lessons some long time ago.
Emboldened, I then said – which was true – that only two or three weeks ago I had thought about him.
Liam Clancy had died in December and RTE had shown the documentary about his life, 'The Yellow Bittern', not long after. Paddy said that he and his wife had gone to QFT to see it when it was first released.
We shook hands and said, not goodbye, but cheerio. I have at least another thirty or more old class mates to meet – though, according to Borges, if thirteen people meet for dinner then statistically at least one of them will be dead within a year.

Print This Post
16th January.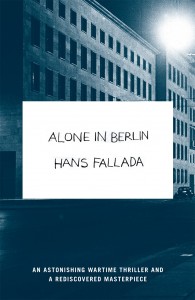 Finished what is probably the best book I have read in ten years, 'Alone In Berlin' by Hans Fallada. Finished it with tears streaming down my cheeks.
15th January.
Went to the Black Box to hear Chris Mullin speak, part of the Cathedral Arts Quarter's 'Out To Lunch Festival'. First met Chris about twenty-five years ago, before he became a Labour MP. A decent, honest, honourable man – and a fighter. Last saw him in 2002 at the Guardian's London summer party held in the former home, I think, of the British spy Anthony Blunt. Chris – as well as being instrumental in the campaign to clear the names of the Birmingham Six, Guildford Four and Judith Ward – is a successful novelist. Got his book, 'A View From The Foothills', his diaries about his time in government.
On my way to the black taxi depot in King Street I bumped into Neilly Rooney who was using a walking stick. Joyriders had knocked down this 73-year-old man close to his home in Albert Street some months ago and he is still recovering. He had been to Specsavers but had to call back for his glasses in half an hour. So… we went into Maddens for a yarn …and a drink! Neilly's father had been in the British army in the Far East during WWII and was captured by the Japanese. He was among the POWs forced to build the Burma-Siam railway, during the construction of which it is estimated that 100,000 civilians and 13,000 POWs died. The story was later fictionalised in the film, 'The Bridge Over The River Kwai'. Neilly said his father was destroyed by the experience and though he survived imprisonment he died within a few years of returning to Belfast.
All mementoes of his father and family photographs were destroyed when Neilly's mother's house in Conway Street was burned down on the 14th August, 1969, by loyalists, B Men and the RUC, just an hour or two before the RUC shot dead Neilly's nine-year-old son Patrick as he lay in bed in their home at St Brendan's Pass, Divis Flats.
Neilly can be very funny and kept me entertained about stories of him as a crooner (he loves Country and Western music) and kept showing me text messages containing Iris Robinson jokes that were still arriving on his phone!

Print This Post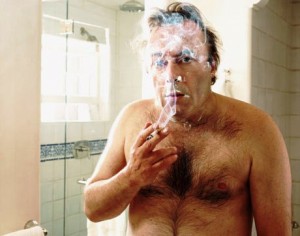 Thoroughly enjoyed Hitchen's book, 'God Is Not Great'. His arguments against all religions I found tempting and persuasive… though his uncurbed fanaticism and selectivity caused me to pause once or twice. Seán McGouran in the magazine 'Church and State' certainly provides a counterblast to the USA-domiciled English writer.
Hitchens argues that religious faith will never die out until we get over the fear of death and that it is absurd to believe that religious faith causes people to conduct themselves better, or that unbelief makes them behave worse. We learn that Voltaire proposed that his own tomb should be half inside and half outside of a church [that's what I call "covering one's bets"!]. Anyway, here are some quotes from the book.
"Literature, not scripture, sustains the mind and – since there is no other metaphor – also the soul."
"Occasionally, there are injunctions that are moral, and also (at least in the lovely King James version) memorably phrased: "Thou shalt not follow a multitude to do evil" was taught to Bertrand Russell by his grandmother, and stayed with the old heretic all his life."
"We are reconciled to living only once, except through our children, for whom we are perfectly happy to notice that we must make way and room. We speculate that it is at least possible that, once people accepted the fact of their short and struggling lives, they might behave better toward each other and not worse. We believe with certainty that an ethical life can be lived without religion. And we know for a fact that the corollary holds true – that religion has caused innumerable people not just to conduct themselves no better than others, but to award themselves permission to behave in ways that would make a brothel-keeper or an ethnic cleanser raise an eyebrow."
"In The Future of an Illusion, Freud made the obvious point that religion suffered from one incurable deficiency: it was too clearly derived from our own desire to escape from or survive death."
Hitchens takes issue with the sermon of Billy Graham – an anti-Semitist – in the National Cathedral in Washington, following 9/11: "His absurd sermon made the claim that all the dead were now in paradise and would not return to us even if they could. I say absurd because it is impossible even in the most lenient terms to believe that a good number of sinful citizens had not been murdered by al-Qaeda that day. And there is no reason to believe that Billy Graham knew the current whereabouts of their souls, let alone their posthumous desires. But there was also something sinister in hearing detailed claims to knowledge of paradise, of the sort that bin Laden himself was making on behalf of the assassins."

Print This Post
January 14, 2010 by danny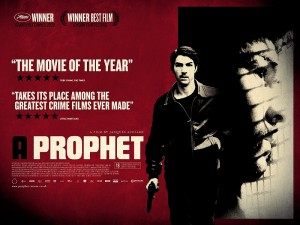 13th January. Reviewed the French gangster film, 'A Prophet', for BBC's Arts Extra, having watched the film earlier in the day at a special screening in the QFT with fellow reviewer, crime writer and Queens lecturer Andrew Pepper. I couldn't rave about the film as much as presenter Marie-Louise Muir or Andrew. Anyway, locals can listen to the BBC programme [9mins 40secs in] for the next six days at http://www.bbc.co.uk/programmes/b00ptkkt
'A Prophet' opens at the Queens Film Theatre on the 22nd January and runs until the 4th February.
9th January, 2010. Got lots of books among my Christmas and birthday presents: the four-volume Paris Review Interviews; a box collection of the novels of John McGahern; 'God Is Not Great' by Christopher Hitchens; 'The God Delusion' by Richard Dawkins; 'The Brothers Karamazov' by Dostoevsky; 'Berlin' by Antony Beevor; and 'The Resurrectionist' by Jack O'Connell! Read the Christopher Hitchens' book within a few days – powerful arguments (apart from Hitchens' own 'sectarianism' and unbridled contemptuousness) but a disturbing book even for a lapsed Catholic agnostic!
8th January. At comedy night at Black Box which was part of the 'Out To Lunch Arts Festival'. Missed the compere, Seamus Carabine, but was there for Andrew Maxwell, an extremely funny, witty, intelligent comedian who had several goes at Iris Robinson and Gerry Adams over Gerry's brother Liam. Had a 'light' discussion with him later about the nature of humour and what is permissible; he on the side of all is fair game!

Print This Post
January 13, 2010 by danny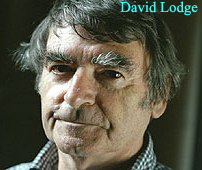 Two married academics – one English, one North American – end up teaching literature for a period in each other's universities in an exchange scheme c.1969 where the clash of cultures is all too evident. The milieu is the student protests and occupations, the Vietnam War, 'free love' and infidelity, and those endless, dialectics which still obsess many boring bloggers of today. Oh but for a Tardis into which they could be sent to 2525!
In his temporary West Coast retreat, the English academic, Phillip Swallow, has an epiphany as he thinks about the American contribution to literature.
"He thought of James's The Ambassadors and Strether's injunction to Little Bilham, in the Paris garden, to 'Live … live all you can; it's a mistake not to,' feeling himself to partake of both characters, the speaker who had discovered this insight too late, and the young man who might still profit by it. He thought of Henry Miller sitting over a beer in some scruffy Parisian café with his notebook on his knee and the smell of cunt still lingering on his fingers and he felt some distant kinship with that coarse, uneven, priapic imagination. He understood American literature for the first time in his life that afternoon, sitting in Pierre's on Cable Avenue as the river of Plotinus life flowed past, understood its prodigality and indecorum, its yea-saying heterogeneity, understood Walt Whitman who laid end to end words never seen in each other's company before outside of a dictionary, and Herman Melville who split the atom of the traditional novel in the effort to make whaling a universal metaphor and smuggle into a book addressed to the most puritanical reading public the world has ever known a chapter on the whale's foreskin and got away with it; understood why Mark Twain nearly wrote a sequel to Huckleberry Finn in which Tom Sawyer was to sell Huck into slavery, and why Stephen Crane wrote his great war-novel first and experienced war afterwards, and what Gertrude Stein meant when she said that 'anything one is remembering is a repetition, but existing as a human being, that is being, listening and hearing is never repetition'; understood all that, though he couldn't have explained it to his students, some thoughts do often lie too deep for seminars…"
However, later, as Swallow sits in a hotel room with his US counterpart, Morris Zapp, along with their two spouses, attempting to sort out their domestics, he comments about the gap between his generation and the young people on campus and quoting Yeats' 'Sailing To Byzantium', says of the USA, 'That is no country for old men…'
He explains: "…I think it revolves around this public/private thing. Our generation – we subscribe to the old liberal doctrine of the inviolate self. It's the great tradition of realistic fiction, it's what novels are all about. The private life in the foreground, history a distant rumble of gunfire, somewhere offstage. In Jane Austen not even a rumble. Well, the novel is dying, and us with it… Those kids [the US students] are living a film, not a novel."
'Changing Places' is a very funny novel and the first of a trilogy.
Lodge's literary criticism and essays are brilliant, especially for the novice writer. I have read 'The Art of Fiction' and 'The Practice of Writing' several times, and 'Consciousness and the Novel'.

Print This Post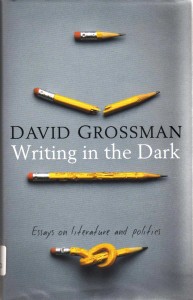 I was attracted to this book – 'Writing in the Dark: Essays on Literature and Politics' by David Grossman – because these subjects are also two of my main interests. However, of the six essays, I found those on literature to be actually disappointing and those on politics to be excellent. The last essay is the speech that Grossman made a few years ago when he attacked Israeli Prime Minister Ehud Olmert over his disastrous invasion of Southern Lebanon in 2006 in a war in which the author's son, Uri, lost his life. In words that have a special resonance in relation to the hypocrisy of some unionists who think they have a monopoly on suffering, Grossman says, "The tragedy that befell my family and me upon the death of our son Uri does not give me special privileges in the public discourse."
Uri was two weeks short of his twenty-first birthday in August 2006 when his tank was struck by a missile. Just two days earlier, Grossman and fellow writers Amos Ox and A. B. Yehoshua, had pleaded with the Israeli government to reach a ceasefire agreement. The three initially supported limited military action at the outbreak of the war, but then changed their position Israel expanded its operations in Lebanon.
In his essay, 'The Desire to be Gisella', he quotes from Sartre's 'What Is Literature?':
"Nobody can suppose for a moment that it is possible to write a good novel in praise of anti-Semitism. For, the moment I feel that my freedom is indissolubly linked with that of all other men, it canoe be demanded of me that I use it to approve the enslavement of a part of these men. Thus, whether he is an essayist, a pamphleteer, a satirist, or a novelist, whether he speaks only of individual passions or whether he attacks the social order, the writer, a free man, addressing free men, has only subject – freedom."
Grossman, of course, is right when he states that such [anti-Semitic] books have been written but he uses Sartre's statement as a platform to argue that one can use literature to see things through the eyes of one's enemy so that perhaps "the enemy gradually ceases to be our enemy".
"These are some of the counsels that literature can offer to politics and to those engaged in politics, and in fact to anyone coping with an arbitrarily and violent reality."
He appeals to Israelis to view things for a moment from the Palestinian perspective: "For once, look at them not only through the crosshairs of a rifle or a roadblock. You will see a nation no less tortured than we are. A nation occupied and oppressed and hopeless. Of course the Palestinians are also to blame for the dead end. Of course they had a part in the failure of the peace process. But look at them for a moment in a different light. Not only at the extremists among them, those who have an alliance of interests with our own extremists. Look at the overwhelming majority of this miserable people, whose fate is bound up with ours whether we like it or not."
Grossman attacks the injustice of the "settlement enterprise" in the Occupied Territories as both morally wrong and wasteful, and speaks of Israelis having "a sense of injustice and guilt. He says, "I would like to hope that relinquishing the Territories and ending the Occupation, with all these entail, will restore most Israelis to the authentic emotions of their identity. Then, for the first time in years, perhaps since the beginning of political Zionism, since the various borders were drawn for the soon-to-be state and then for the State of Israel, there will be an overlap between the geographical borders and the borders of identity."
He says, "we, the Jews, who have always regarded power with suspicion, have become intoxicated with power ever since it was given us. Intoxicated with power and with authority, and afflicted with all the diseases that limitless power has brought to nations far stronger and more stable than Israel. Unlimited power brings unlimited authority and a virtually unhindered temptation to hurt the helpless, to exploit them economically, to humiliate them culturally, and to scorn them personally…
"We know that prolonged existence in a state of hostility, which leads us to act more stringently, more suspiciously, in a crueller and more "military" manner, slowly kills something within our souls and finally hardens like an internal mask of death over our consciousness, our volition, our language, and our simple natural happiness."
He dreams of a time "when the State of Israel finally has permanent, stable, defensible borders, recognised by the UN and by the entire world, including the Arab states, the United States, and Europe. Borders that will be negotiated with former enemies out of mutual agreement, rather than drawn unilaterally and coercively – as Israel is doing today with the wall it is building around itself. The meaning of the new borders will be security. It will be identity. It will be home."