Print This Post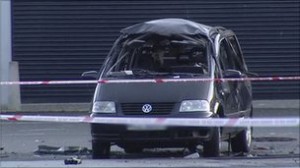 There was a bomb on the Antrim Road, Belfast, last week intended to kill members of the PSNI. It did not go off but many families had to leave their homes for up to three days. Not one person interviewed in the media supported or excused the potentially lethal attack. Indeed, the attack was overwhelmingly condemned. In response I wrote this feature for the Andersonstown News, for the edition published today, 31st January:
Many people, often people one would never have envisaged doing so, have climbed out of the trenches and crossed the metaphorical No Man's Land to talk peace, to shake hands and begin the work of repairing the damage inflicted during the conflict. Nevertheless, there are still individuals stuck in the trench, including Yvonne from South Belfast.
Not that Yvonne doesn't have a grievance. In September 1992 the IRA planted a huge bomb outside the forensic science laboratory in Newtownbreda, destroying the building but also damaging nearby homes. Hers was one and it was a year before it was made habitable.
Last week an anti-personnel device planted on the Antrim Road led to local disruption for several days. There was a storm of protest from residents and the incident received wide media coverage.
The best was on Wendy Austin's Talkback on Radio Ulster. She interviewed people who had been forced out of their homes, a journalist who quoted the dissidents' own words that they knew they could not mount a sustained campaign (an admission of defeat, if ever I heard one) and Gerry Kelly, Sinn Féin MLA for the area.
Kelly described the attempted bombing as an attack on the peace process but stated that it required "more than just a security response" and that the objectors needed to politically realise the futility of their actions.
"When they [the dissidents] have put up candidates notionally connected to them they have been rejected," said Kelly, reinforcing his point about their lack of support.
Yvonne was incensed when she heard Kelly and she immediately got on the phone.
"Gerry Kelly has a cheek, has the nerve to come on to your show and talk about bombers. Sure he was a noted bomber, a professional bomber. I mean I don't think he would have left a bomb on the Antrim Road that didn't go off. And it makes me really mad when I see him. As for the ones they have up in Stormont, they shouldn't be there, they should be in jail… I could choke Gerry Kelly and Martin McGuinness… and do you see Paisley I would take him out too and throw him away because he's not worth a dime."
Yvonne represents that parallel universe which is convinced that in the North essentially nothing has improved but that things have become worse. Republican dissidents hold the same opinion, but from the opposite direction. Now, clearly, both can't be correct – though, demonstrably, in the real world, both are absolutely wrong.
Robert phoned Talkback to state that he entirely disagreed with Yvonne.
"Before people like that lady make statements like that about Adams, Kelly and McGuinness, they should think, what was the part of my community, what did we do for 80 years that they rebelled to take up the gun to get their civil rights?"
Robert said that "the rest of the world recognises that there was a major problem here because they agree with the fact that McGuinness and others are in elected government as of right… representing half of the population in the North, literally. Any reasonable Protestant, and I know many of them, and I love them dearly, agree with that position."
Yvonne was having none of it. "I think that man is talking a load of nonsense… They're nothing only terrorists, they're still terrorists. How many policemen have they shot, how many army? That many is an absolute fool… is as bad as Adams, McGuinness and Kelly."
Robert robustly defended his position: "You cannot deny historical fact… One community was completely, totally and absolutely excluded… the situation was completely wrong and came about through injustice. One community was totally unjust to the other. Of course, shooting, killing and bombing happened, but it didn't all happen on the one side. I'm not defending the IRA, I'm not defending the British army. I am an ex-soldier myself, in fact."
The phones were now hopping and, encouragingly, most where on Robert's side. Mervyn rang to say that unionism has come a long way, "and thank God for it. But there is something we have forgotten and we tend to forget it quite intentionally.
"For 100 years we, as a unionist community, treated Roman Catholic people, nationalists, like dirt. That's what happened. We discriminated against them, we hated them, we sang songs against them, we paraded against them. Put all that into the pot and what came out was anger, resentment, hatred all around the place towards the unionist community."
Of course, all three callers could have been impersonators, but their voices had the ring of authenticity and I believe that each was honest. But there was another surprise in store. Mervyn hadn't finished.
"Only a few days ago up in Belfast, I met a couple of my old colleagues in the UDR. I served for almost 10 years, both part-time and full-time. One of them was a severe hardliner. He's no longer like that. He shares my opinion… I have no disrespect for the lady, Yvonne, but it's just that she has forgotten what happened. I don't want a united Ireland but I am coming to terms with the fact that what happened to the Catholic community was nothing short of disastrous, an ultimate disaster in Northern Ireland."
The irony.
You plant a bomb to kill members of the PSNI, to create a crisis in government, particularly for your former comrades (who represent the voices of more republicans than you), and to drive a wedge in a consensus about the way forward which has united more people in Ireland than at anytime in Irish history.
And all you have managed to do is unite former soldiers, UDR men, loyalist paramilitaries and former IRA activists. But all is not lost – at least Yvonne from South Belfast agrees with you.

Print This Post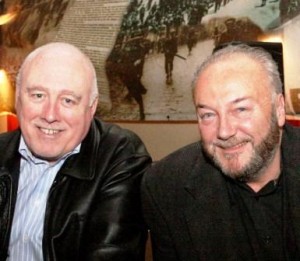 Wrote a half-joking feature titled 'George Galloway – MP for West Belfast' for today's Andersonstown News. Here it is:
I know it is probably a non-runner but election fever does cause you to go off your head. And, anyway, everybody loves speculation!
As pledged, Gerry Adams resigned as MP for West Belfast once the 11th March election in the South was announced. Young people probably have no idea that we in this part of the city had a unionist, James Kilfedder, misrepresent us until Celtic-supporting, Tricolour-draped, Gerry Fitt, later founding father of the SDLP, took the seat in 1966 and did a far superior job of misrepresenting us.
I am not proud to say that in the general election of June 1970 I personated about six times for Gerry Fitt. Which is why, when Sinn Féin stood for election in the 1980s, I was bemused when I heard SDLP saints come across all high and mighty about republicans personating!
Please, will the young constitutional nationalist who lifted all the blank postal votes from Our Lady's Nursing Home, Beechmount, in October 1982, step forward and explain how he voted thirty-seven times for the SDLP whilst he had dementia, was blind and incontinent?
Since 1983 Gerry Adams has represented this, the cockpit of northern nationalism, apart from the time, between April 1992 and May 1997, when the seat was held by the SDLP's Joe Hendron. In that election it appears that the UDA, for once, or British Intelligence, got its act together and encouraged the Shankill to vote tactically, realising that only Joe, and not a unionist, could take the seat from Adams.
I admired their strategic thinking, though republicans were apoplectic, and we in prison were very depressed, as prisoners tend to be, between dawn on Sunday and midnight on Saturday. On the very day that Gerry lost his seat, I lost my appeal against an eight-year sentence. However, my afternoon was enlivened when I arrived back in my cell to see that the loyalist across the yard had meticulously crayoned for me a poster, and hung it out his window, which said: 'GERRY OUT, DANNY IN!'
I'm still trying to trace the comedian's address.
Anyway, presumably in the next few months, possibly on May 5th, we will have a bye-election for this historic constituency.
Sinn Féin is lucky: it has hundreds of ex-prisoners, and young activists, to choose from: an embarrassment of riches.
The decision to co-opt former hunger striker, Pat Sheehan, to Gerry Adams' West Belfast assembly seat, came completely out-of-the-blue and fired people with its ingenuity. Similarly, the decision to run Máirtín Ó Muilleoir in the council's South Belfast ward was to offer to the electorate someone with mettle and substantial experience.
So, who can fill Gerry's shoes or who should replace him? That person has to be nominated soon, though the triggering of the bye-election is not in Sinn Féin's gift but resides in Westminster.
Names mentioned include Bobby Storey (Mastermind of… sorry, not allowed to say); Seanna Walsh (who served more time in jail than any other republican – 22 years), Máirtín's, Pat's, Jennifer McCann MLA, and Alex Maskey MLA. Alex, it seems, is committed to South Belfast. Sinn Féin took a major decision, to the dismay of many of Alex's supporters, to withdraw from last year's Westminster election to encourage some reciprocation from the SDLP in relation to the tight fight in Fermanagh and South Tyrone.
In South Belfast the SDLP's Alasdair McDonnell merely pocketed the gesture and attacked Sinn Féin in order to ingratiate himself with soft unionists. Despite the SDLP's haughtinesss and their splitting of the vote in Fermanagh, Sinn Féin's Michelle Gildernew was still re-elected.
In West Belfast, can we think outside the box, and, if so, what about you, the people, welcoming into this revolutionary neighbourhood, Mr George Galloway!
George is dedicated to Irish republicanism and was here most recently in 2010, when he was a guest on the 'Gerry Kelly Show' in St Kevin's Hall.
Okay, George is a member of the Respect Party, and formerly MP for Bethnal Green and Bow and took his Westminster seat, which, since Arthur Griffith, Sinn Féin's principles abjure.
But, boy, did George use his status to tear stripes off the establishment!
He is a republican, articulate, personable, loyal and dedicated, and one of the greatest supporters of our Palestinian brothers and sisters. In 2005, when summoned to the US Senate to be humiliated and explain his stance on the Middle East he turned the anticipated outcome on its head and put American foreign policy in the dock.
As an MP he was, of course, not an abstentionist, simply because non-attendance does not have the same historical resonance for British or Scottish-born people as it has for Irish republicans.
If he were acceptable to the people of West Belfast and Sinn Féin, he would probably have to run as an 'independent' because of the abstentionist problem.
Last year republicans asked people to vote for Alasdair McDonnell, so why would there be a problem in voting for George, he taking his seat, berating the Brits over Pat Finucane, collusion, the bloodshed they have caused, their war crimes?
I know that in Westminster his incendiary presence would be a voice for the oppressed of this earth. It would be us 'invading' them, a major reversal of colonialism, a statement of our internationalism.
On the other hand, I, former editor of 'An Phoblacht/Republican News', former national director of publicity for Sinn Féin, former MLA for Mid-Ulster, have no up-and-coming hospital appointments for my haemochromatosis, achalasia, hypertension and chronic arthritis; am completely free and have nothing to do over the life-time of the next parliament!
Just teasing. I would far prefer to be nominated for the House of Lords – within strangling range of a certain Thatcher.

Print This Post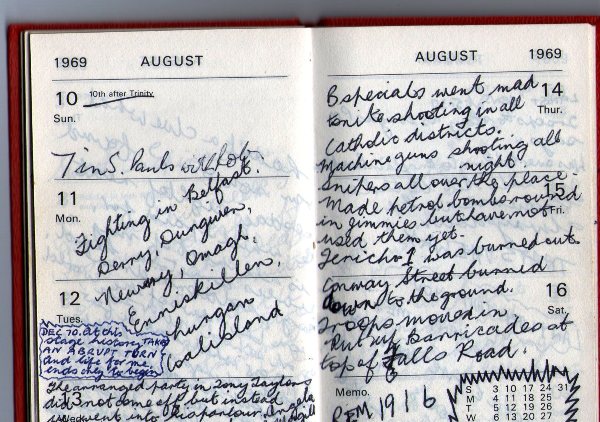 Wrote a feature titled 'The Compression of Expression – & The Lost Art of Handwriting' for today's Andersonstown News, and the long title is self-explanatory! Pics are of me, aged 5 at primary school, and an example of my spidery handwriting even when I was 16! Here it is: 
And now it might look as if all Miss Gilleece's work has come to nothing.
This warm gentle lady, who seemed middle-aged even then, patiently stood over us five-year-olds and showed us how to form our first letters on the written page with a pencil on a cheap jotter.
We were taught in St Teresa's primary, in a wooden hut tucked into the corner close to the lane on the Glen Road that led to St Pat's Home; the freezing classroom temperatures somewhat staved off by a noxious paraffin oil heater.
To my young eyes so many letters looked the same – 'b' and 'd', 'p' and 'q', and 'm' and 'w' – that as far as I was concerned they were interchangeable. Why did we need so many letters anyway! Yet, no matter how often I got mixed up Miss Gilleece would bend down to my size, draw the letter properly and ask me to copy hers.
Eventually, 'wawwy' became 'mammy'.
We progressed to nib pens and I was given the job of trekking across the yard to the toilets and sinks and mixing the ink powder with water in a large tin. Our desks had little sunken inkwells into which the ink was poured, requiring a steady hand.
Later, Miss Gilleece was replaced my Master Oliver Campbell who berated me because I was incapable of writing on the line. I didn't mind slicing through the line with g, j, p, q and y, but I never wanted any of my other little friends to come into contact with that diseased line! I am sure Freud can explain it.
Anyway, all of us – including you, reader – emerged from education with an ability to write in longhand, even if it was a scrawl, and even at the age of 16 mine still was. However, legibility can be critical. The stories of millions being at stake and lawyers arguing over a misspelt word or wrongly-placed comma are legend. I have a theory that half of all illnesses in pre-computer times were exacerbated by chemists dispensing the wrong medicines when trying to decipher the notoriously, atrocious handwriting on prescriptions!
In the modern world of electronic communication – from emails to text messages to social networks like Twitter – there is a real threat to the art of expression and writing. Probably the only times when one will actually use a pen nowadays and write longhand is to sign a cheque/receipt or make out a birthday or Christmas card.
Initially, I wrote all my features in longhand, before typing the draft onto the computer. But in the last five years, I just go straight to the keyboard, type, make corrections and produce a clean copy – no evidence of spellings corrected or interpolations.
And yet something has been lost along the way. The computer makes it too easy, too speedy, whereas handwriting calls for a more measured pace more in tune with one's thought processes. There is a feeling of companionship between the pen in one's hand and its contact with the blank page.
I am not being a Luddite: I know that the IT age has brought huge advances. Even this week the capitulation of Tunisia's authoritarian ruler, Zine el-Abidine Ben Ali, after mounting street protests, has been attributed to largely informal online networks. As a possible model for revolution it presents a serious threat to other autocratic rulers in the region.
One place where the art of the handwritten letter possibly still thrives is in prisons: at least in those where inmates have yet to be granted access to telephone landlines. When I was on remand in the Crum the rule was one page only per letter and you had to get permission from the governor if you wanted to write longer letters.
Admittedly, many prisoners struggled to express themselves. A friend of mine spent three nights composing a letter to his wife. He ended up with about four paragraphs and all that it read was, 'How's Mary… How's Joseph… How's Mickey.' He said, 'There were that many "Hows" in it that I felt like a Red Indian!' And to crown it all his wife never even received it!
Still, there is an appreciation in receiving something into which clearly an effort has been put. And there are certain etiquettes: you would send a signed card of condolences to a bereaved friend, not an email, because, clearly, we recognise that there is value to the written word.
Texting, though, allows for a certain laziness, vengefulness, cruelty and cowardice, exemplified by those cases you hear of where someone breaks off their engagement with words like Really busy. Need space; or, Srsly, U R gettin annoying; or, I M Gay.
When I look back at my attempts to express myself I imagine a progressive improvement. But at the same time, because of the infrequency of actually writing by hand, my script has become indecipherable. And so, in memory of Miss Gilleece I bought a fountain pen which I increasingly use when preparing notes for whatever it is I am working on. And in memory of Master Campbell my letters, my words, never touch, and never will, those lines, those imposters, on the page!

Print This Post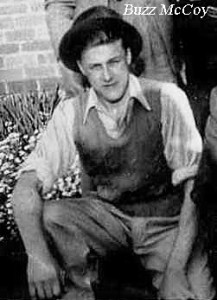 Wrote a feature for the 'Andersonstown News' (10th January) called 'Suspicions about "Suspicious Minds"'. Here it is:
The Morrisons moved from 2 Corby Way to 27 Iveagh Parade in 1963. Leaving behind my 10-year-old best friend Brendan Hunter, I was broken-hearted. But things were partly assuaged by adventure and new and older faces especially that of 'Buzz' McCoy.
Buzz lived in the squalid Beechmount Bungalows, built to meet the demand for immediate post-war housing. Later, the bungalows were demolished and replaced with the 'Pass 'n' Grove'.
On the night that President Kennedy was assassinated, Buzz was sitting on our stairs trying to teach me chess, though I suspect now that he was actually trying to get off with our Geraldine but was too shy. In the years '64, '65 and '66 Buzz was a real mentor to us young ones.
He was apprenticed as a carpenter but he found it mind-numbing. He would get agitated about going out on Friday nights to Sammy Houston's Club or the Astor so, beforehand, with his mates, he went for a few pints of cider to the Spanish Rooms (which no longer exists), to work up some courage.
It was around about this time that he met this plain Jane from St James called Hitler: I mean, Elizabeth. They say love is blind and we couldn't see what he saw in her. I couldn't believe it when they got engaged. He was ordered by the Third Reich not to say he was from the Bungalows but from Beechmount Avenue!
Buzz had tousled hair, wore a slightly scuffed hat and an open-neck shirt and was always clean-shaven. He was rarely in a fight but his mother, who 'suffered from her nerves', worried about him day and night.
Buzz was self-taught on the guitar, banjo and mouth organ and had begun writing his own highly original compositions, some of which he valiantly sent to Manfred Mann, Joe Cocker and even to a young Les Gray (who went on to found Mud and later had the hit 'Lonely This Christmas').
In 1966 the UVF killed two Catholics. In October 1968 Elizabeth, who had an exaggerated sense of her beauty, abruptly broke off her engagement at the first opportunity. Buzz had stopped to talk to an old friend he knew, actually his first love, and they were just innocently catching up on news. He was shattered. It was also the week that the civil rights marchers were batoned by the RUC in Duke Street, Derry.
His mother was frightented of the impending Troubles and also by Buzz's depression. She gave him his fare and packed him off to her sister's in White Plains, USA. Ironically, Buzz was drafted into the US Army and actually ended up in Vietnam. Back in Belfast we instinctively supported the North Vietnamese and only later learnt of the danger he had been living under – and of his fate.
It was whilst serving in Saigon in late 1968 that he wrote the lyrics of 'Suspicious Minds'.
At Christmas 1996 Ray Heffernan, in a Dublin pub, met Robbie Williams, who was then down on his luck. They had a few beers. Ray brought Robbie back to his flat and sang one of his compositions, 'An Angel Instead'. Later, there was a legal dispute over rights and Heffernan foolishly signed a waiver for a measly £7,500 for a hit that earned Robbie Williams millions.
Everyone mistakenly thinks that Willie Nelson wrote 'You Were Always On My Mind', just as they incorrectly believe that Elvis wrote 'Suspicious Minds', which is always included in the 'One Hundred Greatest Songs of All Time'.
Candi Staton (1982) and Fine Young Cannibals (1986) did excellent covers of 'Suspicious Minds'. But the most poignant version I ever heard was at a wedding, when the groom (a cousin of Buzz) dedicated it to his hour-long, newly-wed, which was, unsurprisingly, not the highlight of their short marriage.
"Why can't you see/What you're doing to me/When you don't believe I word I say," he sang as he got all shook up and she got all choked up.
Arguments have raged down the years about the influence of marxist James Connolly on Padraig Pearse and his writings.
There is a magnificent quote attributed to Pearse – which I can't remember exactly – but which since the 1970s has turned up in US academic papers in support of Pearse's communist credentials.
Tom Hartley and I were having a drink in the PD one night with that underrated republican publicist from West Belfast, Sean Morris, and were praising him for a poster advertising the Easter Parade he had recently brought out which quoted Pearse on the masses and the need for class struggle.
I had read all Pearse's writings, including 'The Murder Machine' and 'The Sovereign People', and said admiringly, "Fair play to you, Sean, I have never come across that quote by Pearse."
"I know," he said. "That's because I made it up."
Nowadays it is impossible to fool someone who is just about to celebrate their fortieth or fiftieth birthday into believing that you just have to do a message in the White Fort for a second, and will they come with you. They know as sure as day follows night that the whole family is there to 'surprise' them!
I could have kept the story of Buzz until the eve of April 1st but I needed the element of surprise. Poor Buzz. I gave birth to him in the first paragraph and killed him off half way through this feature. But it would have been nice if a guy from Beechmount had written 'Suspicious Minds'. As for Elizabeth – she still lives in St James and, I'm happy to report, she never married. No man would have her!

Print This Post
Finished third re-reading of 'The Art of Fiction' by David Lodge, an excellent guide. Finished 'The Case For Literature' by Gao Xinghian, an unremitting critic of totalitarianism, nationalism and ideology and who argues that the artist has to be an individual and beyond the influence of all 'isms'.
3rd January [2011] I wrote a feature for today's Andersonstown News, titled 'The Tragedy of 1980', based on the release of state papers under the thirty year rule.
25th December. Great presents for Christmas! Got 'The Case For Literature' by Gao Xinghian, 'Cultural Amnesia' by Clive James, 'How Novels Work' by John Mullan, 'Negotiating With The Dead' by Margaret Atwood, 'The Fry Chronicles' by Stephen Fry, 'The Punishment of Gaza' by Gideon Levy, two poetry books by Maria McManus: 'The Cello Suites' & 'Reading The Dog'; and the complete boxed set of 'The Thick Of It', a satirical television masterpiece on the Machiavellian workings of a British government, featuring the ruthless 'Malcolm Tucker'!
20th December. I wrote a feature (a spoof short story) for today's Andersonstown News, titled, 'So This Is Christmas', though apparently many read it literally!
13th December. I wrote a feature for today's Andersonstown News, titled 'A Tale of Two Skippers', about Gerry Fitt and Ted Heath.

Print This Post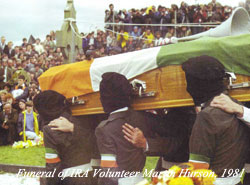 Wrote the following feature for the Andersonstown News, 3rd January 2011 about the release in late December of 'state papers':
A lot of the 'state papers' just issued in Dublin, Belfast and London under the 30-year rule relate to the 1980 hunger strike.
Some of the internal memos were, no doubt, sometimes written with caution and with an eye to history. But many were written with spontaneity and contemporaneous with events or after meetings or briefings with politicians and ambassadors, and were meant to be informative and accurate assessments for their superiors.
Thus, there are insights, little cameos and class indiscretions like that from Andrew Brown, a civil servant, wondering about possible tooth decay among the prisoners on no wash who had no tooth-brushes: "if the protestors are a typical cross-section of the population, half of them will already be on their way to full sets of dentures."
Ho, ho, ho.
Those of most interest to me concern the build-up to the 1980 hunger strike, the communications within government and agencies during it, and whether the republican leadership's analysis and depiction of what was happening has subsequently proved correct. Until December 19th, which was the last time I saw Bobby Sands alive, I liaised with Bobby who was the OC of the prisoners, and with Brendan Hughes, the leader of the hunger strike.
In going on hunger strike, the prisoners were taking huge risks with their own lives and that of their families. But the stakes were not just personal, they were political, because republican supporters looked up to the prisoners as iconic heroes, while the British recognised that they could damage the republican struggle (of whom the strikers were symbols) if they could break the hunger strike.
The republican leadership knew that the Brits had the luxury of sitting back and toying with the prisoners and their families. The leadership was opposed to the hunger strike but was bereft of ideas on how to resolve the prison crisis and could not and would not advocate surrender. So they supported the men in the Blocks and the women in Armagh one hundred per cent once the hunger strike began.
The British (and Irish) establishments could not afford the prisoners to win, because of the collateral boost a victory would give to republicanism. At the same time, the hunger strike uniquely focused international attention on the horrors of the prisons and on the conflict in a way that exposed Britain, so Britain was under some pressure to compromise.
The hunger strike also exposed the hollowness and hypocrisy of the rhetoric of the Irish government (especially Haughey), the amorality of most of the Catholic Hierarchy (able to explicitly condemn republicans but not British violence), with the SDLP (as always) running around like a headless chicken. To make sure you got something through, whether true or not, to the Dublin government and on to the British all you had to do was confide in some senior SDLP member 'in total confidence'.
One prescient British intelligence report sent to Thatcher states that the hunger strike is "deeply disliked by the leadership for it confuses the issues, gives scope for division of views, and damaging disagreement, and is outside their control…
"The [hunger strike] campaign could fizzle out, to the shame of the movement. It could turn out also, to the movement's shame, that no effective way is found to reinforce the prisoners' efforts."
Two months into the strike Thatcher was able to tell her cabinet that Haughey – despite his public stance – backed her position, though calling for 'cosmetic changes in the prison' and he "accepted that there was nothing more that British authorities could offer them [the prisoners]". There was, however, a slight shift in her position – the offer of 'civilian-type clothes' and the motive, according to Secretary of State Humphrey Atkins, was "to deprive the protestors of a great deal of public sympathy."
But the prisoners were only too well aware that for them to have accepted these 'approved' clothes ('another type of uniform'), in the absence of movement on their other demands, would have been claimed by the British as, and generally perceived as, a major climb-down, incommensurate with four years of immense suffering.
Thatcher told Haughey that she would not make any further concessions beyond "dressing up what had already been offered".
"We cannot make any concessions" appear in the margins of other cabinet papers in Thatcher's blue felt pen.
Although it is now well-known that Brendan Hughes ended the hunger strike unilaterally, without consulting his O/C Bobby Sands, we on the outside finessed the sequence of events for the sake of morale and at a midnight press conference merged the secret arrival of a British government document (promising a more enlightened prison regime: falsely, as it turned out) with the ending of the hunger strike.
It was either that or admit – which to the republican base was inconceivable – that Brendan had ended the strike without getting a thing.
Bobby – who turned out to be right – did not believe the British had any intention of working the unsecured promises contained in the document. But we begged him to put them to the test and that if the administration made things impossible then it could be claimed that the Brits were reneging.
Had the British taken the opportunity to resolve the prison crisis at that juncture history certainly would have been different. Instead, the British crowed victory in their briefings to the press and the prison administration felt smug, unbridled and under no obligation.
This bitter experience was to sear itself in the minds of the prisoners who were determined that there would never be a repeat of that scenario.
Tragically, the stage was set for 1981.